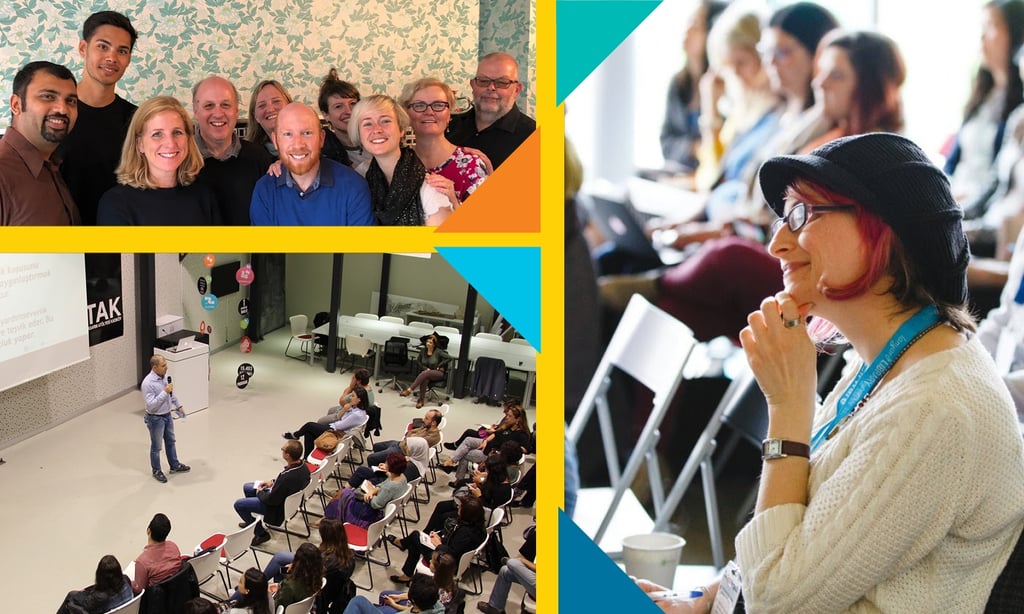 Every month, TechSoup's NetSquared community organizers volunteer to bring free and low-cost nonprofit technology events and workshops to more than 50 cities. If you want to network with your peers or love to learn at live, in-person events, NetSquared is the place for you!
Our chapter leaders believe that we can bridge the digital divide by giving every NGO the tools and skills to accomplish its mission efficiently and effectively. That's why this fall we've planned events specifically for nonprofit staffers who use technology.
But we also believe that there's value in getting our tribe together for a good, old-fashioned party. Pittsburgh has scheduled a holiday party complete with gift exchange and arcade games. Our friends in Los Angeles are holding a "get-together" (it can't be a winter party when they don't suffer a proper winter!). Not to be outdone, the North Carolina crew is taking over over a brewery for its holiday social. So don't be a Grinch — join your local nonprofit techies and get sociable this holiday season!
Upcoming Tech4Good Events
This roundup of face-to-face nonprofit tech events includes meetups from NetSquared, NTEN's Tech Clubs, and other awesome organizations. If you're holding monthly events gathering the #nptech community, let me know, and I'll include you in the next community calendar, or apply today to start your own NetSquared group.
Jump to events in North America or go international with events in
North America
Wednesday, November 8, 2017
Thursday, November 9, 2017
Friday, November 10, 2017
Monday, November 13, 2017
Tuesday, November 14, 2017
Wednesday, November 15, 2017
Thursday, November 16, 2017
Monday, November 20, 2017
Tuesday, November 21, 2017
Wednesday, November 22, 2017
Monday, November 27, 2017
Wednesday, November 29, 2017
Monday, December 4, 2017
Tuesday, December 5, 2017
Wednesday, December 6, 2017
Thursday, December 7, 2017
Friday, December 8, 2017
Monday, December 11, 2017
Tuesday, December 12, 2017
Wednesday, December 13, 2017
Monday, December 18, 2017
Wednesday, December 20, 2017
Monday, December 25, 2017
Wednesday, December 27, 2017
Africa and Middle East
Wednesday, November 8, 2017
Friday, November 10, 2017
Saturday, November 11, 2017
Tuesday, November 14, 2017
Saturday, November 18, 2017
Sunday, November 19, 2017
Wednesday, November 22, 2017
Saturday, November 25, 2017
Monday, November 27, 2017
Saturday, December 2, 2017
Sunday, December 3, 2017
Monday, December 4, 2017
Friday, December 8, 2017
Saturday, December 9, 2017
Wednesday, December 13, 2017
Saturday, December 16, 2017
Sunday, December 17, 2017
Saturday, December 23, 2017
Saturday, December 30, 2017
Europe and UK
Wednesday, November 8, 2017
Thursday, November 9, 2017
Saturday, November 11, 2017
Monday, November 13, 2017
Tuesday, November 14, 2017
Wednesday, November 15, 2017
Saturday, November 18, 2017
Thursday, November 23, 2017
Saturday, November 25, 2017
Tuesday, November 28, 2017
Wednesday, November 29, 2017
Tuesday, December 5, 2017
Saturday, December 9, 2017
Monday, December 11, 2017
Wednesday, December 13, 2017
Thursday, December 21, 2017
Tuesday, December 26, 2017
Asia and Pacific Rim
Friday, December 15, 2017
Monday, January 15, 2018
Image in top left corner of collage: Elijah van der Giessen / CC BY
Image in bottom left corner of collage: Gercek Karakus / CC BY
Image on right side of collage: Elijah van der Giessen / CC BY