In 2015, the state of Louisiana consumed more energy per capita than any other state, according to the U.S. Energy Information Administration. Although this may not come as a complete surprise — the state's warm, muggy climate makes air conditioning a must — it's clear that Louisiana's energy-use profile needs a drastic transformation.
The Energy Wise Alliance (EWA), a small nonprofit based in New Orleans, is determined to do just that. Along the way, the organization has gotten a boost from the Microsoft MileIQ app.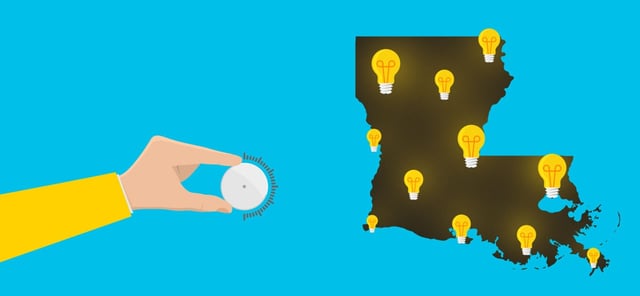 MileIQ is a mobile app from Microsoft that automatically tracks the miles you've traveled and records all of your tax-deductible and reimbursable mileage. It's kind of like using a Fitbit, except you're tracking your driving. You can report your business drives on demand and claim your reimbursements or maximize your tax deductions. The average MileIQ user is logging $6,900 per year.
Building a More Energy-Efficient Community
EWA works to make energy efficiency more accessible to everyone. The organization works primarily with low-income families, tenants, and others who would otherwise be left out of the green energy revolution. EWA accomplishes its goals through both workshops and equipment upgrades at homes and businesses.
Its Energy Smart for Kids program teaches students throughout the state how to lead a more energy-efficient lifestyle. These hourlong sessions cover the pitfalls of nonrenewable energy and detail more sustainable alternatives. At the end of each session, EWA volunteers hand out energy-efficiency starter kits so students can apply what they learned at home.
Much like the rest of EWA's programs, Energy Smart for Kids serves underserved and underprivileged communities. In fact, many of the schools that EWA serves are Title 1 schools — schools whose students generally come from lower-income households.
Aside from schools, EWA also helps nonprofits become more sustainable.
Making Nonprofits Greener and More Cost-Efficient
Nonprofits can benefit from EWA's work by way of simple but effective power-saving retrofits. EWA also provides volunteer labor and donates the materials for the retrofits, which means added cost savings. And as we all know, cost-saving programs are like gold dust for nonprofits.
For example, volunteers from EWA revitalized the Victorian-era headquarters of the Alliance Française, a nonprofit dedicated to preserving Francophone heritage in the New Orleans community, with sustainable retrofits. As part of these upgrades, EWA sealed cracks, gaps, and openings; installed additional insulation; and programmed new thermostats.
In addition, EWA gave the Alliance Française's volunteers a hands-on demonstration of behavioral changes so that they could bring this knowledge back home. EWA anticipated that the Alliance Française would save a total of $2,000 to $3,000 as a result of these green improvements.
EWA's staff members also actively save money and operate more efficiently through the use of the mile-tracking app MileIQ.
Saving Time and Money with MileIQ
This method, as you can imagine, was time-consuming, and it brought with it the risk of human error. Most people can't possibly remember every single trip they make with their car, after all.
"MileIQ is super accurate and takes the forgetting out of the equation," said Jamie Wine, executive director of EWA. MileIQ has helped EWA streamline its nonprofit operations.
For Kevin Kellup, education coordinator at EWA, MileIQ has been a game-changer. Jamie explained, "Kevin drives like crazy from school to school," racking up miles on his personal car. Now, thanks to MileIQ, Kevin can get more fairly and accurately reimbursed for his constant traveling.
The most important benefit of Microsoft's MileIQ for Jamie is that his staff can be correctly reimbursed for mileage. He wants to show staff members that he values their time and effort spent traveling, which MileIQ really helps him achieve.
For nonprofits, particularly small ones like EWA, it's always great when the team can receive fair compensation for its hard work. "The staff doesn't get paid much," Jamie said. And considering how important staff members' work is to the community, every penny matters. That's also where TechSoup comes in.
TechSoup's Role: "Essential"
Through TechSoup, eligible nonprofits can get MileIQ at 80 percent off the subscription rate. "Without TechSoup," Jamie noted, "this huge step up in technology" would not have been possible. The MileIQ discount program from Microsoft has made acquiring MileIQ way easier on the nonprofit's pocket.
Having also previously obtained Microsoft Office 365 and QuickBooks Online, Jamie said, "TechSoup is a great equalizer." He mentioned that TechSoup helps a small nonprofit to grow into a technologically advanced organization. He added, "The super discounted products from TechSoup are like the pot of gold at the end of the rainbow."
Getting MileIQ Premium
Eligible nonprofits can get MileIQ at 80 percent off the individual subscription rate through TechSoup and can request an unlimited number of individual subscriptions. In addition to individual subscriptions, MileIQ is now included with an Office 365 Business Premium license. Nonprofits who currently do not have an Office 365 license can visit Microsoft's Office 365 for nonprofits page to register.