For those without access to a reliable Internet connection or computer, public-access devices at libraries can be a lifeline. Job interviews, Social Security applications, and keeping up with family and friends are among a growing list of things that require the use of an Internet-connected device. The COVID-19 pandemic has widened the digital divide and isolated those without their own computers, making public-access devices an essential service for many people.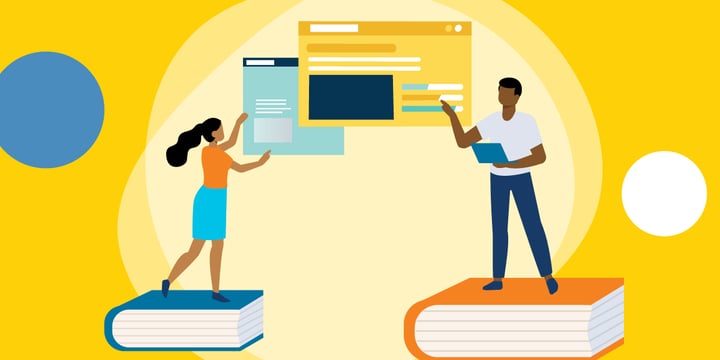 Are you considering providing public-access devices at your library for the first time, or navigating a surge in demand or complications from licensing changes? Then read on for some guidance on how to make the best decisions for your patrons.
Public-Access Computers
A public-access computer is a computer or laptop that is available for use by patrons. These are usually found in and managed by libraries. Many use them for job and housing applications, to keep in touch with relatives, or print documents, among a huge variety of other purposes.
Considerations
If you are a manager of a library who is considering offering public-access computers, there are a few important things to consider to ensure that you can offer the service safely. First, invest in robust security tools. When many people are using the same computer system, the likelihood of someone clicking a malicious link and inadvertently enabling a cybersecurity attack is much higher. You should also keep your public-access computers on a separate hardware and Internet network, so that any hacking activity cannot spread to your staff computers.
Microsoft Program Changes
You may be aware of some significant changes coming into play with regard to the Microsoft software donation program. As of December 29, 2021, libraries can no longer access donated licenses through the nonprofit channel. Instead, they will be eligible for Academic discounts. There are a few key implications of this for libraries.
The available products and their associated costs will be different. The vast majority of products that were available in the nonprofit donation program have an equivalent in the Academic discount program, but the costs are generally slightly higher.
The acquisition process has changed. Rather than requesting a product through TechSoup in the way you would have previously, you'll now need to go through the eligibility process required by the Academic licensing program. You'll first contact the TechSoup team, who can place a request on your behalf. Then, before you can receive your products, you will need to wait for Microsoft to verify your eligibility for Academic pricing. Once you've been verified, you can access your products through the Microsoft 365 Administration Portal. You'll then receive a download link, which will expire after five days. Note that you will now only be able to download specific versions of a product, and you won't be able to downgrade to an earlier version, so choose your product carefully.
Software Assurance is not included in products acquired through the Academic discount program.
What Does This Mean for Public-Access Devices?
These changes reflect a more general move towards cloud-based, user-licensed software and away from on-premises, device-licensed tools. For most individuals and organizations, user-based licensing is a convenient and secure option. One of the remaining settings where device-based licensing continues to be needed is public-access computers.
In the past, libraries have been able to offer device-based, donated licenses through TechSoup. This is no longer the case. However, there are some alternatives available through the new Academic licensing.
The best solution for public-access devices seems to be on-premises licenses at an Academic discount. These do not require any kind of user sign-on, so they are suited to computers being used by a lot of different people.
There are still some donated licenses available, but they are all user-based. While these might not be the best fit for public-access devices, they are an excellent option for staff devices.
Another potential option is a Microsoft 365 A1 license, which is device-based. However, a user sign-on is still needed, so the TechSoup team is looking into whether this is a workable system for public-access devices. You will also be able to get device-based Windows Upgrade licensing or a full operating system through Get Genuine, but these both come with some program restrictions.
Other Ways to Increase Accessibility
Public-access devices are a staple of digital accessibility in libraries. But they aren't the only way to help your constituents get access to technology and the Internet.
Mobile Beacon Hotspots
One great way of supporting patrons without Internet access is to lend out mobile hotspots. You can get these donated from TechSoup through our partner Mobile Beacon, enabling you to loan them to people for a limited time. This a great alternative to public-access devices, especially if patrons need to use the Internet for more private concerns such as online health appointments or job interviews.
Hardware
If you have the budget to spare, you could invest in laptops to lend out to patrons. This may also help clients with private matters to attend to, and it can also be a more suitable option if they have long applications to fill out or video calls to make. You can find discounted hardware from Dell, Microsoft, and other partners on our website.
Find the Right Public-Access Solution
Libraries provide an invaluable resource by offering the use of public-access devices. Carefully consider the best options for your library, taking into account hardware, security, and software licensing options.
Additional Resources
Top photo: Shutterstock