Technology continues to integrate into our personal and work lives on a daily basis. And as this happens, institutes like Stanford University's Center on Philanthropy and Civil Society (PACS) are leading individuals and communities in conversations related to digital engagement.
The Digital Civil Society Lab within PACS is specifically investigating "the challenges and opportunities for civil society to thrive in the digital age." Recently, the lab initiated a series of talks, guided by input from Stanford undergraduates. These events delve deeply into how technology can simultaneously help and harm civically motivated initiatives to increase mobilization and representation.
Two TechSoupers went to a recent lab event titled "The Active Citizen in the Digital Age: Mobilization and Representation." Let's look at some key takeaways from their experience.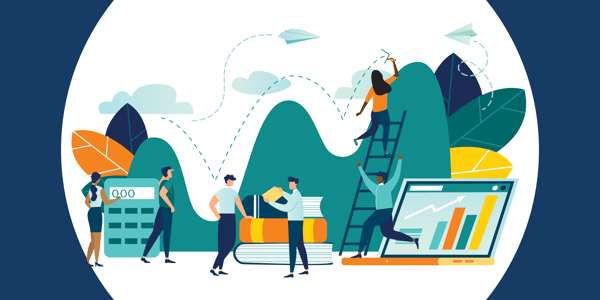 The Persisting Success of Human Interaction
Digital Civil Society Lab executive director Lucy Bernholz opened the talk by sharing her own background. Her mother was an elected official and on the state board for the professionalization of teachers. Her father was on the state mental health board.
Her parents' district (CA-District 10, which encompasses an area in the northern end of the Central Valley) was home to a hotly contested congressional race in 2018. By the time of election day, every door in the district was knocked on — twice — and a Democrat newcomer and venture capitalist won out over the four-term incumbent Republican.
This story underscores a motif throughout the talk: Even in this age of digital connectivity, person-to-person interactions and proactive engagement continue to play a huge role in the mobilization of an idea. Throughout the talk, Lucy and the panelists continued to highlight how technology may help, but it certainly cannot replace the value of human-to-human interactions.
Lucy facilitated questions between the three panelists to explore technology's impact on digital engagement in terms of infrastructure, information, and action. The three speakers each represented one of those areas.
Infrastructure
Coming from the University of Toronto, Aditi Mehta described her doctoral research and experience in Brooklyn, New York. Her project focused on the Red Hook Wi-Fi network. It served as an underlying example and case study for how to leverage technology in post-disaster settings to rebuild and strengthen communities.
After Hurricane Sandy in 2012, many communities throughout New York City needed to rebuild. However, in Brooklyn's Red Hook neighborhood, a pervasive lack of wireless Internet served as a roadblock to the community's efforts to do so. It also muted its voice to the world at large.
As a solution, a youth-led group began knocking on doors and installing wireless routers throughout Red Hook. The project gave young people in a segregated neighborhood both visibility and a voice within their own community. The community home page continues to share a wide range of information, from local entrepreneurs selling clothes to shared YouTube videos.
Overall, Aditi saw this community-led public network increase morale among the youth and help rebuild a community ravaged by a natural disaster through a non–spatially centered approach. Lastly, the community's ownership of its data mitigates concerns over privacy of information and digital activity.
Information
The CEO and co-founder of Ballot Ready, Alex Niemczewski, wanted to increase the number of people voting from an informed position. Her platform is a nonpartisan guide to every race and every ballot measure.
Ballot Ready uses a human-centered-design approach to provide transparently sourced information about candidates and local and state ballot measures. The candidates' profiles include information about their stance on issues, their previous experience, and their endorsements. Lastly, users are able to share their ballots with friends and family and hopefully spark informed discussions among their established community.
Action
Tanzila Ahmed, or Taz, is an activist storyteller and politico based in Los Angeles. She works for 18 Million Rising and is fiercely dedicated to raising the voices of South Asian and Asian Americans in a civically impactful way.
18 Million Rising is dedicated to bringing Asian American communities together online and offline "to reimagine Asian American identity with nuance, specificity, and power. … [The organization utilizes] digital-first advocacy tactics to elevate the voices of and mobilize over 120,000 members to take action on issues that matter to them."
Taz' co-hosted podcast, Good Muslim, Bad Muslim, illustrates and shares the American Muslim female experience in a diversified yet continually discriminatory political landscape in America.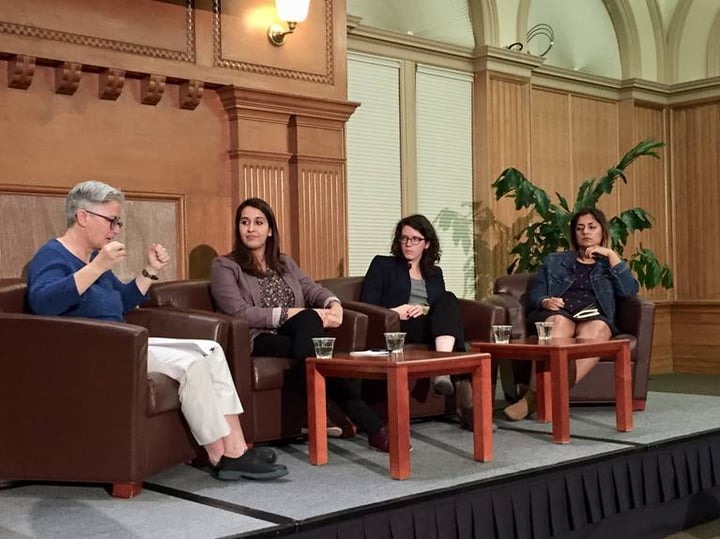 From left to right: Lucy, Adithi, Alex, Taz.
An Engaged and Lively Discussion
During the question-and-answer portion of the event, accessibility and representation were topics that crossed all three speakers' areas of expertise. For example, ensuring that information, and specifically ballots, are translated for all people was an issue that both Ballot Ready and 18 Million Rising try to address.
Another cross-cutting theme was the need and opportunity to engage more with technology companies. Ballot Ready partnered with Snapchat to institute a map feature to guide members to their correct polling station. The other panelists expressed a desire for more collaboration with technology companies given their reach within communities and resources, both financial and product-based.
Lastly, Taz and Alex described how different technology platforms are reaching different populations and communities within the United States. For example, Snapchat's map feature reached only the existing users on Snapchat; thus the feature reached only its younger demographic. Taz also described her attempt to use WeChat, China's version of Facebook, to engage Chinese-speaking or -reading communities who choose WeChat over other social media options.
The overarching takeaway was that despite the advantages that technology brings to connect a diverse population, personal interaction is still the primary tool for civic engagement. And whatever the digital or nondigital reasons for specific instances of civic engagement may be, the reality is that 30 million more people voted in the 2018 United States midterm elections than in the 2014 midterm elections.
As entities like PACS Digital Civil Society Lab continue to investigate and act on this trend, the hope is that people will become increasingly civically represented, informed, and, ideally, active.
Additional Resources: Supporting Civil Society with TechSoup