When your organization won that institutional grant, did you celebrate — at least a little? Most likely! You put in a lot of hard work and it finally paid off.
The grantmaker's award letter likely documented the grant amount, grant period, grant report writing requirements, and other important details. You probably recorded that information and told all relevant staff about these requirements — including the grant reporting format and due dates.
And then folks got busy implementing the funded program. As things hummed along, you all kept in touch about how it was going.
Then, several months later, you found yourself at what we call Step 11 along the "Grant Roadmap" in the TechSoup Courses Grant Writing and Management course track: the reporting phase.
One of the best ways to continue building a good relationship with your funder is to submit thorough and useful grant reports, on time, and in the requested format. Here's how.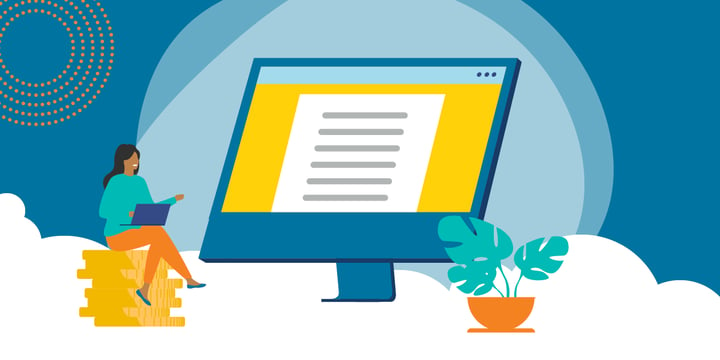 What to Expect
Your funder is going to want to know if they made a wise investment when they funded you. Essentially, they will want to know four things:
What's working and what's not
What needs are going unmet
How you can improve in the future
How you are spending their money
Almost all funders expect at least one report showing how you used the grant to further your program. That is, you are often asked for both narrative reports and financial reports. These reports are often due sometime during the grant period (called "progress reports"), at the end of the grant period ("final reports"), or both. Some funders will withhold part of the grant until they receive the required reports.
Not only do you want to show what you've done, what difference that has made, and what you are learning for the future, you also want to position yourself as a strong candidate for a possible grant renewal down the line.
Each funder has a specific grant reporting format in mind. Some have detailed requirements or provide grant report templates, and others are very general in nature. You will need to develop funder-specific formats, and you will most likely need to cover the following topics in your narrative reports and financial reports.
Narrative Reports
Accomplishments: Of course, you will want to recount all of the relevant results you achieved during the funding period. Look back at the grant proposal's measurable goals and objectives. How many of them did you meet or exceed? Maybe you even accomplished some unanticipated things! If so, describe, explain, and highlight.
Client profiles, success stories, testimonials: Tell a couple of stories of people who benefited from the grant-funded work. Show how their lives were improved because of your project, using their words as much as possible. Of course, the stories you choose should be especially relevant and interesting to the specific funder at hand.
Lessons learned: What did you learn from doing the project? Funders are interested not only in your successes but also in how you modify your work to address any challenges you encountered along the way. For example, you may have found that you needed to work with unexpected collaborators and that the new coordination demonstrably improved your project's outcomes. By sincerely showing how you analyze your effectiveness and strive to learn how to maximize it, you demonstrate that your organization is dynamic and responsive to changing realities.
Your partnership with the funder: Think back to the foundation's goals, objectives, and priorities. Write about how your work addressed those things. Demonstrate how your partnership with the funder made that possible.
Plans for the future: Unless your project was a one-shot deal that is now banished to the dustbin of history, tell the funder how you intend to build on it. This will help show that the funded project was part of a sustained effort. You may want to share emerging trends or shifting contexts impacting your work.
Financial Reports
You will need to account for all of the expenditures you made with the grant money. Some funders will require receipts, invoices, or other documentation. Others are less stringent. In either case, be prepared by tracking your actual expenses versus your proposed grant budget.
Submitting
This should go without saying, but I will emphasize it: Don't miss the reporting deadlines! Doing so will leave a bad taste in your funder's mouth. If you find that you absolutely cannot meet the deadline, ask for an extension at least a week before the due date. Many funders have a little wiggle room, but you should not assume that.
Once you have submitted a grant report, make sure to store it appropriately and record the date you sent it.
Post-Reporting
As you approach the end of your grant period, you will want to take the final step along the Grant Roadmap we use in the TechSoup Courses Grant Writing and Management course track. That is, Step 12: exploring opportunities for renewing the grant or possibly applying for funding for a different program of interest to the funder. If your reports were solid and demonstrated success, learning, and good nonprofit financial management, you may be eligible for future funding.
(Of course, a tarnished relationship with the grantmaker is a good way to NOT get renewed funding.)
But grant reports also serve an important purpose for your organization itself. Clearly, they can help you track your progress, measure your success, and learn from challenges. In addition, if you share them internally, grant reports can be repurposed for a variety of fundraising and marketing material. Annual reports to the public, newsletter or website articles, social media posts, appeal letters, and presentations are just a few ideas.
By the Way ...
If a funded program reaches a major milestone or needs to make a significant direction change during the grant period, your funder needs to know that. While these contacts are not technically the requested "reports," it behooves you to make sure your funders are aware of both major successes and modifications you are making.
Grantmakers do not like last-minute surprises that they should have known about beforehand. Show that your organization is a responsible manager of grant funds with a commitment to a partnership with the funder.
Keep your funders abreast of the work their grants funded — with the right grant reports — to help strengthen your relationship. The good news is that your organization overall — and the specific funded programs — can also benefit directly from the information you collect.
Additional Resources