Warning: This blog post contains references to abusive behavior and may be upsetting for some readers.
Survivors of domestic violence and stalking are unique in that their information and location need to be protected not just from typical cyberthreats that affect the general population, but also from abusive individuals they likely know. This means that a survivor's location, contact details, and online presence need to be thoroughly protected because it heightens the risk of exposing them to additional harm. Organizations working with survivors need to go above and beyond usual data protection guidelines to ensure their safety, autonomy, and dignity.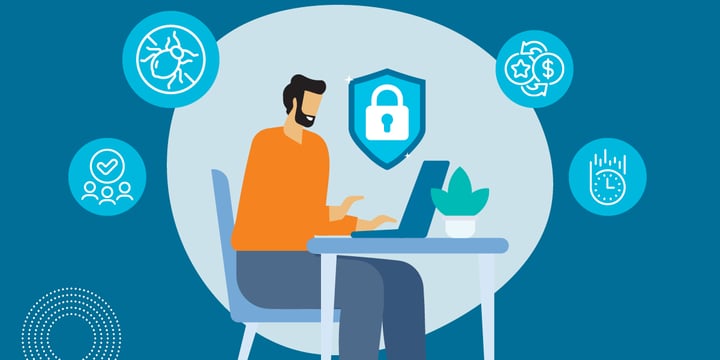 One key way of protecting survivors' data and digital safety is to equip them with resources such as security software. Security software includes a variety of applications and tools designed to safeguard the safety and integrity of computer systems, networks, and data. This software makes it much more difficult for abusers that misuse technology to control and intimidate survivors through their devices. It can also prevent uninvited connections to devices so no one can steal information, install programs, or make other dangerous changes to these devices. If you're an organization working directly with survivors of domestic violence, you can access donated Norton licenses to distribute to your clients through TechSoup.
Your continued support as an advocate for survivors during their safety planning process is of paramount importance. Additionally, you can review these best practices from the National Network to End Domestic Violence (NNEDV) that survivors can use to protect their highly sensitive information. These are just a few important guidelines. Visit the NNEDV's Safety Net Project for the full list.
Digital Safety for Survivors and Organizations
Organizations that support survivors of domestic violence can help them understand how abusers can misuse technology, such as tracking their activities, gaining access to their information, and finding their location. When we equip survivors with tools and best practices, they are empowered to adopt these skills to proactively safeguard themselves and maintain records of concerning incidents.
Security and Privacy Measures
For survivors, it's important to practice vigilant security measures on a day-to-day basis. One possible tactic is for survivors to go into their device's settings and turn off both location sharing and Bluetooth when not in use. They should also avoid connecting to unprotected public Wi-Fi networks and regularly change the passwords to any accounts that might give away a location or sensitive information.
If the survivor thinks their device or online accounts have been accessed, they should change passwords using a different device that the abuser would not have access to, such as a library computer. In some cases, it's best to take the extra precaution of getting an entirely new device and not connecting it to any cloud accounts used in the past. Consider keeping the old device so that the abuser thinks it is still being used, and doesn't go looking for the new phone or escalate their behavior. Other steps survivors can take to increase password safety include multi-factor authentication and using a password manager.
In our data-driven society, it's crucial for survivors to be mindful of the information they disclose online. Whether they're setting up an account, making online purchases, or subscribing to mailing lists, it's important to provide only the essential information, minimizing the details shared. They should never provide an address unless absolutely necessary, and consider using initials or a false name rather than giving out their real name. Free VoIP (virtual) phone numbers can be obtained from Google Voice through an alternate Google account and can be used as an alternative contact number. There are also inexpensive ones through VoIP apps such as Burner, TextNow, and MySudo.
Identification and Reporting
Survivors should look out for any patterns that indicate they are being monitored, or that someone has access to their devices or online accounts. Unusual login attempts on cloud accounts may indicate that someone has unauthorized access, while certain apps draining a large amount of battery may be a sign of spyware on the device. If survivors have concerns about hidden cameras in their home, they can consider using hidden camera detectors to identify any potential covert recording devices. Additionally, personal assistants such as Google Home and Alexa can serve as tools for monitoring their surroundings.
Survivors may wish to create a log of detailed reports of each incident before taking action to remove access. This can help them to identify patterns and can be useful evidence for law enforcement or a court. If abusive behavior is happening online, they can also report it directly to the platform or app being used.
Digital Security for Organizations Serving Domestic Violence Survivors
In addition to adopting best practices in their technology usage, survivors can also benefit from using technology tools designed to consistently monitor and safeguard their devices.
Norton 360 Deluxe can back up data while protecting against viruses and malware and also includes a secure VPN. Norton 360 Deluxe is available as a donation to nonprofits through TechSoup that can be distributed to survivors of domestic violence. These tools combine several security measures to ensure that your clients' information is safe, and they monitor for any irregularities that might indicate a breach. If a device connected to the network is lost or stolen, Norton can be used to remotely locate, lock, and wipe that device, helping to ensure that sensitive data doesn't fall into the wrong hands.
Empowering Survivors with Better Security
In order to recover and rebuild from an abusive situation, survivors need to be equipped with the right knowledge and tools to protect themselves. Organizations in this sector can play an instrumental role in not only educating survivors on best practices in their own lives, but also providing them with the tools they need to feel safe as they navigate the world. As well as making use of the NNEDV's educational resources on data protection and security, you can offer clients security software to ensure that their data is safe.
Top photo: Shutterstock