Donations are a crucial part of every nonprofit's funding model. In order to encourage giving, process donations, and maintain positive relationships with your donors, it helps to invest in a tool to help you stay afloat with all of the tasks associated with donor and donation management.
The right technology for you will depend on your priorities, the systems you already have in place, and the time and budget you have to invest in a new tool. Here, learn about three great donor management tools available through TechSoup and find some guidance on deciding which is best for you.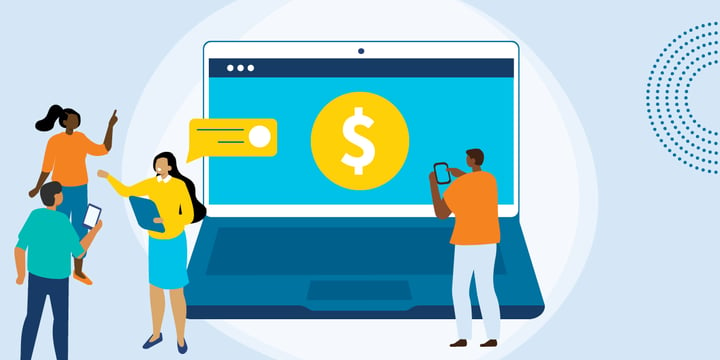 Constant Contact
Constant Contact is a CRM platform centered on email outreach. It allows you to segment your contacts based on demographic, event attendance, previous engagement, and other factors, helping you to deliver a personal experience to your community members. You can track engagement using A/B testing and automatically resend emails to those who didn't open them the first time around.
Constant Contact might be the right choice for you if you're looking to focus on outreach and using email to garner more donations from previous or potential supporters.
DonorPerfect
DonorPerfect is a constituent management and fundraising platform. As well as processing donations, you can track gifts and generate reports in order to analyze the effectiveness of your marketing efforts. DonorPerfect also integrates with tools like Excel and Google Sheets so that you can share these reports more easily.
If you're looking to build better relationships with donors and dig a little deeper into the effectiveness of your outreach methods, DonorPerfect might suit your needs.
Springly
Springly is an online membership management tool, combining CRM, online payments, website and communications support, and more. You can use it to collect and manage donations, as well as build relationships with your donors through consistent communication. Springly includes the capacity for a paid membership model, which can help you to simplify monthly donations.
Springly could be the right option for your organization if you'd benefit from a combined platform. You're not only looking to garner support from your community, but also need a secure and simple way of processing online donations and maintaining relationships with donors.
Constant Contact
DonorPerfect
Springly
CRM

Contact list management
Segmentation of contacts by demographic, event attendance, previous engagement, etc.

Manage contacts, track past donations

Manage contacts using a membership model

Donation Processing
No
Yes
Yes
Email Outreach

Customizable templates
Automated sends, including resending to those who didn't open the first time
A/B testing

N/A

Segmentation and targeted messaging
Create unique, customizable email newsletters

Reporting

Engagement reporting (views, clicks, etc.) in Core plan
Plus plan includes in-depth reporting such as conversions and sales

View reports on open rates, clicks, donations, and growth over time
Easy to understand in-platform reports
Export to Excel or Google Sheets for easy sharing

Open and click-through rates for email outreach

Other

Integrations with popular tools like Shopify and Canva
Personalized consultation (Plus plan only)

Data import tool and batched entry to save time and reduce errors

Accounting services
Full website builder

Cost to Nonprofits
Admin fee of $56 paid to TechSoup, providing access to a 50 percent discount on a Core or Plus plan at current rates
Offers vary based on organization budget
Admin fee of $15 paid to TechSoup, providing access to a 50 percent discount on Springly's current rates*
*Some organizations are eligible for a different offer that provides an 80 percent discount on current rates
Deciding Where to Invest
If your organization is considering how to set up, reconfigure, or upgrade your donor management system, investing in some new technology could be a great way to support your growth. Take stock of your needs and priorities in order to help you select the right software for your team.
Additional Resources
Top photo: Shutterstock