For any nonprofit, volunteers are valuable assets who put in their time, effort, and sweat to nurture the lifeblood of the organization. However, it's difficult to predict the behavior of volunteers. Sometimes they will happily offer their time, and sometimes they will just vanish from the radar. And no matter the context, pleasing a diverse group of stakeholders is a hard thing to do. Therefore, it's important to talk to your volunteers in order to learn what makes them tick. In fact, the same can be said for stakeholders involved in your organization.
But sitting down and interviewing each one of your volunteers or stakeholders is not always feasible. Additionally, one-on-one meetings can be intimidating and may not produce the most honest responses. Instead, consider conducting a survey among volunteers at your nonprofit.
Surveys conducted to gauge the satisfaction levels of volunteers and stakeholders are valuable for nonprofits to succeed. Moreover, nonprofits need to manage a lot of things, especially when resources are tight. When you have detailed insights, it becomes easier to prompt improvement in management, cultivate support, and help create a sustainable environment in the organization.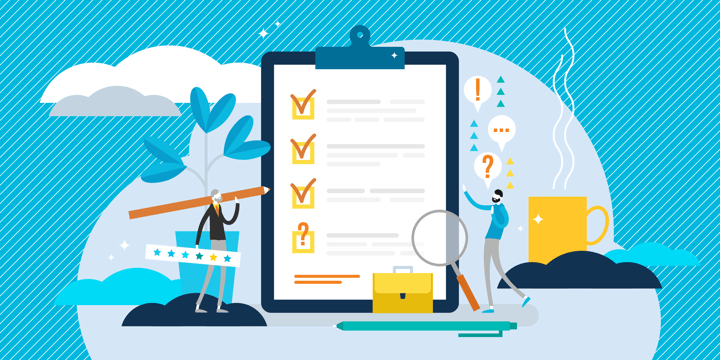 Five Efficient Survey Templates for You
Here are a few survey templates that will help you obtain important metrics from your volunteers, registered members, and those sitting on your board. Each one is designed to fit a specific need at a variety of nonprofits.
Volunteer Satisfaction Survey Template
Volunteer activities are just like any other event: You will never really know what people liked and did not like unless you ask. When volunteers are on the ground giving their precious time to your organization's cause, the experience is fresh in their minds, and they will have valuable opinions about your organization. This is where a volunteer satisfaction survey template comes into play. By surveying volunteers, you get unbiased insights, which can be used as feedback to improve and increase volunteer registrations in the future.
Volunteer Satisfaction Survey Template
Volunteer Interests and Skills Survey Template
Resources can be scarce for nonprofit organizations, and utilizing volunteers to their fullest potential is important. A volunteer interest and skill survey is an opportunity to analyze your volunteers from a different angle. When people sign up for one volunteer activity, they might possess other skills and areas of expertise that can be used elsewhere. By understanding their skills and interests, you might find another area where they could contribute more efficiently. This structured questionnaire asks volunteers if they want to participate in other activities and whether they have special skills.
Volunteer Interests and Skills Survey Template
Member Satisfaction Survey Template
It's crucial to understand, firsthand, what members want from your organization and how well each member perceives your nonprofit. The member satisfaction survey template helps you uncover many things. These include the reasons that specifically led them to become a member, other organizations or causes in which the members are interested, whether or not they are they satisfied with your process of addressing member concerns, and their expectations from the organization.
Member Satisfaction Survey Template and Questionnaire
Volunteer Enrollment Survey Template
The volunteer enrollment survey template is similar to many online forms that are used to boost registration from people, increase the number of sign-ups, and gather information about their areas of interest. The survey collects contact information and personal preferences so volunteers can be approached in the future for similar activities.
Volunteer Enrollment Survey Template
Stakeholder Survey Template
Stakeholders are the backbone of the organization. A stakeholder can be an individual or a group of people who have invested or donated or who sit on the board at your organization. A stakeholder survey has the potential to greatly influence what you intend to achieve as a nonprofit. It's also a great way to develop effective performance monitoring, communication, and reporting. A professional and unbiased survey questionnaire also helps in reinforcing the relationships between management and stakeholders.
See Where You Stand
Every organization needs to look back for measuring its performance to check where it stands in fulfilling its mission. A survey conducted to measure the satisfaction of volunteers, members, and stakeholders is a solid way to get valuable insights. Avoid the pain of structuring, designing, and creating a survey from scratch by using one of these survey templates and start gaining valuable insights about your organization today.
Additional Resources: Data for Nonprofits