Here at TechSoup, we recently had the pleasure of hosting a webinar in collaboration with DocuSign. DocuSign's partner ecosystem manager Cathy Yamada and digital marketing specialist Erica Smith tuned in to talk us through DocuSign's products and how they are working hard to support nonprofits to streamline their agreement processes.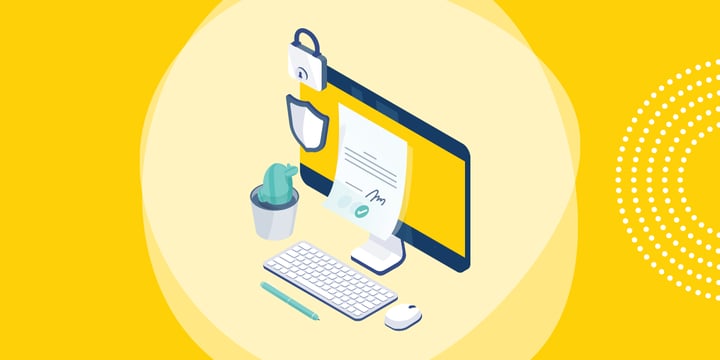 If you missed the webinar, you can watch it in its entirety below or read on for the roundup.
In what follows, we'll go over some key highlights from the webinar so that you can learn a bit more about how DocuSign can help improve certain processes at your nonprofit. Enjoy!
More than an E-Signature
DocuSign is best known as an e-signature company, but it has expanded in recent years to incorporate all aspects of managing agreements. As Yamada and Smith explained in the webinar, every organization has a system of agreement, whether they realize it or not. In order to hire staff, buy or sell goods, or apply for a grant, some form of agreement must be made.
We go through four stages in order to enact an agreement in our organizations: these are Prepare, Sign, Act, and Manage. Doing this manually and with paper forms and physical document storage is inefficient, time-consuming, and wide open to human error. Data often needs to be reentered, turnaround time can be days or weeks, and physically stored documents can be more easily lost or stolen. This costs organizations time and money and damages the experience of staff, volunteers, and donors. And mistakes can have legal consequences.
The DocuSign Agreement Cloud is modernizing these systems. The suite of products and integrations, as well as purpose-built nonprofit solutions, allows for quick, safe, and painless agreements at every level of your organization. From offer letters and new hire paperwork, to tax filings, to NDAs and contract management, the Agreement Cloud has solutions for every level of your organization. By using the DocuSign Agreement Cloud, you'll save time and money, eliminate errors, and create a better all-around experience for all involved.
Demand for nonprofit services has been steadily increasing in recent years, and particularly since the onset of the COVID-19 pandemic. Nonprofits are integral in ensuring that those in need have access to food, healthcare, and a huge range of other essential resources. As this demand grows, DocuSign is dedicated to helping organizations to increase their capacity to serve those in need. By managing agreements through the Agreement Cloud, you can commit more time and resources to serving your stakeholders while ensuring that your documents are legally sound and stored securely.
Giving Back with DocuSign IMPACT
Built with nonprofits in mind, DocuSign IMPACT is a global initiative designed to create stronger communities and a more sustainable planet. Through this initiative, DocuSign has committed over $3 million in grants to organizations protecting the world's forests, as well as offering their employees paid time off to volunteer. They have also included a paper impact calculator in their eSignature product, illustrating to users how much wood, waste, water, and carbon they have saved by using DocuSign.
DocuSign for Nonprofits
On top of this, DocuSign has partnered with TechSoup in order to offer nonprofits generous discounts and donations on its software. There are three levels of access, each with features tailored to different organizational capacities and needs.
DocuSign's Standard Edition allows you to generate agreements for almost any purpose. You can create templates in order to save time on creating forms and to personalize documents with your organization's branding. You also get access to the mobile app, saving you time by allowing for signing on the go. Organizations with a budget of less than $1 million can get access to the Standard Plan for free after the TechSoup admin fee.
The Business Pro Edition includes all of the Standard features, as well as some great extras. For example, you can securely collect payments along with a signature, send forms in bulk, and request that the signer send an attachment when they sign. You can also import a list of contacts into DocuSign and send each one a personalized form to sign. Access to Power Forms allows you to upload your templates online and send signers a link to sign at their own convenience. Organizations with a budget of less than $1 million can get access to the Business plan for $99 per year, which is more than a 75 percent discount on the market price.
With DocuSign Advanced Solutions, you can gain access to even more professional e-signing features. These include single sign-on (SSO), enterprise-level support, and a huge range of integrations with great technology partners. Organizations with a budget of more than $1 million can get a 40 percent discount on DocuSign Advanced Solutions.
For a detailed breakdown of features in each plan, take a look at DocuSign's website.
DocuSign Impact Corps
DocuSign Impact Corps connects nonprofits with a community of DocuSign employees who are dedicated to helping you maximize your impact by moving to the cloud. Once you sign up on the DocuSign Impact Corps website, you can connect with a highly skilled volunteer and schedule a meeting. Whether you need some support to get started with DocuSign eSignature, or you're a more seasoned user struggling with a roadblock, the team will do their best to help. If needed, you can schedule a follow-up appointment with your Impact Corps volunteer.
TechSoup and the DocuSign Agreement Cloud
DocuSign is dedicated to simplifying the signing process, helping you to direct more time and funds towards your organization's mission. Make use of DocuSign's donations, discounts and support through the TechSoup marketplace.
Top photo: Shutterstock