What a year. In the wild ride that was 2020, most of us nonprofit staff moved out of the office and into our living rooms, kitchens, and bedrooms in a master class in "making it work!" And as we figured out not only how to manage our organizations remotely, but also how to deliver our programs and fundraise from the couch, we acquired technology to help us. And boy, did we acquire technology — hardware, software, implementation services — whatever it took to work remotely, collaborate with our colleagues, and engage with our constituents.
Now, about 12 months later, it's time to step back and reflect on what to do next. How can nonprofits take the jumble of technology we acquired and drive forward toward more digital efficiency and resiliency?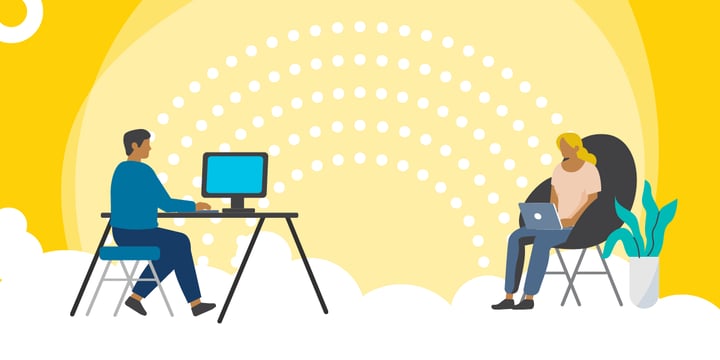 Here are five considerations to help you get started on the next steps in your digital resiliency — and digital transformation.
1. Commit to Becoming a Cloud-First Organization
Fortunately, most of the software solutions that many nonprofits adopted over the last 12 months are cloud based, so the good news is that you're already on your way. Now it's time to commit to moving most of your day-to-day operations to the cloud. But only do so where it makes sense. In some places where Internet connectivity is problematic, you may need hybrid solutions that blend cloud and on-premises capabilities.
If you haven't already, start with migrating to cloud communication and collaboration tools for email, document storage, and real-time communication like chat and video. Not only do they make remote work easier, they allow for integrations across many different tools and platforms for workflow automation. Some of the most popular and widely used tools by nonprofits are listed in the Tools to Support Remote Work section of our COVID-19 resources page.
2. Use Only Organizationally Implemented and Controlled Tools
We see many organizations still using YourOrgName@yahoo.com email addresses and personal or consumer Google Drive accounts to share and store important — and sometimes sensitive — organizational information on constituents or donors. However, all your systems should be organizationally managed and permissioned to prevent staff from accidentally disclosing information they shouldn't. Your organization should always be able to control the security settings and access permissions to prevent cybersecurity breaches (more on security below).
Microsoft 365 or Google's Workspace for Nonprofits — not the consumer version — are two great productivity tools that will allow you to better control access to your systems. In our blog, you can find a great comparison between the two.
3. Understand Your Data
I wrote about this more extensively in a blog post last year, but in short, in order to make better decisions for your organization, it's critical that you collect and manage your data so that it is standardized, easily accessible, and, for lack of a better term, "combinable." By this I mean that you can take data from different systems and programs and use it without having to spend hours reformatting and sorting in a spreadsheet. Start by answering these questions:
What data and information is most important to our organization?
What do we want or need to do with that data?
How do we collect it today, and what works and what needs to be improved about that process? Are we able to stop using paper-based processes?
Which of the tools we use today for collecting and using data work well and which don't?
What ideas do you have for doing all this better? Your staff probably has some really great insights.
Then you can make a plan for collecting that data in the most efficient way possible. This would include identifying what data you already have or collect and what data you still need. It also means outlining the ideal data flows and processes to collect, use, and manage that data and identifying the tools that can help you with that data collection, processing, and management. Some of this you can do yourself, and for some of it you may want the help of an IT expert. TechSoup also offers these services.
4. Protect Your Data
My first two points above will take you a long way towards getting the right security in place to protect your data and information. Business-level cloud software generally comes with configuration options to create the appropriate security settings for different kinds of data and permissions structures to allow limited access to certain information, such as staff or client records.
But there are also great tools for multi-factor authentication (MFA), single sign-on (SSO), and personal mobile device management that either come bundled with certain software solutions or are available through third parties such as Okta. And with work-from-home continuing for the foreseeable future, there are also ways to better secure your systems by allowing easier remote access using virtual private networks (VPNs) to grant manage access.
5. Knit Your Systems Together for Greater Efficiency
What's really nifty about a lot of these cloud-based systems is that they come with built-in integration capabilities to other companies' tools. For example, you can plug your e-signature tool into your client management system to digitize the collection of treatment authorizations pretty easily without needing a big IT project to do so. (E-signature tools available through TechSoup are DocuSign and Adobe Sign, which is included in Acrobat Pro DC.)
As another example, at TechSoup we have Zoom integrated into Microsoft Outlook, so I can set up a Zoom meeting right from my Outlook calendar.
These simple integrations make life and work easier, which lets us focus our energy on more important things. They also allow data and information to flow more quickly and with less human intervention. When you automate data collection and transfer processes, that helps keep your data "clean" and significantly reduces the need for extra work in making it usable.
Some of the points above are easy, and others require more specialized IT expertise, and TechSoup is here to support you with this work if you need help.
Beyond COVID
There's a good chance that your organization has undergone a great deal of operational change in the last year. And along with taking the tips above into consideration, you should also take a moment to celebrate your achievements under such extraordinary circumstances. And be sure to listen to your staff when they share their experiences — good and bad — during what continues to be a seismic shift in the way nonprofits exist in the world today.
Things are different now, but you should use the momentum generated by all this change to push further toward achieving even greater milestones in the months and years ahead. Taking the next steps toward being a more digitally resilient and digitally transformed nonprofit will make your organization more efficient and more productive. And that means you'll be able to do even more good in the world — and be even better prepared the next time an unforeseen catastrophe arises.
Additional Resources
Top photo: Shutterstock