This blog post is the second in a two-part series about how to enhance your grant writing skills. In part one of this series, we covered reading successful grant proposals.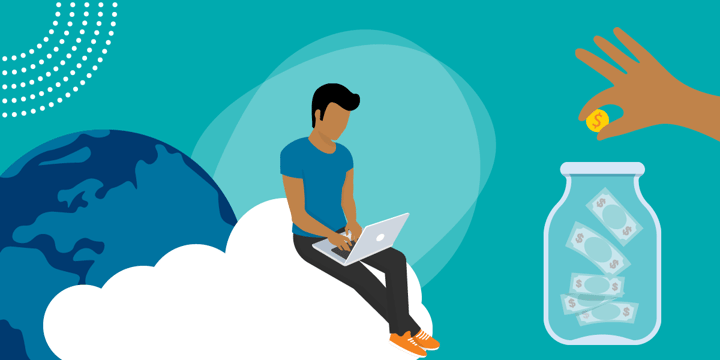 When I was writing proposals, I often misplaced important research articles, data sources, reports, and other information that I needed to develop my applications. I would have to go back through emails, websites, or my own documents to find the resources I needed. This took time and energy away from my proposal development and writing.
To help address this challenge, GrantStation recently enhanced its PathFinder library, a veritable treasure trove of resources that explore a myriad of nonprofit- and philanthropy-related topics.
You can use the PathFinder to find relevant resources to develop your proposals. GrantStation members can save these resources to their dashboard for easy access, while nonmembers can download and save them to one spot on their computer. Below, we explore what the PathFinder includes and how you can use it to search for resources.
Included in the PathFinder
The PathFinder is a free resource library designed to help you sharpen your skills, grow your career, and follow developments in the nonprofit and philanthropic worlds. It covers everything related to grants, fundraising, organizational and professional development, and sector trends.
The PathFinder is both a traditional and a nontraditional library. It contains curated reading material you might expect to find in a traditional library, such as books, newsletters and magazines, articles, toolkits, reports, and blogs. Best of all, most of these text-based resources are available in a digital format, so you don't have to leave your home to access them.
In addition to reading material, the PathFinder contains information on upcoming professional development and networking events, both in-person and online, including live webinars, conferences, workshops and training sessions, recorded webinars, podcasts, courses, and certificate and degree programs.
We've also added two new resource formats: data sources and evidence-based registries. Data sources let you bolster your grant proposals with relevant facts and statistics, while evidence-based registries can be used to develop programs based on proven methods and approaches.
How to Search for Resources in the PathFinder
As part of the PathFinder upgrade, we've expanded the list of searchable topics. You can now find resources related to fundraising, grant management, grant proposal development and writing, grantseeking, nonprofit and philanthropic trends, professional development, and organizational development. There are also additional resources for those items that do not fit neatly into any category. Each of these broad topic categories encompasses a number of subtopics (PDF). You can also search for relevant materials using the search engine on the right-hand side of the PathFinder page. Searches can be conducted by topic, format, and keyword, or a combination thereof.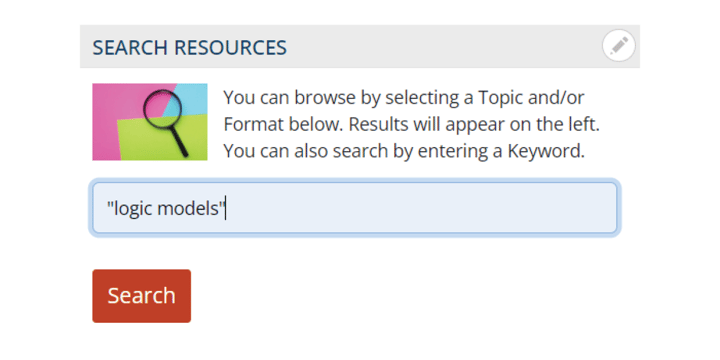 If you are looking to do a quick search, select a topic from the list, such as grantseeking or professional development. To quickly come up with a list of all related resources, click on the box to the left of the topic. You can further refine your topic search by also clicking on a format like article or conference.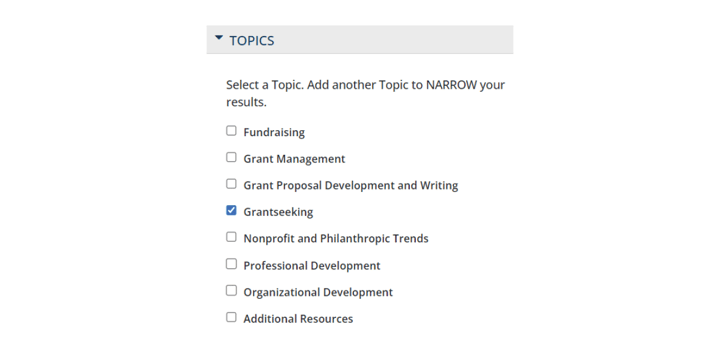 Finally, you can narrow down your results by typing in a keyword. For example, if you try a search for "budget," the PathFinder will pull up a list of resources that contain "budget" in the title or the description. If you are searching for a phrase, such as "program planning," be sure to put quotation marks around the phrase to ensure that you are getting the results you want.
When you've identified a resource that interests you, click on the name to bring up its record, which includes a description, the format it is in, relevant topics, and its cost (if relevant). Timely events may also include information on its date, time, and location. To learn more about each resource, click the Visit Website button.
GrantStation members can now save their favorite PathFinder resources to their dashboard for a one-stop location for all their resources. If you are not a member, you can download the resources and keep them in one location on your computer for easy access.
Discover PathFinder
The PathFinder can help you to become more informed and prepared as you write grant proposals. It can also help you save time and build a library of useful materials to come back to later. To see the PathFinder in action, review our short four-minute video that shows the new search features; then get ready to find your resources.
About the Author
Alice Ruhnke is GrantStation's content expert and is responsible for online education, partnership development, and working with the talented GrantStation staff to provide quality resources to help the nonprofit community secure funding.
Additional Resources
Top photo: Shutterstock