Finding the best grantmaker, or a set of grantmakers, to fund a specific program or project is not an easy task. Unless you have access to a good database that profiles active grantmakers, and a process you use to filter through the opportunities, things can feel pretty overwhelming pretty quickly.
There are many ways to go about finding the right match when it comes to funders, and the traditional way of manual research and building spreadsheets from scratch has no doubt worked for decades. However, a tool like GrantStation has helped many nonprofits win many grants with a solid strategy developed from years in the field.
In this post, we'll walk you through the basics of grants research, from our perspective.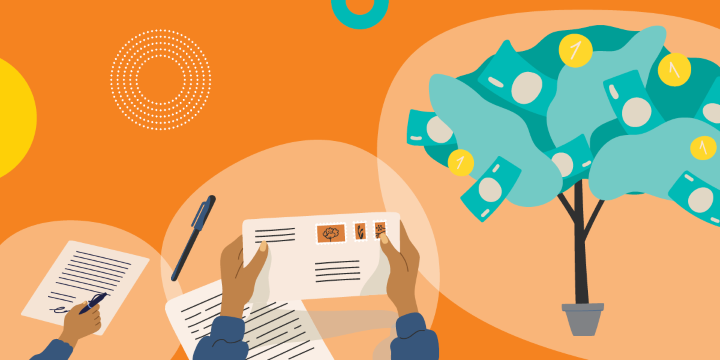 The GrantStation Method
GrantStation breaks the grant research process into two steps. The first step is to undertake what we call primary research. You identify a list of potential grantmakers using an online database, such as GrantStation. The next step is to undertake secondary research. The most productive grant research is fact-based. This means that instead of throwing requests at your list of potential funders, you have to dig deeper. This secondary research, which comes on the heels of primary research, is the process of determining which of those potential funders are your best bet.
Primary Research
Primary research consists of using key search terms to identify an initial list of possible funders. This will include looking at all types of funders, making sure you meet their criteria, and generating a list of funders to pursue. For example, if you're a regional food bank and you want to start a community garden ($25,000), your key search terms might include hunger, nutrition, gardening, agriculture, etc. Of course, you are also looking at eligibility. Perhaps they give in your county, but seldom give in your community. That could be a red flag. On the other hand, perhaps your community is their main focus — bingo, we have a winner!
To begin your primary research, using a database like GrantStation, reviewing each grantmaker's profile to see if their mission is aligned with your community garden project. You are also looking to see if the financial support they offer makes sense for your given project. If they only give $1,000 grant awards, is submitting an application to them really the best use of your time? On the other hand, if they give awards of up to $25,000, is it really smart to ask them for the entire amount if you have no existing relationship with the funder?
Finally, check out their deadline for proposals and prioritize applications to those grants that fit with your current timeline.
Once you have reviewed all of this information, you should have a good working list of potential funders. Now is the time to begin your secondary research since you want to narrow that list to those funders that are the best fit for your project.
Secondary Research
Secondary research consists of looking more closely at each funder that you've identified so you end up with a list of the best possible sources. These sources will be woven into your overall funding strategy. You now need to review the following for each funder.
Application guidelines
Annual report
Grants awarded
IRS 990 (for nonprofit sources)
Application Guidelines
Reviewing the funder's application guidelines is critical since you need to confirm that your project actually fits these guidelines. For example, the guidelines may require matching funds, which might be impossible for you to secure before the deadline, so that particular funder may be dropped from the list for now. Or you may find that they only fund collaborative projects, and though you don't have a partner at present, you could easily develop a partnership, so you could meet their guidelines.
Annual Report
If a private grantmaker publishes an annual report, take a few minutes to look it over. When you review the annual report, focus on the executive director's or CEO's opening statement because it will often give you a feel for what they have accomplished in the past year, as well as where they are headed in the next year. This information can provide a better idea about how your project fits with their objectives.
Grants Awarded
Some funders have a special section on their website that lists the grants they have recently awarded. This list gives you a good indication of the types of organizations they are funding, where those organizations are located, and the amount of the grant awards. You will glean a lot of information from reviewing this information, which will help you craft your own request. It can also be helpful to talk to one or two of their grantees that work in your field to get a sense of the dos and don'ts when working with a particular funder.
IRS Form 990
IRS Form 990s are available on the IRS website. Access is free. You can search for specific funders and charities by either their name or their EIN (employer identification number). Once you find the organization you are looking for, you will see copies of the IRS Form 990 that have been filed with the IRS. Another option to acquire the information is to directly ask the funder to email you a copy of their latest IRS Form 990.
Additional Website Review
If a funder still seems like a potential fit after reviewing their application guidelines, annual report, and grants awarded list, then take a good look around their website to get a sense of their mission, objectives, etc.
The website might also provide an eligibility quiz to take or a pre-application form to fill out prior to applying for funding. Either of these can be helpful as a pre-screening tool.
Find Extra Support
Throughout the research process, it's important to stay flexible in your thinking and keep in mind these search tips. You want to consider multiple alternatives and entertain a range of scenarios. Your overall approach should be adaptable. You have to be able to make revisions as you go forward. A denial of a request may shift your approach, just as receiving an award will.
GrantStation offers members a step-by-step process for building your grantseeking program. Research is only one small component of being an excellent grant writer albeit a very important one. We hope you found this guide to be useful, and if you'd like to learn more about how we help nonprofits win more grants each year, check out GrantStation today.
Now is a great time to start using GrantStation — on February 14 and 15, you can get GrantStation (normally $199) for only $99. Don't miss it.
Additional Resources
Top photo: Shutterstock