As we wrap up what's likely to be the most expensive U.S. hurricane season on record, it seems that disaster preparedness is on just about everyone's mind. Major storms, earthquakes, and wildfires can be devastating to the communities they strike. The need for a swift and streamlined response from aid workers is of utmost importance when it comes to minimizing harm in the wake of a destructive event.
That's where 4Bells — an app produced by Caravan Studios, a division of TechSoup — comes in. 4Bells helps organizations quickly deploy volunteers in urgent, time-sensitive scenarios where large-scale relief efforts can become extremely complicated.
This technology was put to the test in September 2017, when San Francisco saw a record-high temperature of 106 degrees. The heat wave prompted an urgent need for the fire department's Neighborhood Emergency Response Team (NERT) to set up cooling centers across the city. Most buildings in San Francisco are not equipped with air conditioning, and extreme heat can be deadly for vulnerable populations such as the sick, elderly, or homeless.
SF NERT used 4Bells to quickly mobilize the army of volunteers suddenly needed to staff these cooling centers.
"Heat waves are rare and dangerous in San Francisco, a place not equipped to handle extreme heat," said Captain Erica Arteseros, San Francisco Fire Department NERT training program coordinator. "I needed to reach out in specific neighborhoods quickly and know who was available to help. 4Bells got the job done."
4Bells can be used in all kinds of crisis scenarios faced each day by people across the globe. This public good technology is made possible with the help of Microsoft Azure. Its cloud-based services allow Caravan Studios to better help communities solve their most critical problems through the organization and application of local resources.
A Dedication to Public Good Technology
Caravan Studios operates as a division of TechSoup, committed to providing technology that helps address issues people face across the globe. Caravan's work consists of coordinating the production of apps like 4Bells (along with several others). As a trailblazer in the field of public good technology, Caravan Studios needs a powerful foundation on which to operate. That's why it made the switch to Azure in 2014.
"Since the very beginning, we've been working to leverage technology for public good," explained Caravan CEO Marnie Webb. "With so many resources being poured into app development over the past decade, it's important to redirect some of that energy to focus on building things that provide critical services, free of charge, to those in need. Microsoft Azure has helped us better realize our mission by providing powerful technology solutions across the board. It's really a remarkable service."
Groundbreaking Solutions in the Cloud
Microsoft Azure is a cloud computing service with a scope of capabilities so large that it's difficult to pin them down in one place. However, it's probably best understood as a tool that can provide at least three essential elements to an organization: authentication and security measures, infrastructure, and an online software marketplace.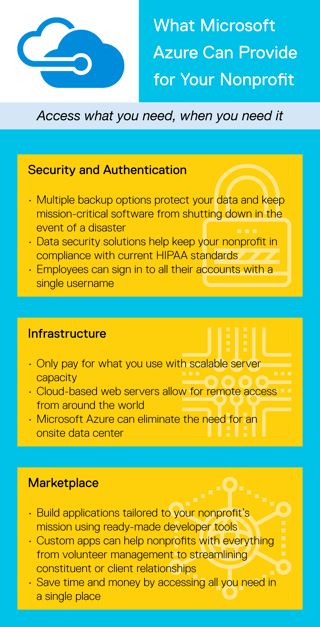 In terms of security, Azure can help organizations become HIPAA compliant. It also offers a multitude of different backup solutions, including the ability to replicate your entire server in a different part of the world. This option would become important if a single datacenter ever became compromised by a disaster of some kind. This geo-redundant safety measure is just one of the many disaster recovery features within Microsoft Azure for nonprofits.
Azure also provides a number of different authentication services, including a single sign-on feature available through Azure Active Directory. Single sign-on can also be used to log in to third-party applications.
On the infrastructure side, Azure provides virtual machines that can mimic any operating system one might find on a desktop, as well as virtual servers. Both live in the cloud and are accessible by a secure and encrypted connection called a virtual private network (VPN), which is also provided by Azure. All this is accomplished through a global network of massive physical datacenters that are maintained and constantly updated by Microsoft.
And while this effectively eliminates the need for an actual on-site datacenter, Microsoft's servers can also be used to host just certain pieces of infrastructure you'd like to put in the cloud. Furthermore, they're easily scalable, and can swiftly expand or contract to meet a nonprofit's changing needs.
Finally, the online marketplace consists of hundreds of out-of-the-box software development tools and other web services. These tools and services make it easy to build applications in the cloud and get them operating for less money and in less time.
The Agile Service Caravan Needed
"Azure is really at the heart of our systems," noted Caravan Studios CTO Anna Jaeger. "We're building apps for mobile devices, but those apps have to connect to our servers, to that central place where the data is stored and where communications can flow. Azure helps us with all of that. It allows the data to be captured and communicated to the right place, quickly."
The many benefits of hosting Caravan's servers on Azure come down to a matter of logistics. Maintenance and updates are handled entirely by Microsoft, and everything is nimbly scalable to meet Caravan's changing needs.
"Azure is perfect for our development process," said Stephen Lee, director of product development at Caravan. "With any new project we take on, we like to start small with a prototype or proof of concept, and then roll it out to a wider audience over the course of many rounds of development and user feedback. Azure lets us adjust on the fly, scaling our servers and services up only as needed. Since we only pay for what we use, it allows us to have greater control over our project budgets."
Lee also points out that Azure allows Caravan to deploy different coding languages across its apps in a single environment. And the geo-redundant backup solutions allow his team to rest a little easier with their added layer of data protection.
"As a small team, Caravan can stay focused on working with communities and developing great products, rather than worrying about managing servers and keeping our infrastructure up and running," Lee explained.
Microsoft Azure is an impressive product that's used by a staggering number of businesses across the globe, and eligible nonprofits can receive $5,000 in Azure credits through Microsoft. Azure was certainly the agile, reliable, and scalable solution Caravan Studios needed to take its impact to the next level.
Learn More About Azure
Here are some other resources to help you get started:
Explore Our Other Microsoft Videos and Tips