Over the last four months of 2020, I worked with a team of researchers, writers, and thought leaders to study how nonprofits are thinking about return on investment for technology. We published our findings — along with insights and analysis from leaders from across the sector — in December 2020.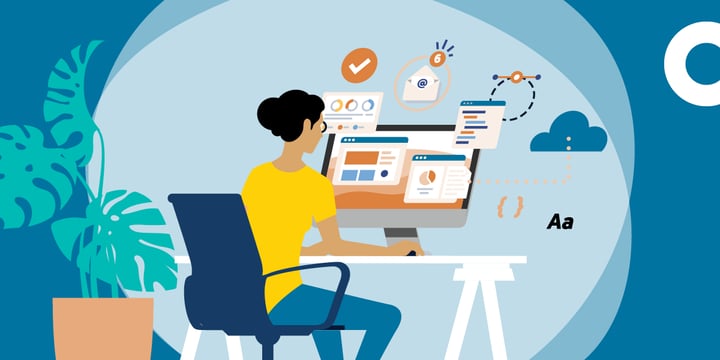 Around the time we were wrapping up the research, Judy Otto — technology officer at Southwest Initiative Foundation, a regional foundation serving southwestern Minnesota — emailed me with a timely message.
"We're grateful for the tech upgrades we began investing in three years ago," she said. "We'd be in tough shape now if we hadn't made them!"
Southwest Initiative Foundation works to organize and support community and business leaders, facilitate donations and lending to support local programs and economic development, and promote the region. It manages 30 local community foundations and more than 120 donor advised, school, and other funds.
Judy's email speaks to an aspect of return on investment (ROI) that's hard to calculate when you're making the investment decision: How might benefits and costs related to an investment change in various scenarios? In the case of Judy's organization — as for so many others in 2020 — the unexpected change was that foundation staff had to abruptly start working from home due to the COVID-19 pandemic.
In December, I scheduled a video call with Judy to hear more. In this blog post, I'll go over some highlights from our conversation in order to provide some useful perspective from one nonprofit's decision to make large investments in technology prior to 2020 — and how they were better for it.
Moving from a 1990s to a 21st Century Tech Infrastructure
Judy started at the foundation in 2012 as a gift processor, entering donations one at a time into an Access database. In 2015, she began to take on technology management when leadership identified a need for a new database.
"We needed something that was 21st century, because the old one was a 1990s model," she said. "It worked, but it was really hard to get into unless you were in the building, and there was no mobile connectivity at all."
The foundation selected Salesforce as its database and worked with a consulting firm to launch it. At the same time they were exploring options for a modernized database, they also moved document management into the cloud with Microsoft and moved their accounting system to a cloud-based system as well. By 2017, all of their major software platforms had shifted to the cloud.
What if they had not made this move prior to the 2020 pandemic?
"We would have been in tough shape," Judy said. "Our accounting staff could work a day or so at home before, maximum." Now they can work almost entirely from home, coming to the office just once a week for check processing. And even that need is diminishing as the foundation moves to ACH payments.
The grant process, which once included many pieces of paper and manual tasks, is now largely digitized and automated.
"Honestly," she said, "I don't know what we would have done. We were able to respond, and still are responding to needs. We've granted a lot of money this year, and donations are still coming in. Everybody's being paid, everybody's working, and we're busier than ever."
Improved Operational Benefits
Southwest Initiative Foundation was considered "essential" when the stay-at-home orders started and could have kept their office open if needed. But with a cloud-based IT infrastructure, they had the option to work remotely and were able to offer greater safety to staff without disrupting programs and services.
Judy has found that she can be highly productive in her home office. "I love working from home!" she said. "I always wondered if I could do that, and I discovered that I can. I don't want to go back into the office full time."
Another thing we talked about was which aspects of ROI matter most to Judy and to others in her organization. In our research study, Tech Impact found that when thinking about the value of a technology investment, organizations weighed operational benefits more heavily than financial or mission benefits.
Judy showed me that there's not always a straightforward answer to ROI questions. "I don't know whether we can say there's a good financial return on investment at this point," she said. "I haven't been a part of studying that." In her view, technology is a necessary cost of operating.
She described the former model, where they would make a large up-front investment in software to be installed on-premises and then do very little to update it and keep it as long as possible. Now, with cloud solutions and subscription-based pricing, it's more of an ongoing process. They continue investing in, developing, and fine-tuning their CRM every year. And while it can be difficult to calculate a precise financial ROI, it's clear to Judy that this has been worthwhile.
"So, do we have a good return on that investment? Well, we wouldn't have been able to serve our clients or carry on our mission without it," she said.
Now, partner community foundations are able to see gifts and grants in real time instead of in a paper statement once a month. Internal and external constituents get better data. In many ways, the foundation operates more efficiently with the new technology, though Judy sees opportunities to take advantage of even more efficiencies.
Greater Flexibility in Business Processes
One of the biggest benefits turned out to be greater flexibility in their processes.
"We were so stuck in working the way our tools allowed us to work," she said. "Now we are able to do so much more because our tool allows us to shift the way we do things."
The Southwest Initiative Foundation could not have anticipated these circumstances, with staff working from home and responding to community needs during a global pandemic. But five years ago, leadership already saw that the technology landscape was changing and made a decision to modernize their IT infrastructure and processes in ways that would make the foundation more nimble and resilient, whatever the future might bring.
Judy is glad they did. "Businesses went through a lot of this change in the last 20 years, and we just hadn't," she said. "If you can't do your work online, and do it from anywhere, you would be in a bad spot right now."
To learn more, download Tech Impact's free report, Return on Investment (ROI) in Nonprofit Technology Decisions.
Additional Resources