As we collectively mark one year since COVID-19 altered our lives immeasurably, we pause to reflect on just how much has been lost, how drastically our lives have changed, and what lies ahead. While there is hope on the horizon in the form of widespread vaccination, the COVID-19 pandemic has inevitably changed the way we do many things permanently.
In April of 2020, TechSoup launched the COVID-19 Recovery Fund. Its purpose was to generate funding that could support quick adoption of new tools to help nonprofits collaborate with colleagues and deliver vital services in their communities while working remotely. In the United States alone, the Recovery Fund enabled 822 nonprofits in 2020 to upgrade their hardware and move to cloud software and services that have allowed them to maintain continuity of their vital work. And through our TechSoup Global Network partners, the COVID-19 Recovery Fund has supported an additional 557 NGOs in 17 countries in the global south.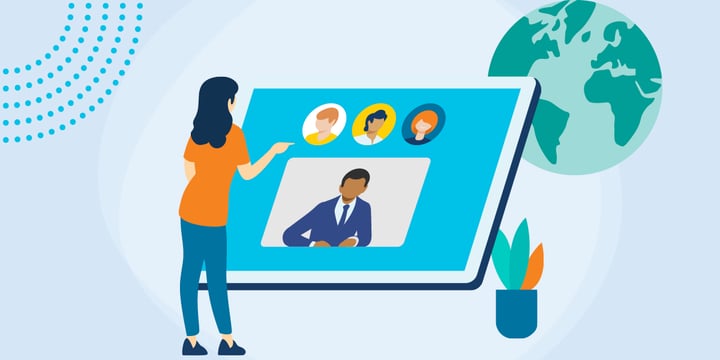 While this accelerated digital transformation has been somewhat forced upon us by the pandemic, the civil society organizations that have made these strides are positioning themselves to be more resilient long after we go back to some semblance of normalcy. It's worth taking a closer look at some of the ways in which TechSoup members have adapted and in many ways grown though this program.
Nonprofit Feature: Atlanta Growing Leadership of Women (GLOW)
Atlanta Growing Leadership of Women (GLOW) is a faith-based nonprofit organization that serves young women and girls, ages 14 to 25, from underserved communities in and around Atlanta, Georgia. Atlanta GLOW runs mentoring, leadership, and life skills programs to help young women grow up with the vision and motivation to improve their lives and their future prospects. Its model is built on close personal relationships, and its programs have historically relied on in-person interaction. All of that changed when COVID-19 prevented it from running their programs as it always had.
When Ashlie James, founder and executive director of Atlanta GLOW, found out about the TechSoup COVID-19 Recovery Fund, she was wrestling with the decision of whether or not to cancel some of their fall programming. The fund allowed them to acquire Zoom Meetings Pro and pivot to a fully online format. TechSoup also set them up with Microsoft 365 and DocuSign, which has helped Atlanta GLOW streamline its operations in this new virtual environment.
"As of today, we are still currently operating 100 percent virtual, and have actually seen an increase in youth engagement and the number of program and service opportunities we can offer," James says. "I believe that after the pandemic, we will continue to offer a hybrid of in person and virtual offerings, as there was definitely a value-add to be able to operate with this type of flexibility and continue serving youth and families in a safe and responsible manner."
The Recovery Fund's Global Impact
A common refrain throughout the pandemic has been that "we're all in this together." But while everyone has been impacted by COVID-19 in some way, those impacts are unevenly distributed both within and between countries. That's why we decided to channel this response to the pandemic through our local partners in the TechSoup Global Network. We worked with eight partners, all representing countries in the Global South, to design interventions that were relevant and impactful in their local context.
Though each partner has designed interventions to meet local needs, there is a common thread of helping underserved nonprofits adapt to the cloud and not just survive, but thrive. In total, these programs are transforming the operations of 557 NGOs across 17 countries. Most of these projects involve not just providing access to upgraded hardware and software, but also capacity-building training that will help organizations to adopt best practices around their enhanced tools.
One such project is being implemented by network partner MAKAIA, based in Colombia. To address the COVID crisis, MAKAIA is working with 100 NGOs across Colombia, Argentina, Costa Rica, Perú, and Panamá to build digital capacity through individualized work plans to guide their digital transformation journeys. Participant NGOs are not just getting access to tech tools at no cost. They are also working with a tailored training plan and expert support to define their digital strategy and long-term vision. This will ensure that their staff members are capable of incorporating technology into their daily operations.
MAKAIA's project is supporting entities like Síwo Alâr, an organization from Costa Rica that creates spaces for support and recognition of human rights for transgender men. Through the MAKAIA project, Síwo Alâr has built a strong technological foundation for its programs. "Being part of the digital acceleration project has given us tools to understand how to better carry our message as an organization to other trans people and allies," says Jean Matarrita, leader of digital acceleration of the organization.
A Collaborative Effort to Support Nonprofits During COVID-19
This effort would not have been possible without the support of our generous donors. Funding to support our members through the COVID-19 Recovery Fund has been provided by Truist Foundation, VMware, Microsoft Philanthropies, The Libra Foundation, Amazon Web Services, Box, DocuSign, Chan Zuckerberg Initiative, Facebook, Open Society Foundations, Packard Foundation, and Vanguard Charitable, as well as many individual donors who contributed.
Our work is far from over. As the pandemic continues to disrupt nonprofits' operations for the foreseeable future, the TechSoup COVID-19 Recovery Fund will continue to fund technology solutions to help organizations not just survive, but thrive. Looking further on into the rest of 2021, TechSoup is exploring ways to more effectively enable an accelerated digital transformation, to help organizations flourish in good times and be resilient in hard ones.
Additional Resources
Top photo: Shutterstock