As someone involved in the grant writing and management process at your organization, you need to know how to best spend your time and money so that you get the greatest "return" on your investment. You don't want to waste your limited resources on activities that are not likely to be successful. But you also want to avoid being so shortsighted that you miss the bigger picture.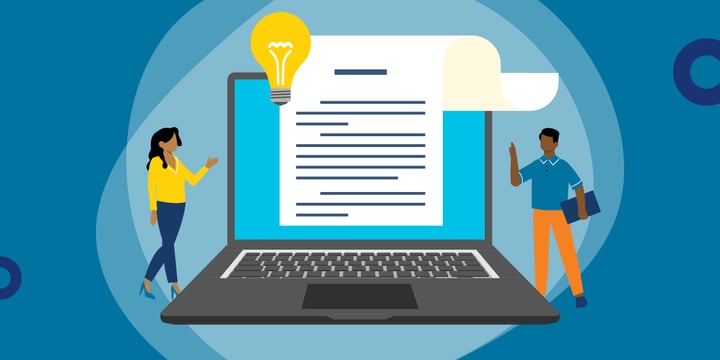 You may be tempted to think that the return on your grant writing investment is simply the amount of money a specific grant application brings in. You might wonder if the time and money you spent to procure that particular grant was worth it. Right? Not so fast …
We need to look at the return on your investment in both the short term and the long term. Yes, the easiest way to assess success is the "check in the mail." But what else should we consider?
Find Value in the Writing Process
The good news is that the grant writing process itself can be extremely valuable to your organization — and to your own understanding of your organization's work. For starters, collecting all of the information you need to prepare a strong application can be a great strategic planning exercise. You will have to think through many needs, assumptions, activities, and intended outcomes of your program — including why you think it will work. In a related process, you will need to create a program budget that may shine a light on expenses you might not have otherwise tallied up.
If you are writing a general operations proposal to keep your entire organization running, you may start to see more clearly how the many pieces fit together well and could support each other even more. On the other hand, you may discover some weak, extraneous, or even contradictory parts that previously had gone overlooked.
I have seen many organizations — and staff — benefit in these ways from the grant writing process for nonprofits. And that happens regardless of whether or not they win a specific grant.
Build Once and Tweak Many Times
Another piece of good news: Once you have invested the time and effort in creating a solid, comprehensive grant writing proposal template, subsequent versions take a lot less time. You will have created a document that can be tweaked and updated for months, even years, to come. You're about to get a lot of traction out of it!
Customization tweaks (additions, deletions, and other modifications) are usually pretty minor. In fact, some funders specifically encourage you to submit applications you have developed for other funders and just customize the cover letter.
Your proposals will also contain valuable gems that can be excerpted and repurposed for many other fundraising or marketing materials. For example, the success stories you collect for your grant proposal can also go on your website or social media. The program information you hash out might also inform a promotional video or show up as talking points for meetings with individual donors.
Learn Lessons from Funders
Sometimes things happen at funding institutions that we can't control and may not even be aware of. While we do our best to create the most compelling grant proposal packages, sometimes we just have to accept that we can't win 'em all. (Yup, I know, this is frustrating.)
Funders consider many factors, and (I dare say) the quality of your proposal is only one of them. The organization's reputation or history in the community, changing funder priorities or staff, limitations on funds, and a perceived mismatch with a proposal's programmatic emphasis are just a few. Sometimes the sheer amount of competition simply crowds out your proposal!
But an initially declined proposal can actually be a blessing in disguise. Sure, you may just need to try again — especially if the funder gives you an indication of future interest. However, frequent rejection of a proposal often means you're doing something wrong. It could be a sign that you need to learn more, get better advice, do more research, ask more questions. It might also be a sign that your project just isn't very fundable right now (for whatever reason). All of this information is very valuable to you (i.e., a good return on your investment).
For instance:
Maybe your organization or proposal has some weaknesses that you couldn't see but the funder could?
Maybe you just need a few more years under your belt to get a little better known in your field.
Perhaps you're showing potential, and the funder is able to share nonmonetary resources that are actually more beneficial to you right now?
And sometimes funders can connect you to collaborators that will make your proposal more attractive next time.
These are just a few examples of the many lessons you may learn that can lead to long-term grant writing success.
Know Thy Funders
Remember that not every funding opportunity is a good or appropriate one for your organization. I strongly believe that it is NOT a good idea to apply to any and all foundations, corporate grantmakers, government agencies, and other funders you can think of. That "shotgun" approach is a total waste of time, money, and energy — otherwise known as a bad investment.
Instead, you need to look carefully for a strategic role that your organization can play in each funder's world. If you find it, great! If you don't, move on to the next one. Make sure that you are doing solid funder research, strategizing, and planning. You are looking for funders whose current priorities and strategies align best with your organization's work. Identifying them and developing appropriate cultivation strategies will ultimately lead to the grant success you are seeking.
So, while a simplistic (but welcome!) return on your investment in grant writing and management is a grant award right now, don't discount the long-term value of this work. Both your organization and your ongoing fundraising work will continue to reap the strategic benefits.
About the Author
Dalya Massachi empowers nonprofits of all sizes to craft strategy and tactics for successful grant writing and management. She has raised millions of grant dollars on a wide range of social and environmental issues and is the award-winning author of Writing to Make a Difference: 25 Powerful Techniques to Boost Your Community Impact. Drawing on her 20-plus years as a writer, editor, trainer, and writing coach, Dalya's friendly, practical presentations share her top techniques and insights. Her collaborative and supportive style carries over into her group and individual coaching work.
Additional Resources