With the pandemic have come many hard lessons in the world of nonprofits and businesses everywhere. One of those lessons is the absolute necessity of growing diverse income streams to maintain stability in otherwise uncertain times. Many organizations that have relied on events, galas, community events, or other in-person fundraisers have had to face the tough reality that those cornerstone events might not always be a staple in their larger fundraising strategy.
One option to diversify your organization's fundraising is to follow the trends of the larger business world and dive into the endless possibilities of e-commerce.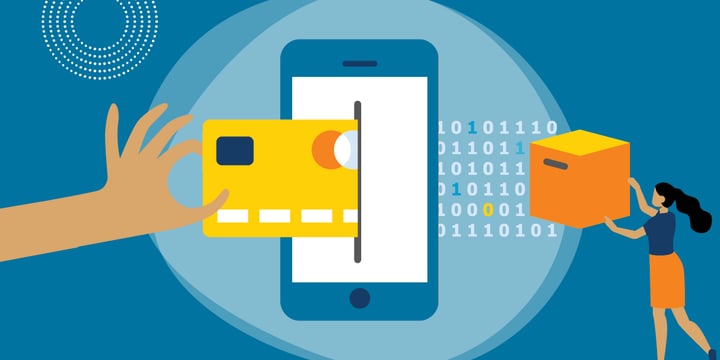 What Is E-Commerce?
E-commerce is simply the buying or selling of products or services online. Nonprofit organizations can leverage a variety of tactics in choosing what to sell depending on their target market and the focus of their mission. For example, the Girl Scouts have their famous cookie sales, which in recent years have moved online. This product matches their brand of teaching young girls leadership skills through community involvement, entrepreneurship, and confidence building. Another example is Elephant Origins, which raises money to protect Asian elephants by selling teas sourced from the same regions.
While not every organization will have an e-commerce product that perfectly aligns with its brand or mission, something that many nonprofits already have or can build is merchandise, or branded swag. This is an excellent option because merch can serve as an additional way to raise awareness, strengthen organizational loyalty, keep your organization top-of-mind, and build community.
How to Create Merchandise
One of the most important aspects of your merchandise is quality. Both the design of the merchandise and the format of your merchandise should provide value to the constituent. Merchandise is like a walking billboard for your mission and should be interesting, on-brand, catchy, and memorable. Investing in the design portion of your e-commerce strategy can determine the success of the overall tactic.
Find a Designer
Most organizations do not need a designer on their staff and therefore will need to find external sources for design. Luckily, TechSoup Marketing Services offers branding and graphic design support for nonprofits.
Hold a Competition
Another way to get your community involved in this project is to hold a competition. Tee shirt designs, logo designs, or really any design you can find multiple uses for can be a great and low-cost way to source collateral for use. Just make sure to be explicit about the reason you are collecting these designs and have the permission of the artist to produce them.
Design the Merch
Once you have your design, you will want to decide what items to print it on. Popular swag includes shirts, hoodies, jackets, hats, and common household items like mugs, cups, or even frisbees. Whichever you pick, do so with your target audience in mind. Demographics play a big part in a successful store by ensuring that the products you offer are in line with the needs of the audience and provide value.
Setting Up an E-Commerce Shop
With your design finalized and your products chosen, the next step is to set up your e-commerce store. Some platforms offer both design and printing of merchandise as well as selling, like Bonfire.
Other e-commerce platforms, like industry leader Shopify, offer integrations with dropshipping services. Organizations can use this option to get started with low overhead and to test out different products before making a larger investment. Not sure how to get started? TechSoup's Website Services team can help you from product creation to store building to promotion.
How to Incorporate This into Your Current Organization
The power of your e-commerce shop is in the execution of the promotion. Work to ensure that your shop is featured and highlighted across your major communication channels. Merchandise can be leveraged as the initial buy-in of a potential supporter who doesn't know a lot about your mission. It can also be an opportunity to nurture your relationship with a current member or donor and everyone in between. Therefore it is important to make sure your store is easy to find, navigate, and share.
Website Integration
The best place to start is to make sure that your store is connected with your website. Depending on the platforms you are using for the store and your website, there can be great variation in how this integration is set. One of the easiest ways to connect the store is to have external links across your website and within your navigation that open the store in a new tab. For a more seamless experience, you can set up direct integrations so users can purchase items directly from your website.
Email Campaigns
Make sure your contacts know about your store through an email campaign. When your store is first launched, running an email announcement shows your members that you are innovating, growing, and diversifying. It can also be a great way to see which products current members are drawn to and will likely be your top performers. Running a targeted campaign around Giving Week or end-of-year giving is another way to bring attention to your store and drive sales. During the rest of the year, you can incorporate highlighted merchandise into your newsletters or other promotional emails.
Extra Tip: Think like a business. Sales and short-term promotions are a great way to drive more sales in a short period of time.
Social Media
Social media allows you to meet your audience where they are online. It also serves as a powerful word-of-mouth marketing tool, especially around end-of-year giving. Much like your email strategy, sending out a series of social media posts to announce your store is a great way to generate traffic.
Use social media to announce sales throughout the year or highlight new products. For added success, create a hashtag for your store and encourage supporters to post pictures of themselves in or using your merchandise. This is a great way to build community, drive more sales, and spread awareness.
Use Merch as Rewards
A common tactic for nonprofit organizations is to use their merchandise as rewards for loyalty or contributions. While running fundraising campaigns, having a variety of milestones that align with a prize is a great way to thank your supporters, promote additional giving, and gamify donations.
Utilizing e-commerce within your organization can support sustained and diversified income throughout the year. Whether you already have a shop that could use some updating, want to design merchandise from scratch, or want to drive more traffic to your existing store, TechSoup Services is here to help.
Additional Resources
Top photo: Shutterstock