Access to reliable, usable data can transform the way you do your work. It can inform how you allocate your resources, help you track and report your impact to your community, and provide essential data to incorporate into funding applications.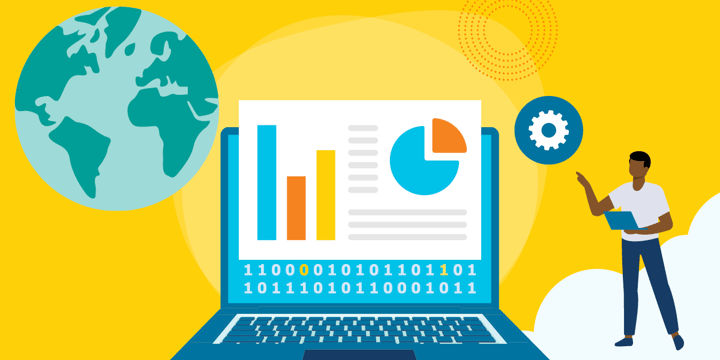 A great deal of important data is publicly available, but from a complex maze of unconnected sources, each requiring significant effort to understand and use. In addition, studies have shown that data scientists spend up to 80 percent of their time on basic data cleaning, merging, and management tasks. If you're like many of the small nonprofits that we serve, you probably don't have the time or expertise for this level of effort.
To address this challenge, Google has launched the Public Data Commons. This project brings together and connects data from a variety of government and non-governmental organizations. The goal is to make this public data accessible and useful to people who are working to improve the world in areas such as health, economic development, and climate change.
Through a natural language interface, nontechnical users can pose queries such as these:
It's accessible to anyone for free, and you don't need to be a data expert or research professional to use it.
A Great Way to Easily Visualize and Cross-Reference Data
This comprehensive database allows you to search and cross-reference data from a wide range of sources.
It includes public datasets from various government agencies including the U.S. Census Bureau's American Community Survey (ACS), the Centers for Disease Control and Prevention (CDC), and the Environmental Protection Agency (EPA). It also includes open-source data from universities, research centers, and other repositories.
You can filter, search, and explore information based on a range of different factors. For example, you can use scatter plots to view data on a chart or use the place explorer to access all data about a specific city, state, or country.
Depending on what you're looking for, you can choose a view, timeline, and dataset that presents the information in the format that works best for you. Alternatively, you can select a suggested point of interest and begin your exploration from there.
You can focus on a demographic data point, such as age, ethnicity, citizenship status, or income. Or, you might begin your search focused on environmental factors such as climate and emissions across locations, or on housing-related data like home value and mortgage status. You can also cross-reference these situational variables with demographic and location information in a way that makes it meaningful.
You can use this rich repository of data in countless ways. For example, perhaps you have a grant or some budget to put towards a certain need in your area, and you need to identify the group most in need of support. You can use Data Commons to explore the available relevant data and use that to guide your strategy.
How You Can Use Data Commons in Your Work
Let's say that your organization has been tasked with opening and running a new food pantry and you need to identify the location that would benefit from it the most.
Data Commons contains a wealth of information on food security status as well as household income, health-related behaviors, housing status, and other factors that can help you to identify levels of need across locations. You could select a few key indicators and conduct a map-based search through Data Commons in order to spot the areas or communities that need the support the most.
Here's an example of a search for the number of households per capita without health insurance, and with an income of $25,000 or less, across counties in California: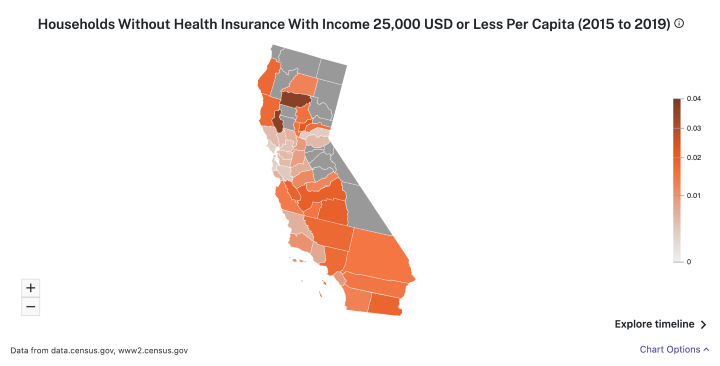 You can, of course, get creative with how you cross-reference your data in order to draw useful insights for your organization. You can also explore the Data Commons website for other ideas and examples and even contribute your own data if you have conducted research in your mission area.
Curated by TechSoup
In TechSoup's own instance of Data Commons, we have gathered relevant data on two topic areas — food security and climate change — in order to help our members operating within those mission areas to easily access information about their field. You can also find some examples of stories told by public-access data, from across the TechSoup Global Network, such as the intersection of hunger and gender in Mexico.
Get Started with Public-Access Data Today
Data Commons is an invaluable resource for nonprofits that need reliable data but have limited resources. Whether you use it to gather data for your internal research, your grant proposals, or your project development, Data Commons provides a wide range of ways to explore data, visualize trends, and make sense of your world. Learn more, start exploring, or contribute your knowledge by visiting the Data Commons website.
Additional Resources
Top photo: Shutterstock