Data is power. To make informed decisions, nonprofits need access to reliable datasets that provide an accurate picture of the communities they serve. In civil society, we are constantly making appeals for support. We need funders to believe that our work makes a difference. We need community leaders to make systematic changes at the local, national, and global levels. We need to demonstrate to funders that their gift makes a difference. And, within our own organizations, we need to understand if our programs are producing our desired impact.
That's hard, right? It requires finding, organizing, interpreting, and visualizing a wide variety of data from many different sources. That's where Data Commons comes in.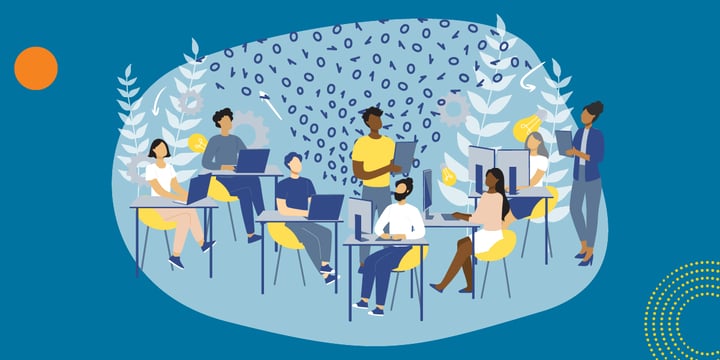 Data Commons is a Google-supported project that helps organize open data for the world. A team of engineers has pulled together an enormous amount of data and organized it so we can ask questions of that data as if it were in one giant database. We're proud to announce that TechSoup is working with Data Commons to make it easier for nonprofits and funders to access relevant information. Let's explore what Data Commons is, how it works, and how it benefits the nonprofit sector.
What Is Data Commons?
Data Commons is a collection of public datasets compiled from multiple sources and organized into one searchable repository. It currently features datasets from the U.S. Census Bureau's American Community Survey (ACS), Centers for Disease Control and Prevention (CDC), Environmental Protection Agency (EPA), and other government agencies, as well as open-source data from universities, research centers, and other sources. All of this information can be accessed through a single platform, and it's free for anyone to use.
Data Commons encourages open data utilization, and it greatly enhances organizations' ability to find and use open data to gain insights into the problems they're addressing in the world. Each open dataset offers a wealth of potential understanding and answers, allowing us to discover new ways of approaching difficult dilemmas facing our world today. The mission of Data Commons is bold yet simple: to increase the impact open data can deliver by organizing it in a more accessible way.
How Does Data Commons Benefit Nonprofits?
We need to be able to tell stories with data. We need to tell stories that, for example, clearly illustrate the correlation between education levels and long-term health outcomes. In this case, we can then use that data-driven story to convince funders, volunteers, and community members that a local after-school tutoring program is about more than just providing services today.
We need to be able to compare our outcomes with broader societal outcomes to show the changes that we have made. Data Commons provides nonprofits with access to a wide variety of powerful datasets that can help them better serve their communities by providing more accurate information about potential beneficiaries or areas of need within their service area or specific communities. This allows deeper data dives from every corner of the world without needing an in-depth understanding of how to use complex research tools. Additionally, Data Commons allows nonprofits to combine their own program data with open-source datasets so they can quickly create reports demonstrating community needs which can be used when applying for grants or other funding sources.
How Can I Stay Informed and Get Involved?
With Google's support, we are working with our colleagues at Tech Impact's Data Innovation Lab to define ways that those of us in civil society can use this data to help us in our work. This collaboration was designed specifically with nonprofit organizations in mind — but it's not just for us. Foundations and funders alike have much to gain from having easy access to reliable datasets that provide an accurate picture of local communities throughout the country.
Your contributions will help make Data Commons an important resource for civil society. We'd love to hear from you. Let us know you're interested by emailing datacommons@techsoup.org, and we will keep you abreast of exciting developments and include you in pertinent conversations surrounding the project. You can also attend a webinar on February 13 to learn more about Data Commons and participate in a Q&A session.
Let's develop an environment that promotes the visualization and interpretation of public data. Let's instigate a richer understanding of how organizations can leverage public data in programs and decision-making. Let's improve open data for our sector, and let's do this together.
Top photo: Shutterstock