In just two years, a global pandemic, advances in technology, and social justice movements have completely transformed our work lives. Video calls from home are the new normal, and many of these changes are here to stay. We've been given a glimpse of the office of the future.
But it's not just about software and email signatures. We are in the midst of a paradigm shift where virtual meeting platforms, work flexibility, equality, and team happiness are the key factors shaping the future of the nonprofit workspace.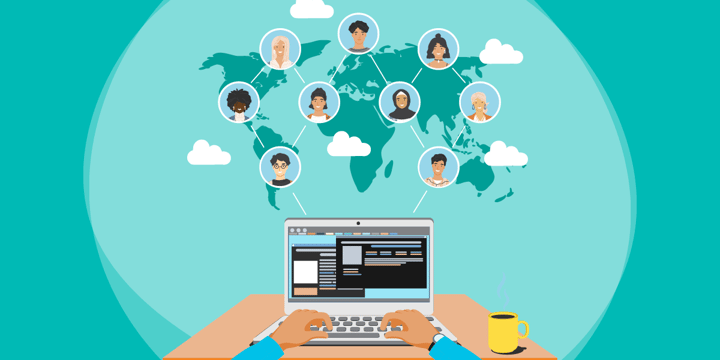 Connecting in the Cloud
Digital tools have always supplemented the core, in-person work of our organizations. We met around conference tables while our email, calendars, and task management apps kept things moving. But that has all changed: It is often the in-person work that now supplements the larger digital workflow.
Virtual Meeting Platforms
Meeting platforms have become the digital lifeblood of our organizations, with Zoom, Google Meet, Microsoft Teams, Webex, and others giving structure to our day-to-day communications.
If your organization already uses the Slack messaging platform, you can make use of the Slack huddles feature. First released in mid-2021, the Slack huddles feature allows members of a channel or direct message exchange to initiate an audio-only, impromptu meeting, mimicking the serendipitous run-in that might happen among team members in an office. You can also make audio and video calls right from within Slack. Slack also integrates with other telecommuting services, like Zoom, Microsoft Teams, Google Workspace, and Webex.
Head in the Clouds
We've seamlessly pivoted to virtual meetings almost overnight — but not without our fair share of problems.
For one, there is the dreaded "Zoom fatigue." Broadly, the symptoms are tiredness, worry, or burnout associated with long periods of teleconferencing. Unlike in-person meetings, video conferencing presents an unnatural overload of nonverbal cues, such as eye contact. We're also presented with staring back at our own face and contending with reduced mobility.
To help, your organization might consider audio-only meetings or try limiting the length and frequency of video calls. To combat mental fatigue, ask participants to use simple backgrounds and to make use of the "hide self-view" button. You may also encourage the use of portable keyboards and webcams to promote enhanced mobility during meetings.
Happy Hour
Telecommuting doesn't have to be just for daily standups and sprint planning meetings. A distributed team may not be able to meet at a restaurant for happy hour, but they can hop on Zoom or another online platform for some fun.
With a wide range of platform and integration options, Bevy knows how to help you host and manage community events of all sizes. You might also consider throwing Qiqochat parties, giving participants the freedom to mingle in a variety of virtual breakout rooms.
If your team likes to play games, Jackbox Games has a wide variety of crowd pleasers that accommodate distributed participants from around the world. Themes and dress code suggestions (for example: hats) help lighten the mood, a welcome break from the usual work routine.
On the Horizon
Companies are already giving us a glimpse into the future of work. Facebook recently rebranded as Meta and released an open beta of the Horizon Workrooms app, a metaverse for work. Team members slip on VR headsets and enter a shared virtual space with meeting rooms, whiteboards, and more. It will be important for nonprofits to help shape the future of virtual workspaces.
A Flexible Future
With distributed workforces, your staff will be working from time zones all across the world. Online coordination and an openness to flexibility will be the hallmark of a successful nonprofit workspace. You can greatly expand your range of talent by offering the flexibility of a virtual or hybrid office. It will be important to have schedule expectations and arrangements posted online, with easy access to requesting time off, payroll input, and more. TechSoup offers a wide variety of HR products for Nonprofits.
Customize and Automate
The old ways of sharing data offer little room for the flexibility of customization and automation. In-person discussions, paper documents, and even some aspects of email may prove to be too rigid for the myriad workflows your distributed team brings to the table. These may have sufficed in a shared central office, but team members now need the freedom to build custom workflows around new virtual processes.
Innovative, customizable project management solutions are now available, with standouts like Notion and Asana. With Notion, users can build out an integrated digital ecosystem with an endless potential for dynamic databases, templatization, company wikis, and more. Task management app Asana offers powerful project management features to keep your team on task. Slack also provides customization options, with over 2,500 integrated apps available in the app directory.
Volunteering Made Easy
With the COVID-19 pandemic still with us in 2022, volunteer recruitment is slowing. Volunteers are an essential resource for nonprofits, and it is just as important to extend flexibility to your volunteers by simplifying the sign-up process, posting opportunities on your website and social media channels, and offering virtual volunteer opportunities and contactless check-in for in-person events.
Equity Is Key
The past couple of years have disrupted not only office logistics but also workplace culture. Social justice movements have reshaped the cultural landscape, shining a light on equality for marginalized groups. Companies are forefronting their diversity, equity, and inclusion initiatives and vowing to build back better. TechSoup has taken this one step further, initiating the Equity, Inclusion, Diversity, and Culture program. The aim is to grow a diverse workforce while fostering an inclusive work environment. TechSoup is setting the leading model for NGOs on how to cultivate a high-performing workforce by capitalizing on its diversity, embracing inclusion, and empowering social organizations.
Overall, it's important to keep the conversation going at your company. Engage your team members on matters of race, gender, and neurodiversity. Listen to their concerns. Create a space for staff to have these conversations. There are myriad ways to strengthen this connection, including the aforementioned Slack huddle feature, as well as establishing virtual and internal events, employee resource groups (ERGs), webinars, and affinity groups that help create safe spaces for everyone.
Keep Your Team Happy
Though we are spending less time commuting to the office, we are working more hours than ever. With the power to work from anywhere, we are now accessible everywhere, and the line between work and home life is blurring. Staff burnout is becoming a real problem for both nonprofit and for-profit organizations.
Some countries in Europe have already passed "right to disconnect" legislation prohibiting employers from reaching out after office hours. Managers in the U.S. and across the globe can take notice by establishing clear boundaries between work and personal hours.
A Bright Future
It's more important than ever to keep your team's well-being in mind. Employees have more power than ever before thanks to remote working, social justice movements, widening global job options, and a high demand for skilled workers. At the same time, there is an increased risk of burnout. In the end, with a focus on meeting platform etiquette, flexibility, equality, and team happiness, you can secure the future of your nonprofit workspace.
Additional Resources
Top photo: Shutterstock