As a man of a certain age now, I'm sad to say that I'm retiring from TechSoup. So I'm eager to do one of my favorite things in all the world — report on what's next for nonprofit technology. We're hopefully on the recovery side of the pandemic now in the U.S. NGOs in other countries are not nearly as fortunate, where the disease still rages and vaccines remain scarce. COVID-19 has dramatically changed nonprofit technology.
Organizations have become smaller and leaner; adoption of cloud-based tools has accelerated to enable remote work. Also, online fundraising and virtual fundraising is a whole new ballgame. We're also now in an era of universal ransomware threats — even for small organizations. There is some very good news, though. Charitable giving rose last year and didn't have the downturn that many of us feared. Let's take stock and see where nonprofit tech is at the moment and maybe also some surprising trends to watch out for.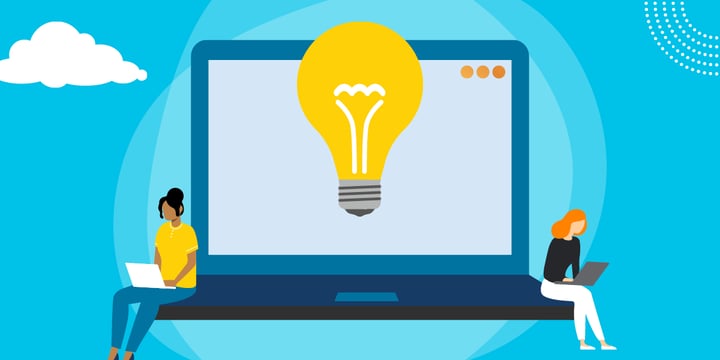 The Future of Work Is Hybrid Work
At TechSoup, we've been watching the future of work post-pandemic with great interest. According to a recent data survey we did with NGOs worldwide, it really does look like the pandemic has changed things considerably. Charities far and wide were forced to move to virtual work at least to some extent and have had to make it work. This has greatly accelerated the trend toward more and more remote work.
A January 2021 survey by PwC found that 83 percent of employers say remote work has been successful for their company. However, NGOs in our survey reported that program delivery, fundraising, and marketing were negatively impacted by the pandemic. Now that the pandemic is easing and offices are opening to in-person work in the U.S., we've entered the era of hybrid work. This is defined as more flexible work styles in which organizations of all types support employees and volunteers to do their work in-office and remotely. It will be another big change for all of us.
Getting an office in shape for this entails a good deal more than just calling people back to their desks. I liked Gwen Moran's Fast Company pointers on how to get employees ready to return to the office. She advocates a systematic approach to making the workplace safe and also overcommunicating new procedures to employees. One big issue in the near term is vaccinations. Organizations can legally require their workers to get COVID-19 vaccinations, according to the U.S. Equal Employment Opportunity Commission, but it is unclear how many actually will. This is just the first of many issues we'll be wrestling with as we open up to the new era of hybrid work.
Cloud Adoption
During the height of the pandemic, NGOs in our survey reported that they accelerated their digital transformation by using more cloud-based software and services. The rapid move to remote work required this. We had to move to high-reliability platforms and to implement additional security measures to protect our organizations and employees working from home. We expect that this trend will continue.
The majority of TechSoup's donated and discounted products are now cloud-based. Just some of the TechSoup cloud products that got much more popular include Microsoft Cloud subscriptions, Google for Nonprofits, Okta identity management tools, and of course Zoom.
Communications
During the past year, the major theme in nonprofit communications became reaching people via their phones. This was revealed in the latest M+R Benchmark Study. Here are a few of their findings:
Nonprofit mobile audiences grew by 26 percent in 2020, compared to a 3 percent average increase in email list size.
Mobile messaging garnered much higher levels of interaction than email messaging.
Revenue from Facebook fundraisers (largely on mobile devices) increased by 14 percent overall
Half of all nonprofit website visits came from users on mobile devices. The traffic share for mobile devices increased by 9 percent in 2020.
Of course, the implications of all this are obvious. You can bet that more and more of your supporters and members will be receiving their nonprofit communications on their phones going forward.
Fundraising
Whew! We were worried that the pandemic would depress charitable giving in the U.S., but that apparently did not happen. The latest Giving USA Report finds that charitable giving in the U.S. grew 5.1 percent overall in 2020. Giving by individuals was up 2.2 percent. Giving by foundations went way up by 17 percent. The Center for Effective Philanthropy's Persevering Through Crisis: The State of Nonprofits report (PDF) found that nonprofits did better in 2020 than first anticipated back in May 2020. A majority of charities did end up reducing programs or services during the year, however.
Here are some current new fundraising trends.
Like so many other cloud-based tools, the online fundraising offers found in TechSoup's Donor and Grants Management Products for Nonprofits have had increased adoption this past year.
Cybersecurity
Ransomware was the highly publicized and fastest growing cyberthreat to IT systems everywhere this past year — including to small businesses and nonprofits. The NortonLifeLock Consumer Cyber Safety Pulse Report highlights the recent rise in ransomware, including a 35 percent jump in attacks from late 2020 to early 2021. Half of email phishing attacks now cause ransomware infections. Phishing, you may recall, is the popular technique used by cybercriminals of sending fraudulent emails purporting to be from reputable companies in order to induce individuals to reveal personal or IT login information.
The Boston-based communications and design company CviaD has published a useful article that includes some tips on what to do to protect your organization against ransomware. I also particularly like TechSoup UK-based partner Charity Digital's pointers on what to do in the event of a cyberattack. Here are some of their recommendations for your future of work:
During an attack, if possible, stop your computers running by putting them into hibernation mode rather than turning them off.
The best way to recover from a ransomware attack is to restore data from backups. As soon as you can after discovering an attack, disconnect any backup devices from your computers to help ensure that they do not become infected as well.
Use a computer on a separate network to change the passwords for any cloud services
Seek outside experts to get to the bottom of how your charity was attacked and how to prevent it from happening again.
Do a damage assessment to understand what data was accessed, modified, or stolen. Do a thorough cleaning of all your IT devices to clear them of any remaining malware.
TechSoup corporate partner Veritas offers discounted backup and restoration products to nonprofits to help multiple networked computers protect against potential data loss. See our Guide to Veritas Backup and Recovery Products here. Also check out the free video series on LinkedIn, Veritas L!VE! (login required), to learn more best practices to combat ransomware.
The Bleeding Edge: Artificial Intelligence
One of the big surprises to me as I reviewed the changes in nonprofit tech over the past year has been the increase in the number of artificial intelligence (AI) chatbots. Chatbots are software applications that conduct an online conversation via text or text-to-speech. They more or less imitate an interaction with a live human.
Charities are now starting to use chatbots to give people specific answers to frequently asked questions, explain an organization's history, gather data via surveys, or help with fundraising and marketing by establishing a "personal" connection with each potential donor.
Here are some interesting chatbots:
That's just a sampling. For lots more, check out SourceForge's Best Nonprofit Chatbot Software of 2021 reviews and comparison. Also well worth a look is the SSIR article Rehumanizing Fundraising with Artificial Intelligence.
Sorry for the Overshare
OK. I know all of this is a bit of an overshare, but, well, what the heck. Like always, there's a whole lot of interesting things going on in nonprofit technology, especially now that the future of work is changing fast. I wish you good fortune, prosperity, and a fond farewell, my good friends. I'll miss you with all my heart.
Sincerely,
Jim Lynch
Top photo: Shutterstock