Moving to a cloud-first model comes with improved security, reduced costs, and increased flexibility for your team. Cloud products typically operate on a subscription basis, meaning that you'll always have the most up-to-date version, and web-based tools can have better accessibility and efficiency than their on-premises counterparts. You can also add and remove licenses as needed, which helps you to avoid paying for licenses you aren't using.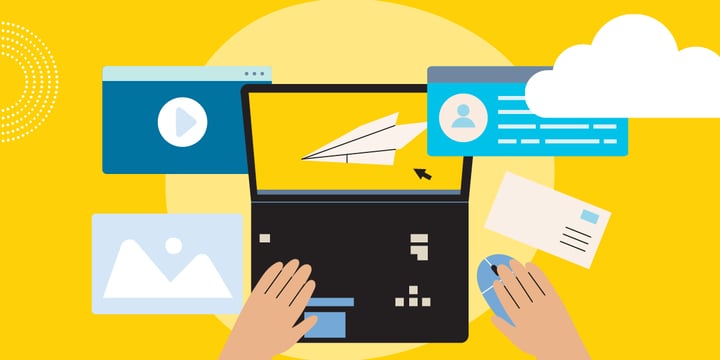 TechSoup offers a wide range of affordable cloud-based products, including tools suitable for organizations of any size, no matter what stage you find yourself on your journey to the cloud. We've gathered some of our favorite offers that can help you operate effectively, efficiently, and securely in the cloud.
HubSpot
[Editor's note: HubSpot no longer offers its product through TechSoup.] HubSpot is a powerful constituent relationship management (CRM) platform offering an extremely flexible subscription structure. Its suite of tools covers fundraising, marketing, content management, operations, and customer service. Each of its "hubs" can be used separately, but they also work seamlessly together, meaning that it can function as a centralized digital ecosystem for a busy nonprofit team. The scalability is a great advantage of HubSpot for organizations that are slowly transitioning to cloud-based operations. They can phase in functionality over time without ever compromising the quality and single source of truth for their data.
Zoom
Zoom is a well-established, feature-rich and ever-expanding video conferencing tool. It facilitates secure virtual meetings from one-on-ones to training sessions and large events. Zoom makes it easy to collaborate virtually with breakout rooms, screen sharing, whiteboarding, and annotation features. These help you to discuss and engage with participants effectively and efficiently, sharing ideas in a context that suits your needs.
Zoom Apps allows you to integrate Zoom with your other tools. These include Asana, HubSpot, Box, DocuSign, Slack, Google, and over 1,500 more. This can help you to streamline your workflows, execute action items more quickly and efficiently, and ensure that nothing gets lost in translation between various productivity tools.
Access Zoom through TechSoup and get a 50 percent discount on a one-year subscription for Zoom Meetings Pro or Business plans as well as selected add-ons.
CauseVox
CauseVox is a digital fundraising platform that can help you to manage relationships with your donors, from accepting and tracking donations, to peer-to-peer fundraising. This is a great way to track supporters' donation history, helping you understand your donors better. Team and personal fundraising pages make it easy for supporters to raise money for your organization in their own campaigns, such as sponsored sporting events.
CauseVox is offering TechSoup members a 40 percent discount on its Annual Lite plan.
NachoNacho
NachoNacho is a subscription management platform, keeping all of your SaaS subscriptions in one place and paying for each through a different virtual credit card which can be suspended or canceled at any time. A Slack integration gives you subscription updates right into the app, and a Chrome integration allows for a smooth checkout with SaaS providers.
NachoNacho has partnered with TechSoup to offer a 50 percent discount on usage fees to our members.
Zendoc
[Editor's note: Zendoc no longer offers its software through TechSoup.] Zendoc is AI-powered contract management software that saves time for busy teams by automating some routine processes. Zendoc gathers all of your legal documents from cloud management services and emails and keeps them in one searchable place. Its AI capabilities tag your documents to make them easier to search, and it will alert staff or other stakeholders when a document requires attention. Make use of the notifications and searchable database to free up time for your staff to work towards achieving your mission.
Webex Meetings
Webex Meetings from Cisco is a secure video conferencing service enabling remote teams to talk, collaborate, and share files. It covers a range of needs for remote teams, including one-on-ones and small meetings, as well as large events and webinars of up to 1,000 people. It's also a great solution for online training, providing an accessible option for onboarding employees remotely.
Your nonprofit can get a 60 percent discount on a Webex Meetings subscription for up to 100 users. With this discount, Webex Meetings costs just $0.80 per user per month.
Amazon Web Services
Amazon Web Services (AWS) is a cloud services platform offering computing power, database storage, content delivery, and other functionality to help you grow your organization without the need for on-site servers. The lack of need for physical infrastructure reduces the baseline costs of scaling up in this way, and the service operates in a way that means you only pay for the resources you use. You can also equip your team with virtual desktops for as long as they need them, removing the need for long-term licensing agreements.
TechSoup has partnered with AWS to facilitate the AWS Nonprofit Credit Program, which gives nonprofits access to a $1,000 grant in credits. These can be put towards AWS Cloud Managed Services, and nonprofits can request one grant per fiscal year. The 2022 fiscal year is ending soon, so we recommend that nonprofits take advantage of their grant allowance before the year is out.
Avast
Avast offers a range of services to help nonprofits protect themselves from cyberthreats. Avast Business CloudCare products cover different cybersecurity needs, including content filtering, antivirus, and enterprise-grade web protection. These tools can ensure that your operations run safely and smoothly, as well as preventing cyberattacks in the form of malware, ransomware, and other viruses. Avast also offers a security patching service, allowing you to prevent and fix vulnerabilities in your network.
Nonprofits can request an unlimited number of Avast CloudCare product licenses, meaning that you can protect your whole organization using these great tools.
QuickBooks Online
QuickBooks Online helps organizations to manage essential accounting tasks. You can use it to track expenses, create invoices, produce reports, and keep track of payments. It helps you to format reports correctly for IRS forms and to plan budgets by comparing budgeted amounts to actual expenditures. You can attach files such as receipts to customer files and email invoices directly from the app to keep all of your records and interactions in one place.
QuickBooks Online integrates with a range of donor management apps, and it works effectively with Android and iOS apps. You can access donations of QuickBooks Online Plus and Advanced through TechSoup.
Asana
Asana is a collaborative project management tool. It offers mobile, desktop, and web applications helping teams to keep track of the tasks needed to complete a project, whose responsibility they are, and what other needs depend on their completion. You can view tasks in multiple views, including a board, list, or timeline, and use custom fields to ensure that you're tracking all of the relevant details of each task. Curated templates help you to quickly create a project with the right fields and dependencies, while data controls ensure that sensitive information is only available to those that need it.
Asana's Premium and Business editions are available at a discount through TechSoup.
Making the Cloud Accessible
Moving your organization to the cloud is a safe and efficient way to increase productivity, be more flexible, and collaborate in real time. We're working hard to provide you with the technology you need to transition your daily operations to the cloud at a cost that is budget-friendly to hardworking nonprofits.
Additional Resources
Top photo: Shutterstock