Nonprofit work can be a document-heavy endeavor. Volunteer forms, event proposals, grant applications — the list can go on. On top of that, never-ending to-do lists and always-on technology can create an unrelenting sense of urgency. To counter these challenges and give you more control, you can try tackling everyday work tasks — from sending donor invoices from your last fundraiser to creating a PDF version of your last annual report — with a subscription to Acrobat Pro DC.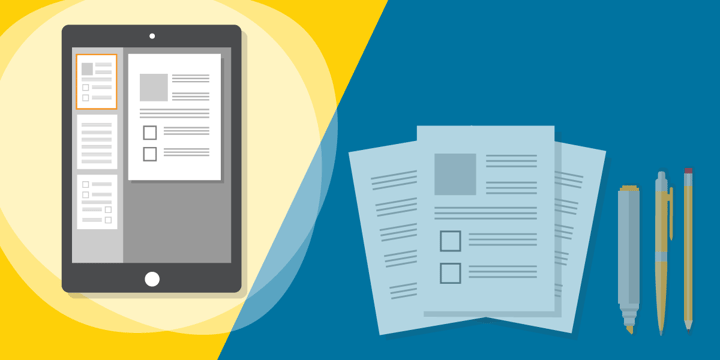 Your subscription unlocks premium tools in the free companion mobile apps — which can help you start checking off all those to-do items. To get started, download the Acrobat Reader and Adobe Scan mobile apps (available for iOS and Android). The Acrobat Reader mobile interface is similar to the desktop version of Acrobat DC but is specifically designed for smaller screens.
Let's take a look at some of the things you can do at your nonprofit with a subscription to Acrobat Pro DC.
1. Capture Anything
With the mobile apps installed, you can perform numerous tasks wherever work takes you. Take for example receipts — those pesky pieces of paper you collect for reimbursement. Using the free mobile apps, you can capture and share receipts and documents no matter where you are.
To capture a receipt, tap the blue + in the Acrobat Reader mobile app and select Scan.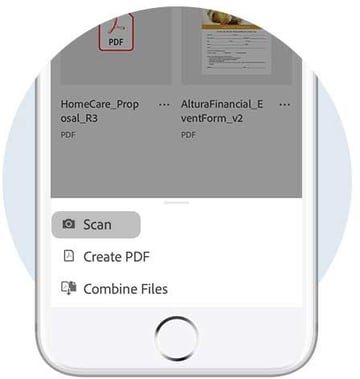 Adobe Scan automatically launches, and once you've captured the paper image, it detects borders, cleans up lighting, and recognizes text with built-in OCR (optical character recognition). The end result is a fully searchable and editable PDF file.
Capturing business cards, like those from contacts you make at conferences, is another way to simplify everyday work tasks. Adobe Scan automatically detects that you've captured a business card and adds the business card information directly to your phone contacts.
You can go beyond receipts and business cards with Adobe Scan by capturing volunteer consent forms, registration records, or any document that needs to be quickly shared with team members. All scans are stored in Adobe Document Cloud, so you can access, share, or upload directly into an email at any time.
2. Edit Anything
Nonprofit staff members wear multiple hats at their organizations, and they often need to make last-minute document changes. But don't worry: You can add or change text and images in a PDF right in the Acrobat Reader mobile app.
To edit a PDF, tap the blue pencil in the Acrobat Reader mobile app and select Edit PDF.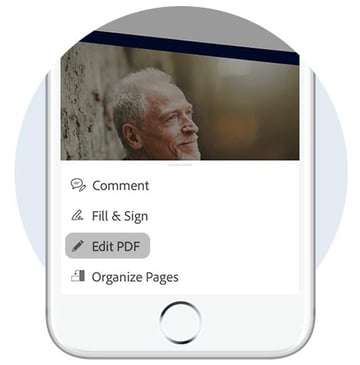 You can fix the date or a typo on a proposal, or switch out an image or text in a presentation, without needing to track down the original source file — saving hours of time and resources.
3. Share Anything
Combing through messy email threads and attachments burns up valuable time in a day. Instead, consider sharing important documents directly from the Acrobat Reader mobile app. You'll be notified the moment documents are opened, downloaded, or shared.
Start by opening a file in the Acrobat Reader mobile app and tapping Share in the top right corner.
Send creative assets, grant applications, or impact stories to anyone for review or to simply download. You can even use @mention to bring anyone into a review — resolving conflicting feedback on the spot. Meanwhile, the home screen is tracking everything that happens to your PDF files, so you're always up-to-date.
When your work takes you away from your desk, stay on top of everyday tasks with a subscription to Acrobat Pro DC along with the companion mobile apps. Capturing, editing, and sharing content on mobile devices enables you to focus more on your nonprofit's mission and less on time-consuming, inefficient processes.
Additional Resources: Acrobat Pro DC