In 2015, Adobe released Adobe Acrobat Pro DC. Integrating with its companion, Adobe Creative Cloud, the DC ("Document Cloud") version features a new interface, cloud storage support, and other new features.
Here's a quick look at the differences between Adobe Acrobat XI Pro and Adobe Acrobat Pro DC to help you decide which is best for your organization.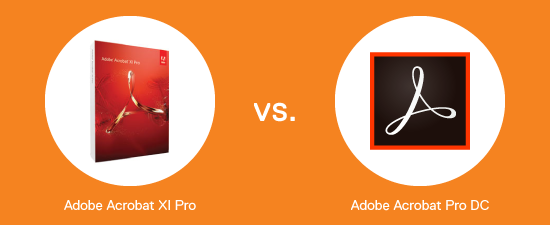 Common Features
Both versions of Acrobat are able to view, create, manage, modify, and print PDF files. They both integrate with other popular document creation applications, like Microsoft Word. So you can export to PDF directly from within Word, and you can collect and track e-signatures from other Acrobat users.
Features Exclusive to Adobe Acrobat Pro DC
Interacting with PDFs
Here's a feature that's new to Acrobat Pro DC: you can send and track PDFs and confirm whether they have been delivered. Acrobat Pro DC also integrates with other cloud storage systems like Box, Dropbox, and Microsoft OneDrive.
Creating PDFs
Both versions allow you to create PDFs from other applications and merge documents into a single PDF document. Acrobat Pro DC, though, also lets you natively convert Photoshop, Illustrator, and InDesign files into PDFs and better integrates with Office 2016 for Mac.
Editing PDFs
Most versions of Acrobat allow you to find and change text within the document. However, Acrobat Pro DC lets you edit scanned documents and add text in the document's original font, and compare two versions of a single PDF. Acrobat Pro DC also lets you more accurately convert PDFs to Office files, including Word, Excel, and PowerPoint.
Signature Collection
On top of being able to collect e-signatures and track real-time responses, Acrobat Pro DC includes a simplified digital signature, certification, and verification system. You can capture signatures with mobile devices, and host SharePoint-based shared reviews on Office 365 sites. The Fill and Sign app from Adobe also lets you sign documents from anywhere.
Accessibility
Both versions make it easy to validate PDFs based on accessibility standards, including WCAG 2.0 and PDF/UA. Acrobat Pro DC, though, can read PDFs aloud on Macs and provide a higher contrast view on PCs.
Additional Feature Comparisons
Adobe provides a comparison between these two versions. Check out its Acrobat version comparison for more information.
Cost
Previous versions of Acrobat, such as Acrobat XI Pro, include perpetual licenses that allow the user to install the software and use it indefinitely. Adobe Acrobat Pro DC requires a monthly or annual subscription fee to use the software.
Adobe still supports Acrobat XI Pro and will continue to through 2017. For many nonprofit organizations and libraries that don't have a need for the latest features, it may be a more cost-effective option for producing and modifying PDF files. On the other hand, automatic updates and e-signature management may make the Acrobat Pro DC subscription well worth the cost.
Adobe Acrobat Pro DC: Adobe charges $14.99 per month with an annual commitment or $24.99 per month if you pay on a monthly basis. TechSoup offers a $12.99 per month rate with an annual commitment for a $5 admin fee (waived if you're a TechSoup Boost member).
Adobe Acrobat XI Pro: Adobe's MSRP for Acrobat XI Pro is $449, but TechSoup offers it for a $55 admin fee.
Compatibility
Adobe Acrobat Pro DC: Windows 7 through Windows 10; Windows Server 2008 and 2012; Mac OS X v10.9 through v10.12. See more about system requirements.
Adobe Acrobat XI Pro: Windows XP through Windows 10; Windows Server 2003 and 2008; Mac OS X v10.6 through v10.11. See more about system requirements.
Document Storage
Adobe Acrobat Pro DC: Acrobat Pro DC allows you to manage your PDFs from a new interface, and you can store your documents in Adobe's Document Cloud. The Document Cloud provides 20 GB of storage space. You can track e-signatures, share files from one location accessible from anywhere and by others within your team, and reduce paper waste by managing your documents in the cloud.
Adobe Acrobat XI Pro: With Acrobat XI and earlier, you can manage your PDFs that are stored on your local computer or a shared network drive from within the application.
Upgrades
Adobe Acrobat Pro DC: As long as your subscription remains active, Adobe will automatically update your software to the latest version. If you upgrade to Acrobat Pro DC while Acrobat XI is installed on your computer, you can still revert to the previous version.
Adobe Acrobat XI Pro: This version is the last perpetually licensed desktop version that Adobe will produce. It will work on your PC or Mac indefinitely, but Adobe will no longer support it after October 15, 2017.
Feature Comparison
Acrobat Pro DC
Acrobat XI Pro

Create and edit PDF documents

Collect and track e-signatures

Verify and certify the e-signatures you've collected

Share PDFs and track document status

Convert Word docs to PDF — complete with fillable forms

Turn Illustrator, InDesign, and Photoshop files to PDFs

Store and share files using Adobe Document Cloud

Pay once, use forever

Get a license for a $55 admin fee.

Pay as you go

You pay a monthly subscription fee to Adobe — but you get all software updates for as long as you subscribe!
More Information About Adobe Products
Check out the products offered through TechSoup and read more about them on Adobe's website.