Note: We've updated this post from last year with 10 new tools. Enjoy!
Whether you're working solo or with a team at your nonprofit, there are many kinds of resources that can help push you to achieve your overall goals. Productivity tools are types of software — often available via a mobile app — that help you stay organized, streamline workflows, and ultimately, get more done at your organization. And while there are hundreds, even thousands, of tools to choose from, we narrowed it down to 37 notable solutions that might help you in the day-to-day operations at your nonprofit, many of which help us here at TechSoup.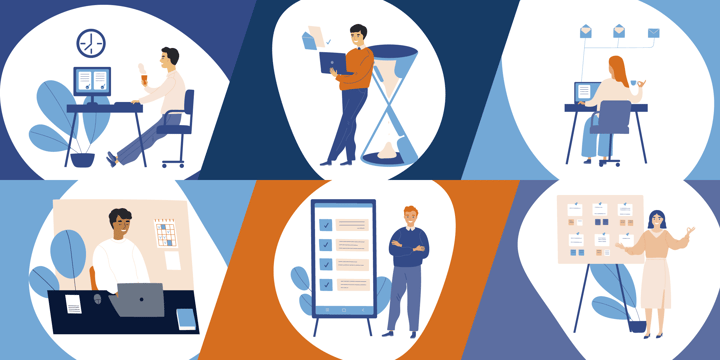 Task Management Tools
Taskful is a smart to-do list and task manager that helps you meet your deadlines. This tool is useful when planning your next fundraiser or simply your day-to-day tasks as a team. Just enter the task and its due date and Taskful will break it up evenly on your calendar so you're not scrambling to meet the deadlines all at once. This to-do list is also helpful because it only shows what you need to do on a particular day, so you don't view all your weekly tasks at once and feel overwhelmed.
Todoist is another simple and easy-to-use to-do list, but it also provides features that help you better visualize your progress. With this tool, you're able to easily input your tasks, then categorize and prioritize them. It can sync with all of your devices and help you delegate tasks to others in your nonprofit.
Most notably, Todoist provides visually appealing graphs that show your personal progress and productivity throughout the week. If you didn't make as much progress one week, Todoist can show you exactly where your productivity dipped so you can improve your flow the following week.
Microsoft To-Do is a daily planner and organizational tool. Create and categorize to-do lists, set reminders, and share lists and tasks with colleagues. You can also sync this tool with Microsoft Outlook for easy scheduling and task management.
This tool requires an Office 365 subscription. See the donated and discounted Microsoft software, including Office 365 and Microsoft 365, available through TechSoup.
Calendar and Scheduling Tools
Google Calendar is easy to use and can automatically add events to your calendar, such as travel arrangements, events, and meetings. You can also create tasks and goals alongside your events, such as reaching out to a specific number of donors each week. Simply create your goal with the amount of time you'd like to spend reaching it and Google will automatically arrange time or reschedule based on what you have planned each day.
If you're planning multiple events or working on many projects within your nonprofit, you can color-code your calendar to keep track of multiple projects at once. You can also create multiple calendars for yourself and sync to all your devices so everything is always accessible.
Microsoft Outlook is a widely used email solution and acts as a hub for your calendar, contact book, task list, and more. Easily add and share events and files and stay organized each week. Outlook also integrates with other Microsoft apps to help you keep everything in one place, and Outlook has free mobile apps with features built for access on the go.
This tool requires an Office 365 subscription. See the donated and discounted Microsoft software, including Office 365 and Microsoft 365, available through TechSoup.
Scheduling a meeting or event can be a headache when many people are involved. Doodle makes the process easier by allowing you to suggest a variety of times to invited participants who can then vote on their preferences. Users don't need to have an account to contribute to scheduling — just send them the link and they can quickly select their most convenient times.
Document Management Systems
Google Drive allows you to store all your files in one place. Use Google Drive to store photos, videos, documents, and more. It also allows for collaboration between multiple stakeholders. Manage who can view and edit files and provide access to users on any synced device. In addition to being able to store all your large files, you can create and share documents, spreadsheets, slide presentations, and more.
Exclusively for iPhones and iPads, Documents allows you to access books, movies, Word and Excel documents, images, music, PDFs, and more on your iOS devices.
Documents allows you to sync other storage platforms into this one hub. If some of your team members use Dropbox, and others use Google Drive, this tool removes the headache by allowing you to sync all platforms into one place for easy access.
Personal Productivity Tools
Spending time online is now a part of day-to-day operations at any business, nonprofits included. However, this can be distracting when you veer off to other sites. Freedom allows you to block websites across all devices during specific times, so you can completely avoid the distractions that keep you from being productive.
Freedom gives you seven free trials before you have to pay (less than $30 for a year), but it does offer some free useful browser extensions that can help do the trick as well.
Pause Extension: This extension will force you to pause and reflect before going to your distracting websites.
Limit Extension: Limit your time on designated websites. When your time is up, the extension will redirect you to a green Freedom page.
Insight Extension: If you're curious where you spend the most time, this extension will show you exactly how much time you're spending on each site, so you know which ones to avoid moving forward.
StayFocusd is a simple, yet extremely useful, Chrome extension that helps you block distracting content online. This tool gives you the flexibility to block entire sites or specific pages, subdomains, and even content such as videos, games, and images. Once you block a site and set a duration, there's no way to reverse it.
If you really need to focus when creating that report for your team, or you're too distracted to hammer out details for your next fundraising event, this extension might be useful for you.
Strides helps users track progress and goals in an organized way. With four unique ways to track, you're able to keep tabs on all the important things in your life and organization. This tool allows you to select existing templates within different categories or create your own.
Habit, Target, Average, and Project trackers can help your nonprofit by tracking everything from personal habits to money raised by a certain pool of donors, and everything in between. Here are some of the different features.
Habit Tracking: Swipe to indicate whether or not you succeeded with a goal, such as staying off your phone before bed or drinking enough water throughout the day.
Target Tracking: This tracker helps you reach a specific goal by a certain date, whether it's collecting new donors or reaching a specific number of event registrants.
Average Tracking: Use this tracker to keep track of numbers over any time period, such as overall revenue or website visitors.
Project Tracking: Set simple milestones and the tracker will show your progress on a given project, offering a clear visual of the amount you've accomplished and what still needs to be done.
Productive is a free and easy-to-use tool that tracks personal goals and progress. Use it to set deadlines and reminders for everything you need to do for your organization. You can also get an overview of your daily, weekly, and monthly progress, such as when you're looking to raise money each week or need to collect a number of attendees for your next event.
This $1.99 productivity app and Chrome extension is worth noting for the cause it promotes. While working, the Forest app shows virtual trees grow as you work, providing a fun visual of your progress. If you can't resist your temptation and decide to exit the app on your phone or visit designated blacklisted sites, your trees will start to fade. Perhaps what's most interesting about this app is that Forest partners with Trees for the Future to plant real trees on earth. When users spend virtual coins they earn by planting virtual trees, the Forest team facilitates the planting of trees around the world — 837,974 so far!
With a busy schedule, it can be difficult to stay on top of the news and social media content. The TechSoup social media team uses the Netvibes Dashboard as an easy-to-use listening dashboard, customized to the social media content we're following. Select the topic, account, or hashtags you want to follow, and it will curate it all on one page for your review.
Meltwater is another listening dashboard with the capability to monitor media coverage across both news and social media, all in one platform. It was built specifically for PR and marketing teams. You can request a demo through their website.
Project Management Systems
If you're working on a project that has a lot of moving parts and includes multiple people, Trello might be a great fit for your team. Create a variety of project boards with different columns (like "Need to Do," "In Process," or "Done") and simply drag each task to the appropriate column as it is completed. You're also able to create "teams" within Trello so you can stay organized with each project and keep your other boards private.
Trello provides a variety of different add-ons you can use to integrate your board with other platforms, such as Google Drive and Slack.
Microsoft Planner is a useful platform to create plans and and communicate progress with different teams at your nonprofit. This easy-to-use project board allows you to organize plans, create and assign tasks, chat with team members, and provide updates on progress throughout the week. It's easy to use, and it integrates with Microsoft Outlook — automatically adding events to your calendar so you never miss a deadline.
This tool requires an Office 365 subscription. See the donated and discounted Microsoft software, including Office 365 and Microsoft 365, available through TechSoup.
Asana offers an easy-to-use project board if your team is looking to stay organized and in the loop with one another. It allows you to easily set priorities and deadlines, delegate tasks to others, and monitor which tasks your colleagues are working on or have completed. Management can get an overview of each team member's workload and reassign or reschedule tasks to create a more balanced environment. Asana provides a clear overview of your team's progress and offers over 50 different project board templates so you can save time and focus on managing tasks. If your nonprofit is working on multiple projects that have a lot of moving parts, Asana is a good fit for your team to stay organized.
TechSoup offers discounts on Asana to nonprofits.
Team Communication Tools
Slack is a messaging tool for those working on virtual teams or multiple projects that require different conversations. Create as many channels as you need and add only the necessary users to them so you don't fill people's inboxes with irrelevant information. If you're planning an event, you can create a specific chat room for it. If you're working with just your marketing team, you can have your own chat room too. This messaging tool truly allows your nonprofit to separate conversations while working together at the same time.
Microsoft Teams provides a space to collaborate with all team members using Office 365 software. Manage multiple chat conversations, hold calls and video chats, and have your schedule all in one place. If you're collaborating on a report or other documents with your team, this giant hub allows you to manage sharing and editing for easy convenience.
This tool requires an Office 365 subscription. See the donated and discounted Microsoft software, including Office 365 and Microsoft 365, available through TechSoup.
Note-Taking Tools
Google Keep is helpful if you need a simple tool to take notes, set reminders, and organize photos, documents and receipts. If you need to quickly take note of a receipt for your expense report or caption a photo taken at an event, simply record your memo and Google will automatically transcribe it in the necessary spot. Just like other Google solutions, Google Keep connects to your drive and can be pulled up anywhere and by anyone with access.
OneNote, an app within Microsoft Office, allows flexible and organized note-taking. Write, draw, highlight, and organize pages however you desire. You take notes for yourself or share notes and collaborate with team members. You can also create folders, allow coworkers to edit or view notes, and easily organize as a team.
This tool requires an Office 365 or OneNote subscription. See the donated and discounted Microsoft software, including Office 365 and Microsoft 365, available through TechSoup.
Notejoy is another note-taking tool if you have a small team that likes to collaborate and needs to share meeting notes and ideas. This note-taking tool allows you to create checklists and stay organized with all your various projects. With Notejoy, you're able to have five users per library and three collaborative libraries with up to 100 MB of storage.
One of the best things about Notejoy is that you can also integrate with Slack, Gmail, Google Drive, and more, so you can always have access to your emails, conversation threads, and files in one place.
TechSoup offers discounts on Notejoy to nonprofits.
Evernote is another note-taking tool that provides a single place for your lists, notes, reminders, and ideas. If you or your team need a simple place to write down notes during a meeting or spontaneous ideas while on the go, consider using Evernote for your nonprofit.
Marketing Tools
Instasize is an easy-to-use photo editor and video editing toolkit with premium photo filters, collage maker, retouch tools, and much more. If you're not familiar with photo and video editing, Instasize makes it easy with a free and premium option.
Adobe Spark allows anyone with basic computer skills to create visual content for their brand. Via mobile or on the web, you can quickly create social graphics, web pages, and videos in a matter of minutes. It also offers a collection of photos, icons, and fonts to incorporate with your designs as well.
Another graphic design tool is Canva, allowing you to quickly put together images for your brand. With many easy-to-use templates, fonts, graphics, and more, you're able to create unique images, presentations, and even videos without any graphic design experience.
Used by the TechSoup team, HubSpot is a giant hub providing tools for social media marketing, content management, web analytics, landing pages, customer support, and search engine optimization. Schedule social media posts and emails, analyze website traffic, and design web pages for your organization.
Hootsuite is a more affordable social media management platform, providing the capability to manage multiple accounts, schedule posts ahead of time, curate content within the platform, and even measure ROI.
Later is another social media management tool, specifically for Instagram, Facebook, Pinterest, and Twitter. Later allows you to schedule posts, discover new followers, discover useful hashtags, and view analytics for each platform. Not only is the tool free, but Later is an Instagram partner and uses the Instagram Graph API for publishing, so your account is always safe.
Password Management Tools
Dashlane is a subscription-based password manager and digital wallet application. Available on macOS, Windows, iOS, and Android, this tool allows you to conveniently store all your login credentials and personal information in one place so you never have to waste time looking for it.
With LastPass, you can share login information with users without them seeing the actual password. When you're ready for them to no longer have access, simply revoke the credentials and they'll no longer be able to access the account.
LastPass also holds a vault of all your saved credentials so you never have to sit and remember what your password is. With the LastPass extension, your password will auto-fill when necessary. Not only that, LastPass will notice if you change your password and will automatically ask to save the new one.
More Top Productivity Tools
If a loaded inbox stresses you out, Newton can be a useful tool for email management. With Newton, you're automatically reminded about emails in need of attention, whether it's to respond or to follow up. In addition, this tool recognizes mentioned due dates and deadlines, so nothing is missed during your busy days.
Ever wonder if your donors are seeing your emails? To support your outreach efforts, Newton offers an easy-to-use read receipt service where you can see or be notified when someone reads your email. It also filters through unnecessary emails such as newsletters and subscriptions so you can focus on what's important first.
Grammarly is powerful writing assistant that corrects your grammar and helps you write and express yourself in the best way possible by suggesting alternative words or phrases. Just start typing and Grammarly will automatically pull up suggestions or corrections for your convenience. With this app or browser extension, you can avoid grammar mistakes whether you're typing in Gmail, Facebook, Slack, or other platforms.
If you're constantly needing to scan and send documents on the go, try Adobe Scan.
This scanning tool lets you capture and convert documents and forms into PDF documents. Simply take a photo of your document, whiteboard, or paper notes, and Adobe Scan goes to work. The tool automatically recognizes text, making it easy to highlight notes or even create interactive documents such as forms.
OnBoard is a comprehensive and secure board and leadership meeting management software. Giving your team a complete suite of meeting tools to make agile, smart decisions, this platform offers video conferencing, secure messaging, voting and approval systems, and many more useful features to help you lead your community in the most efficient way.
TechSoup offers discounts for OnBoard to nonprofits.
In addition to being productive and organized, it's important to stay mindful and healthy. The Headspace app gives you opportunities to disconnect even for just a few minutes to meditate and calm your mind. This useful app offers hundreds of themed sessions, whether you're struggling with focus, stress, sleep, or anxiety.
It can be difficult to find time when you're also planning events, trying to raise money, and stay active in your nonprofit. Headspace offers bite-sized guided meditations that can be done at any time. It also provides special "SOS exercises" for those unexpected meltdowns during the day. Pull up your guided meditations on your mobile phone or desktop computer, so you can calm your mind whenever you need it in order to boost your productivity.
Conclusion
Whether you struggle with email inbox management, staying focused while online, or even communicating with your team, there is technology out there that can help you achieve your goals and stay organized in your organization. Start exploring these tools today!