Today, more and more nonprofits seek funding to invest in technology-driven projects. Although many traditional grant writing skills apply, there are distinct differences in how to approach technology-centric grant applications.
Amazon Web Services (AWS) has been working with nonprofit organizations to help advance mission goals and optimize their operations in the cloud for the past 15 years. Since 2018, we have offered the AWS IMAGINE Grant to support 501(c) nonprofits in launching foundational and think-big projects that will have a measurable impact on mission achievement. Based on our experience, here are some tried and true tips for your next application. While these can apply broadly to technology-focused grant proposals, the examples below are particularly relevant to cloud projects.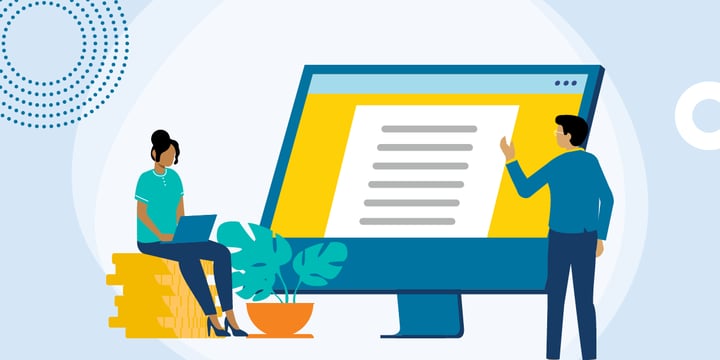 Tip #1: A Great Technology-Driven Project Is Human-Centered
We recommend always starting from the perspective of the end user — your beneficiaries, communities, donors, members, internal staff, or other stakeholders. Work backwards and ask yourself: Who are they and in what context do they live? What challenges do they face, and what opportunities exist to improve their experience? What will the experience look like for them if this project is successful?
Next, dive deep into why technology is a critical element of your solution, what products and services will be included, and how it will be designed and deployed. Keep your end users in mind — better yet, engage them throughout this process. This will help ensure that your technology project is inclusive and equitable, directly enhancing its success and adoption.
For example, Jacaranda Health, a Kenya-based public health NGO and a 2021 IMAGINE Grant winner, uses machine learning and data science to identify and refer at-risk mothers for care at the right time and place. Their project, PROMPTS, uses services such as Amazon S3, Amazon EC2, and Amazon RDS for its technical design. Additionally, they involved end users — mothers in remote communities — to design its deployment. The solution will then meet their contextual needs, such as including multiple local languages, baselining their access to nutrition, and tailoring to their current mobile phone habits.
The levers you pull may be cloud technology tools, but the end result is about enhancing the human experience. Articulate this clearly in your proposal.
Tip #2: Before You Begin, Identify a Cross-Functional Team of Supporters
As a grant writer, you may feel out of your depth when applying for a technology-specific grant. The good news is that actively collecting diverse perspectives will help to develop a strong proposal.
In our experience, successful technology grants result from bringing together a cross-functional team of stakeholders early in the process, including senior leadership, IT, and project or program leads. After all, leveraging technology is just as much a mission decision as it is a technology decision. Gather representatives of these groups together and go through the working-backwards exercise we mentioned above.
If you want to see more examples of nonprofit organizations that have designed cloud technology projects using the working-backwards method, check out the Powered by Purpose e-book.
Tip #3: Engage the Experts
One of the main distinctions between traditional and technical grant proposals is the level of technical detail required in the application. In addition to developing the project with your IT and other colleagues, involve technical experts from potential service providers. They will have in-depth knowledge of specific features and functions that can enhance and elevate your project.
The process of reaching out for support from cloud providers or potential partners may seem intimidating, but these resources are more accessible than you may think. For example, AWS offers no-cost resources to nonprofit organizations seeking advice and guidance. All you need to do is start the conversation. Lean on experts to put together a budget, predict costs, develop an architecture diagram, or pursue some of the more technical aspects of your grant proposal.
Tip #4: Plan for Long-Term Investment
The benefits of leveraging the cloud include the ability to innovate quickly, deploy and scale services in minutes, and be exceedingly more agile, none of which happen overnight. Your organization may need to first migrate aging physical infrastructure, understand your data assets, or hire the right people or partners to help you on your journey.
Technology projects are iterative, so predicting a project timeline may seem difficult, but it's all about communicating this in your proposal. Break a long-term strategy into definable milestones. Support your vision with a plan to get there, and build in flexibility and sustainability from the beginning. This is where aligning with your organizational stakeholders early and often will go a long way. More importantly, a good funding partner — who will inevitably become a key stakeholder in your technology project — should share your long-term goals and support your implementation beyond the financial components.
For example, Tessitura Network, a nonprofit serving arts and culture organizations, decided to migrate their existing IT infrastructure from on-premises to the cloud. They took the time to assess their baseline infrastructure, thoughtfully select an implementation partner, and design a plan. They applied for the IMAGINE Grant in 2020 and are incrementally focused on product redevelopment to address critical programmatic needs, tied directly back to the advancement of arts and culture. They communicated a long-term vision with shorter-term, actionable steps.
Successfully Fund Your Technology Project
Even if you serve in a nontechnical role within your organization, we hope that the above tips shed light on key strategies that will enhance the success of your nonprofit's technology projects. If your organization is currently seeking funding for projects leveraging the cloud, check out the AWS IMAGINE Grant. If you are looking to get started on your cloud journey with AWS, check out our Nonprofit Credit Program in partnership with TechSoup.
Additional Resources
Top photo: Shutterstock