Maybe you've just started a nonprofit, either on your own or with a small team. Perhaps your experience comes from an activism or for-profit business field, and you've got a groundbreaking idea, but no experience in fundraising. Or maybe you're stepping into your first fundraising job, and you're struggling to know where to start. Whether you're working alone or as part of a larger organization, your first grant is probably your hardest. Here are some tips to save you some time and a few headaches, while successfully winning grants to support your organization's work.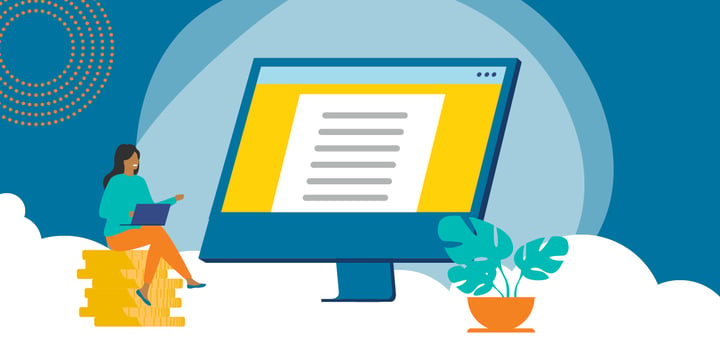 Gather the Building Blocks of Your Proposal
You'll find that there are some common themes across different grant applications, including requests for certain information about your organization. To speed up the process, you'll want to have the following information on hand.
Documentation
Most grant applications will require you to prove that you are a nonprofit, so you should have your 501(c)(3) documentation available. You'll also need to provide your annual budget, either for the whole organization or for the project you're trying to fund. In many cases, you will be asked to provide a funding history, detailing what grants — if any — your organization has received in the past. Grantmakers want to understand how the organization is sustained and how your work has been funded up to that point.
Background and Story
Outside of the facts and figures, this is where you get the chance to really convince the funder that they should prioritize your application. Have on hand a clear, concise, compelling description of your organization, the problem you are addressing, and how you carry out your work. Ask for feedback from people inside and outside the organization, which will help you to fine-tune the description to capture what is most important about your work.
You should also compile a few paragraphs describing exactly how you would use the funds you are trying to raise and what the results will be. Most funders want to see their grants tied to specific outcomes. This is called a "program grant," as opposed to providing general support to the organization.
If you work with partners or members of your community, talk about them! Explain how you work together to execute your organization's work. If possible, try to gather letters of support from these people, as it will help to validate you in the eyes of a new funder.
Impact
In order to show that your work achieves the objectives you set out, you need to provide data and metrics on the impact you've had so far. Explain how you measure impact and provide compelling evidence to show that you have achieved goals in the past. Ultimately, the funder wants to see that their money will have a positive impact by being entrusted to you. Showing what your organization has achieved in the past will help to convince them that this is the case.
Build Your Pipeline
According to Candid, there are 241,000 grantmaking organizations in the U.S. That might seem like a lot, but the reality is that most of them won't fund your organization, no matter how hard you try. This is because funders usually have very specific programmatic or geographic limitations on the projects they are looking for, so your organization will not be a good fit for most of them. The best approach is to identify the ones who might fund you, build relationships with those organizations, and turn those opportunities into grants won.
Prospecting and Research
A great way to start is to investigate organizations similar to yours and find out who has funded them. This will provide an initial list of funders for you to consider applying to. You can also utilize your networks by talking to people in related fields about your work. The feedback, ideas, and experience you glean from others could lead you toward your next funding opportunity. If you're serving a local community, then community foundations should be one of your first stops.
You can also experiment with online prospecting. TechSoup's catalog contains some tools to help you seek out funding opportunities online, which can widen your pool of potential sources and make your organization more visible to prospective funders.
Funder Requirements
Read each funder's list of requirements closely and carefully. If your organization doesn't fulfill their requirements, move on. You will be wasting your time by filling out an application, only for it to be rejected immediately if it isn't what the funder is looking for. If the grantmaker doesn't accept unsolicited applications, don't just send one anyway, but cultivate a relationship with the organization first. Pay close attention to funding cycles and application windows. There is often steep competition for grants, and mistakes can knock you out of the running, so make sure you follow all instructions to the letter.
Relationship Building
If at all possible, establish a human relationship with the funder before you apply. Different funders engage with prospective grantees to different extents, but a person-to-person conversation can make all the difference when it comes to the application stage. Becoming known to the funder is an advantage in itself, but you can also glean information and insights that may help you to win the grant.
Make Your Proposal Shine
Most grant proposals are not free-form. You'll likely have specific questions from the funder, with word limits for each section. Prepared answers can help you to make this process quicker, but make sure you customize your response for each application. This is another area where mistakes could cost you the grant, so make sure you address all of the questions asked, staying within the limits provided. Review carefully and have others read over your answers to ensure that the proposal reads well and answers every question clearly.
Manage Relationships
As time goes on, you'll find yourself needing to track a lot of funder information. Upcoming deadlines, when you last spoke to a certain funder, that one contact that asked you to contact them in six months' time — it can be difficult to keep on top of these relationships. There are a wealth of tools available through TechSoup to help you to manage your grantseeking process as a project.
Keep Trying
Unless you are very lucky or extremely gifted, many of the opportunities you pursue will not come to anything — at least not right away. The grantseeking world is an extremely competitive one, and so perseverance is key. Learn everything you can from the grants you don't win, take all feedback on board, and use it to make your next application even better. Keep going, and you'll be signing your first grant award letter before you know it!
Additional Resources
Top photo: Shutterstock