This blog post is the third in a series by the author. Don't miss the first two installments, How to Assess Return on Investment for Grant Writing and Management and What Do Funders Look for in a Grant Proposal?.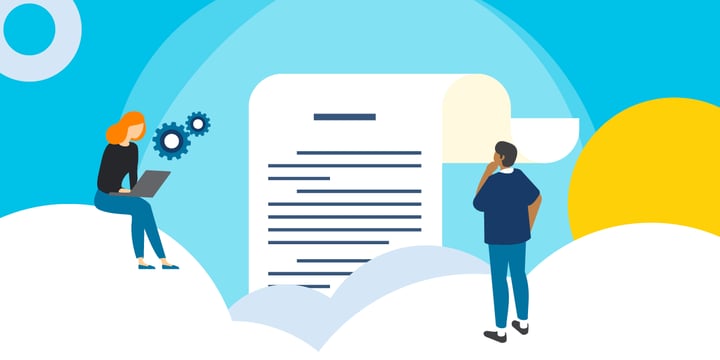 If you have read my post What Do Funders Look for in a Grant Proposal? you know how to frame your grant proposal effectively to best appeal to prospective funders. With that in mind, let's turn our attention to planning exactly what information to prioritize in your grant proposal narrative.
I have designed a handy acronym summarizing the five key things you will need to convey to funders about your proposed program or project. The five keys speak directly to the core interests of funders, conveniently spelling out FIRST.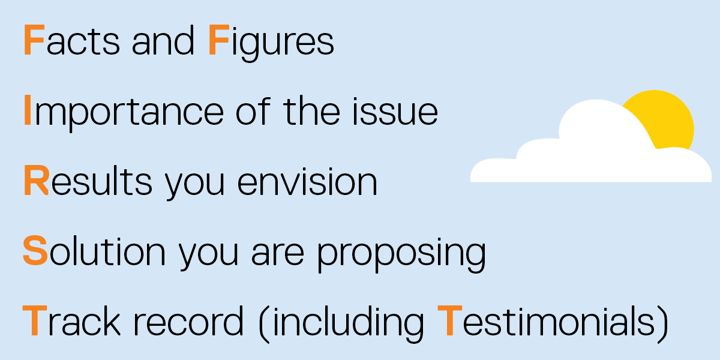 Let's look at each of the FIRST items closely.
1. Facts and Figures
Let's begin by answering the basic questions:
Who are your clients, in terms of their relevant demographics and location?
What are the relevant issues or problems they are dealing with?
What are some current trends that make those issues so pressing?
This is a great place to cite information or statistics that describe the context you're working in. Remember: While the funder reading your grant proposal probably has some general knowledge about your issue, they may not be familiar with your particular setting or set of issues.
2. Importance of the Issue
Funders are going to need to know why you're so focused on the problem or issue you have just identified. Imagine them asking you, "Why should I care about the problem you are addressing?"
The answer may be obvious to you because you live and breathe it every day. But it may not be so clear to others.
A shorthand way of saying that is, "So what? Who cares?"
Another way to think about it is, "What would happen if you didn't do your work?"
Sketching out your program's "Importance," coupled with the "Facts and Figures" we just discussed, is the process of gathering the evidence to support the "needs statement" that grant applications request. The needs statement is one of the core elements of a grant proposal, but it doesn't need to be a scary piece to write.
Just remember that it should include both the Facts and Figures and the Importance of the issue. Just outlining the problem without emphasizing why it's important is simply not enough. You cannot assume that the funder can connect the dots.
Don't forget to mention the issue's importance as it relates to your organization's overall mission.
3. Results You Envision
Let's move on to what your program or project is doing to address that community need.
What are the results you envision? That is, what will your success look like, in both the short and long term? Sometimes results are called "outcomes" or "impacts." The results you are planning need to be very measurable, both quantitatively (in numbers) and qualitatively (how significantly people's lives are improved). If you need help here, go back to your organization's mission statement or strategic plan and cut it down to size to fit your program in a one-year grant period.
You will have to really think about what your work will mean for the clients or community you are working with. How does that work lead to something better for them — now and in the future?
If your community members were to ask you, "What's in it for us?" what would you say?
Other ways to frame this question would be, "What difference do you plan to make at the end of the day?" or "What changes or community benefits will we see?"
By the way, you may have noticed that I am encouraging you to first think of the results or outcomes you're aiming for. This is because funders are most interested in what you are really trying to achieve. This idea might be a bit different from the way you are used to thinking of your work. When a funder asks, "What do you do?" your answer should be more about your intended results and not your specific day-to-day activities.
4. Solution You Are Proposing
After funders know your intended results, they will then be interested in the nitty-gritty of how you will do that.
Let's talk about the specific solution you chose to implement. This is your plan to achieve your results, and we need details here.
Remember to be clear about the steps you will take, as well as your program's size and scope. Is it just getting started, perhaps as a small pilot project? Is it expanding? Or maybe it's already operating at full-scale?
Once you describe the solution you chose, think about why you chose that particular solution. The more evidence you can use to back up your choices, the better.
While you want to show that your solution is solid, you should also think about ways your solution is unique. Funders are not interested in reinventing the wheel. But they do want to know the unique, future-facing contribution your program or project will make.
To stand out as particularly interesting, you need to highlight what distinguishes your program from other similar ones. You must show how your work is innovatively addressing the specific need that your community has expressed. I am sure you can come up with brilliant ways to position your program or project as a unique contributor. This might be a good thing to bring up at a staff or board meeting.
CAUTION: If your program is "too unique" (that is, special in unfamiliar ways), you may generate initial resistance. Try to relate your work to things the funder already knows and trusts. Be ready to explain unfamiliar terms or concepts.
5. Track Record and Testimonials
The final item in our FIRST acronym is T for Track record, including another T: Testimonials.
Funders are interested in knowing how your program has already made a positive difference in your community. That is, what results have you already successfully achieved? If your project has been around for a while, describe your track record in ways that encourage the funder to trust you to get the job done and use their money wisely.
But what if you are a brand-new organization, or embarking on a new project or program? While your organization or program itself might have little or no track record, the people who make up the board and staff do. Focus on their relevant credentials, experience, and expertise. What makes them perfectly positioned to ensure your success?
When describing your track record, you can also talk about your past results from the point of view of your clients. This would be in the form of testimonials that appear in representative client stories or case studies. Testimonials also help illustrate the human context your clients are living in and the importance of your solution in their lives.
Thoroughly outlining your FIRST priorities is a critical first step to writing your grant proposal. You can then move this information into whatever grant proposal format your prospective funder requests.
Where to Learn More
In the Grant Writing and Management learning track on TechSoup Courses, we develop each of these five FIRST priorities with a fictitious (but realistic) sample program in mind. You can then apply the process to your own work. If this sounds like it could benefit your organization, check out the course details to learn more.
Additional Resources