In our increasingly interconnected world, about 82 percent Americans use some form of social network. Social media has become an important channel nonprofits can use to boost their outreach and fundraising capabilities.
Social media is a powerful tool to build relationships with supporters and influencers, relationships that will lead to successful nonprofit fundraising. We've compiled a list of tips your organization can use to create and launch an effective fundraising campaign that includes social media.
1. Create a Campaign Plan
To set up your fundraising campaign, it's important to create a plan with your team so you can keep all the moving parts organized. For example, charity: water had lots of success with its September Campaign. This campaign asked people born in September to invite their friends and family to make a donation in lieu of giving gifts, and share the campaign to social media.
charity: water developed a clear plan and timeline for the campaign ahead of time, which ultimately helped it raise $1.1 million during the campaign in 2020. Here are a few ideas to help you get started:
Create a title for your campaign.
Create a hashtag to use across your social platforms.
Decide how long the campaign will run.
Draft a content plan and schedule.
Design a unique landing page for the campaign.
Set up a plan to track benchmarks along the way.
Decide which team member will be responsible for each aspect of the campaign.
2. Decide Which Social Platforms Are the Most Relevant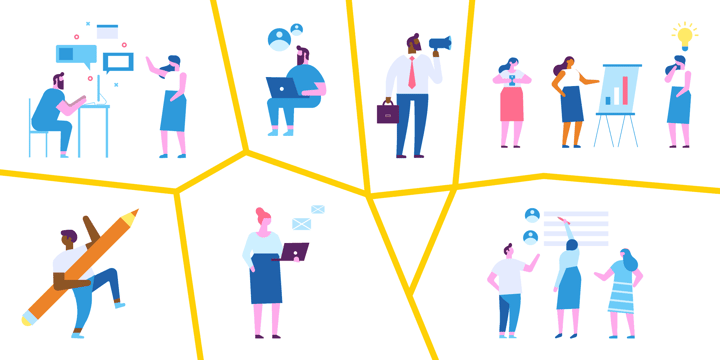 Before launching a fundraising campaign, it's a good idea to evaluate how each of your social media platforms is performing. Identify which ones are the most relevant for reaching your target audience. Use the analytic tools on each platform to see how your content is performing with different demographics, and decide where you want to focus your efforts.
For example, if you are trying to reach a younger audience (ages 18 – 24), this demographic makes up 39 percent of TikTok users and 30 percent of Instagram users In contrast, Facebook and YouTube are more universally popular across all age groups.
3. Reach Out to Influencers
Sometimes, especially as a smaller organization, it can be difficult to get the word out about your fundraising campaign. This is where social media influencers can help. Influencers are typically people who have a large social media following and are respected within their field or industry. Use your analytics from email marketing or social media to identify people within your network who have a large following. Then reach out to them to see if they would be willing to promote your campaign.
For example, in 2010, Leigh Durst organized a fundraiser at South by Southwest for victims of Japan's earthquake and strategically engaged influencers. This resulted in tons of engagement and led to over $125,000 in donations over the course of a few days. Influencers can be particularly helpful in reaching audiences who might not otherwise know about your organization, such as younger people and people with little connection to the nonprofit sector.
4. Select Appropriate Fundraising Tools
Before you can launch your campaign, you'll need to get set up with fundraising tools. Luckily, there are lots of low-cost or free options available that nonprofits can use to launch their campaigns. To help you get started, TechSoup offers discounts on nonprofit fundraising platforms like CauseVox, Little Green Light, and DonorPerfect.
5. Tailor Your Message to Each Platform
It's important not to use a "cut-and-paste" method with your social media content. Each social media platform is tailored for different types of content, so make sure you use your analytics to identify what types of content garner the most engagement on each channel.
6. Show Your Supporters How Their Donation Can Make a Difference
The power of social media lies in its potential for storytelling, and this is where you can make your fundraising campaign stand out. Use photos and videos to show your nonprofit in action so your audience can see how their donations can help your organization pursue its mission. Videos are particularly powerful for projecting your message.
For example, Instagram video content tends to get more engagement than photos. Beyond visual content, consider using statistics or infographics to give people a tangible idea of how the donations will be put to use. (For example: "For every $20 donated, we can provide 10 new books to students in underprivileged schools.") If your audience can connect with your story and mission, they will be more inclined to donate.
7. Celebrate Milestones and Thank Your Donors
It's important to celebrate your successes along the way! When you're making your campaign plan, set some fundraising benchmarks and post on your social media channels each time you meet one. You should also engage with your donors on social media and thank them for their donations; it can be as simple as retweeting their tweet or leaving a comment on their Facebook post.
Additional Resources: Social Media for Nonprofits