You may not come to TechSoup for book reviews. This one is special — it's the first novel by our founder, Daniel Ben-Horin. It explores an undercurrent of technology and social justice that we recognize as the heart of what led him to start this organization. We think you'll recognize it too.
As more and more of our lives are spent online, it's hard to think of a world where social networks didn't exist. But there was a time in the early 1980s when like-minded individuals began to first coalesce on online platforms, tapping out discussion threads in green text on Kaypro PCs from across the country and the world.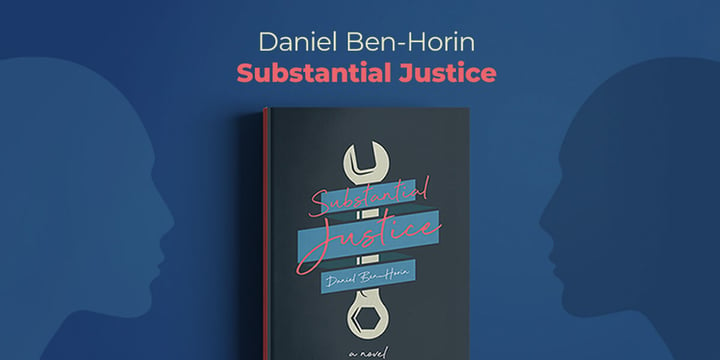 These early forms of Internet civilization were at least part of the inspiration behind TechSoup and CompuMentor founder Daniel Ben-Horin's first novel, Substantial Justice. A fresh, well-crafted thriller set primarily against the backdrop of Northern California in 1985, the book explores the journey of an ordinary man seeking justice after his friend is murdered in what appears to be a weed deal gone wrong. It doesn't take long for the trail to lead to a then-burgeoning faction of the white supremacist movement indoctrinated by The Turner Diaries — whose 1978 publication called for the violent, racist takeover of the United States.
There's also a love story in there, and it's all tied together with a heavy dose of Ben-Horin's absurdist humor and an airtight plot that moves along at a healthy clip throughout. The dry banter between the lovers that's central to the story makes you feel a part of their inside joke, and the unobstructed window into the seedy undercurrents of mid-1980s America is reminiscent of Elmore Leonard in full swing.
By one measure, Substantial Justice may have minted the niche literary subgenre of "Early-Internet Cannabis Noir." But on the other hand, it's a story with wider, more familiar appeal, one that focuses on how ordinary people can rise to extraordinary circumstances.
Ben-Horin evokes a time of early adoption — from the personal use of the Internet (in the name of both free-thinking and racist ideology), to the emerging world of high-tech cannabis cultivation. But he also hits the right balance between wit and excitement, all with dead-on historical accuracy that offers a startling degree of relevance to today's world.
One of the story's virtual communities, The Grapevine, was clearly modeled after the Whole Earth 'Lectronic Link (The WELL), a free-thinking virtual community established in 1985 and still in operation today. In fact, The WELL is of particular significance to Ben-Horin.
As an early member, he was surprised by the people he encountered online. "I had the image of the nerd in my mind as someone who was totally about technology and had no interface with my interests. I found this world of people who were, I guess, nerds in the sense that they were very teched up, but they were fascinating people, and they were very smart — polymaths, really," says Ben-Horin.
At some point, he got the idea that some of the tech-savvy users of The WELL might make great candidates for pro-bono tech consultants. This led to his founding of CompuMentor in 1987, an organization dedicated to helping Bay Area nonprofits use technology to do better work while activating the growing pool of tech-savvy people looking to donate their time to a good cause. CompuMentor eventually became TechSoup, which today provides donated and discounted technological tools, services, resources, and education to civil society organizations operating in 236 countries and territories around the world. Ben-Horin was CEO and Co-CEO until 2012 and still consults to the organization, with the title Founder and Chief Instigator.
"It's a book about a certain sensibility, a sensibility of finding the world a fundamentally absurd place and choosing to find humor, whenever possible, in that absurdity," says Ben-Horin. "Then, for the sake of telling a good story, the absurdity becomes threatening, and it becomes impossible to remain purely an observer."
Without too large a stretch of the imagination, Ben-Horin manages to weave the New York squatter's rights movement, biker gangs, and Colombian drug cartels into the fray — all as our everyday hero, a Citroën mechanic named Spider, tries to piece together a murder and rekindle an old love affair. And it's all these things, along with the nascent online communities and increasingly organized (and well-funded) white supremacists, that really allow Ben-Horin's novel to rise above the noise. Because the book is inextricably tied to the zeitgeist of the era, the plot turns don't exist in a vacuum. This allows the story to really say something without beating you over the head with it.
"There are a lot of social themes and historical and political references in the book, so I guess it's natural for a reader to think I am on a soapbox about white supremacy or am trying to impart some piercing insights about early online communities and their potential for good or harm," Ben-Horin says. "To which I would respond, 'no, not really.' I believe it is a high writerly virtue to show things as they are with relevant details and with a high degree of authenticity, which is not the same as retelling facts. That was my goal for all the social and political components of the book — to show them as they were and let readers make of that what they wish."
Ben-Horin has already received high praise from Pulitzer Prize winner William Finnegan (Barbarian Days), Joan Silber (PEN/Faulkner Award–winning author of Improvement), Gregory Maguire (Wicked: The Life and Times of the Wicked Witch of the West, Lost), and award-winning filmmaker Ron Shelton (Bull Durham, White Men Can't Jump).
"Being a debut author today is a lot like being some creature trying to struggle out of the primordial ooze, grow a spine and a couple of legs, get a little dry land traction," Ben-Horin says. "It's a very crowded environment. Anyone can publish. And does. I think my book is a needle in a haystack, and I can only hope people agree and tell their friends."
Substantial Justice is currently available in hardcover and as an e-book from your preferred bookseller. On July 20, join Daniel Ben-Horin in conversation with Allen Gunn, notorious provocateur and executive director of Aspiration Tech, for an online launch event at 4:30 p.m. Pacific time. Bring your questions and become eligible to receive discount pricing on the novel.