Editor's note: This post compares features between Acrobat Pro 2020 and Acrobat Pro DC. Adobe ended support for Adobe Acrobat XI Pro in 2017. The comparison article for that product now redirects here.

In June 2020, Adobe released Adobe Acrobat Pro 2020, the latest version of its software for viewing, managing, and editing PDF documents. It includes some significant improvements over the 2017 version, such as accessibility feature updates, a new "home view," and additional digital signature and optical character recognition capabilities.
This latest release, as with earlier recent versions, is available in two forms: Adobe Acrobat Pro 2020 and Adobe Acrobat Pro DC. Below is a comparison of these two and a guide for helping you pick the right one for your nonprofit organization. (Note: Adobe also offers a "Standard" edition of Acrobat Pro with fewer features than its "Pro" counterpart, which is not covered in this blog post.)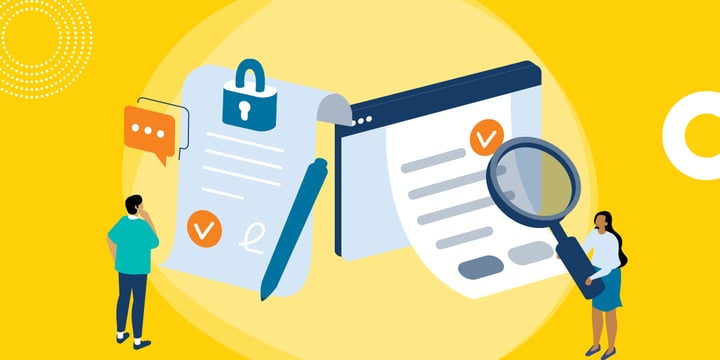 Common Features
Just like in previous versions, both Acrobat Pro 2020 and Acrobat Pro DC allow you to view, create, modify, and merge PDF files. Both also integrate with popular document creation applications, like Microsoft Word and Google Docs, which means you can export or save a document as a PDF directly from that application, and you can collect and track e-signatures from anyone — regardless of whether or not they have an Adobe membership.
Features Exclusive to Adobe Acrobat Pro DC
Acrobat Pro DC includes all of the features of Acrobat Pro 2020, plus these additional features.
PDF Cloud Storage and Mobile Access
The "DC" in "Acrobat Pro DC" stands for "Document Cloud," which means your subscription includes 100 GB of cloud storage. This means you can not only save your PDF files to the cloud and access them anywhere, you can also access them from your computer, mobile device, or web browser.
Acrobat Pro DC also integrates with other cloud-storage services, including Box, Dropbox, Google Drive, and Microsoft OneDrive. Organizations that have remote employees and volunteers can take advantage of this to more easily share files among each other without unnecessary duplication.
Additional Microsoft and Adobe Integrations
In addition to creating PDF files from standard Microsoft applications, Acrobat Pro DC also integrates with Microsoft Office for Mac, Office 365 online apps, SharePoint, and the OneDrive toolbar to allow you to convert those files to PDF as well.
If you have a Creative Cloud subscription, you can also natively convert Adobe Photoshop (PSD), Illustrator (AI), and InDesign (INDD) files into PDF files.
E-Signatures
Both editions of Acrobat allow you to collect e-signatures from others, but Acrobat Pro DC is unique in that you can also collect legally binding e-signatures and track responses in real time. You can also collect comments from multiple reviewers in a single PDF online with no sign-in required. It also includes a web console for managing licenses, users and groups, and multiple administrative roles. This may prove especially useful for larger organizations that handle sensitive documents for multiple users.
Comparing Acrobat Pro 2020 and Acrobat Pro DC
Acrobat Pro DC
Acrobat Pro 2020

Create and edit PDF documents

Share PDFs and track document status

Collect and track e-signatures

Collect and track legally binding e-signatures

Integrate with Office 365, SharePoint, and other online Microsoft platforms

Turn Illustrator, InDesign, and Photoshop files to PDFs

Natively store and share files using Adobe Document Cloud, Box, Dropbox, Google Drive, or OneDrive

One-time payment

Get a license for a $60 admin fee. Please refer to the Acrobat Pro 2020 product page for up-to-date information on when this license will expire.

Pay as you go

You pay a monthly subscription fee to Adobe — but you get all software updates for as long as you subscribe!
How Much Does Acrobat Pro Cost?
When you request Acrobat Pro 2020, you get a license that allows you to install and use the application until it expires. Please refer to the Acrobat Pro 2020 product page (for Windows or for Mac) for that date. Adobe Acrobat Pro DC requires a monthly or annual subscription fee to use the software, but it includes all software updates as long as the subscription is current. Acrobat Pro DC is also included in Creative Cloud subscriptions.
For many nonprofit organizations and libraries that don't have a need for additional features listed above, Acrobat Pro 2020 may be a more cost-effective option for producing and modifying PDF files. Meanwhile, larger organizations or those that have more use for automatic updates and e-signature management may find Acrobat Pro DC subscription is the better fit.
Adobe Acrobat Pro DC: Nonprofits pay a one-time $5 admin fee, then receive an email to activate an Acrobat Pro DC membership on Adobe.com. This membership is $12.99 per month with an annual commitment for the first year.
Adobe Acrobat Pro 2020: TechSoup offers Acrobat Pro 2020 for a $60 admin fee.
Document Storage
Adobe Acrobat Pro DC: Acrobat Pro DC includes 100 GB of storage space on Adobe's Document Cloud. It also integrates with Box, Dropbox, Google Drive, and OneDrive.
Adobe Acrobat Pro 2020: With Acrobat Pro 2020 and earlier, you can manage PDFs that are stored on your local computer or on a shared network drive from within the application.
Upgrades
Adobe Acrobat Pro DC: As long as your subscription remains active, Adobe will automatically update your software to the latest version. If you upgrade to Acrobat Pro DC while Acrobat Pro 2020 is installed on your computer, you can still revert to the previous version.
Adobe Acrobat Pro 2020: This software has an expiration date, and no upgrades are available. Please refer to the Acrobat Pro 2020 product page for up-to-date information on when this product will expire.
In-Depth Comparison of Features
Adobe provides an in-depth comparison between these two editions. Check out this Acrobat product comparison for more information.
More Information About Adobe Products
Check out the products offered through TechSoup and read more about them on Adobe's website.