Desplácese hacia abajo para la versión en español
On October 10, 2019, DonaTec officially becomes TechSoup Chile. DonaTec is the NGO tech marketplace that is run by Comité para la Democratización de la Informática (CDI Chile) in partnership with TechSoup.
This new name further strengthens the 11-year partnership between CDI Chile and TechSoup and our joint commitment to build the capacity of civil society. When this partnership began, the TechSoup Global Network was in its second year, and the partnership marked the TechSoup Global Network's growth into South America. Currently, the TechSoup Global Network consists of 61 NGOs, which operate programs such as these in all corners of the world.
With its new name, the purpose of TechSoup Chile remains the same — to enable NGOs in Chile to obtain the donated and discounted technology that they need to achieve their missions. In 2008, DonaTec was the first initiative of its kind in Chile. It now continues to offer NGOs software, resources, and education for technology planning.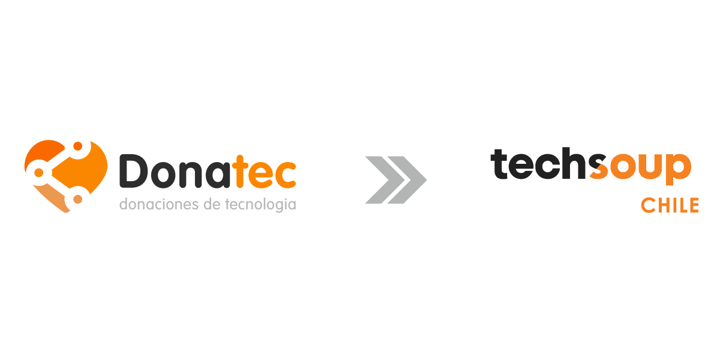 The big announcement of the change to the DonaTec brand will happen at the FITSi (Festival of Technology and Social Innovation) conference in Santiago, where CDI Chile's co-founder and executive director, Eugenio Vergara, will make the announcement and introduce the new website. Vergara notes that the new name of the program is a way to communicate the strength of the TechSoup Global Network to amplify the impact of all these organizations as they work together.
"For the first 10 years, our constituents got to know what CDI Chile does and our donation program, but they were missing out on getting to know our amazing TechSoup Global Network. There is so much value in working in a more collaborative way," said Vergara. "By working with us, Chilean NGOs are already part of that global network, and we want them to know it."
More Than 10 Years of Support for the Digital Inclusion of NGOs
CDI Chile is an international NGO that is dedicated to digital and social inclusion for the most vulnerable groups in Chile. DonaTec has served hundreds of Chilean NGOs with diverse missions since its launch in 2008. It has distributed over $8.2 million worth of technology to over 1,600 NGOs in Chile.
In addition to support for mission-critical resources, knowledge, and connections through DonaTec, CDI Chile has also been a leader in social innovation. One example is CDI Chile's work with Fundación Don Bosco, an NGO that transforms the lives of homeless children and youth who live on the streets of Chile. Fundación Don Bosco later partnered with Microsoft to develop the award-winning Register of Streets Circuit app. This mobile app improves interventions for at-risk children. It tracks the services that are provided and the whereabouts of children who live on the street.
The Impact of the Change to the Brand and the Global Reach
CDI Chile is excited to have the TechSoup Chile program be recognized by name as part of the TechSoup Global Network. The name calls out the powerful global scale of the program and elevates the work of CDI and TechSoup into the larger NGO ecosystem. This will do more than maintain the relationships that were fostered under the DonaTec program. It will also increase impact and sustainability on both national and global scales with new collaborations with the TechSoup Global Network partners across the world.
In the coming months, TechSoup Chile will support and inspire NGOs beyond their previous product catalog. It will expand to additional offerings that are essential to support digital transformation. Examples are value-added services, trainings in digital marketing, support for social media strategy, and opportunities for youth in culturally and linguistically accessible formats. Additionally, TechSoup Chile, along with other programs led by TechSoup Global Network partners in Latin America, will identify the need for and create new Spanish-language materials and resources. The new disaster relief toolkit, for example, will be used in native Spanish-speaking countries and worldwide.
Stronger Partnerships in Latin America
CDI Chile, MAKAIA, Wingu, and Donar Online now collaborate to scale impact in the region.
MAKAIA, another member of the TechSoup Global Network, has joined in the collaboration to make technology more accessible for NGOs. The three organizations have partnered to bring MAKAIA's Nodo Ká to Chile. Nodo Ká facilitates access to funding opportunities and international cooperation among civil society organizations. It will be featured at the FITSi event, which is operated by Wingu. The Nodoka.cl platform launch will focus on value-added services for NGOs.
Additionally, CDI and TechSoup Chile have partnered with Donar Online, the most used online donation platform for NGOs in the region. The platform will now facilitate Chilean NGOs in creating their own fundraising campaigns with very user-friendly technology and trainings for digital marketing strategies.
---
¡Anunciamos TechSoup Chile!
El 10 de octubre de 2019, DonaTec se convierte oficialmente en TechSoup Chile. DonaTec es el mercado de tecnología para las ONG administrado por el Comité para la Democratización de la Informática (CDI Chile) en asociación con TechSoup.
Este nuevo nombre fortalece aún más la asociación de 11 años entre CDI Chile y TechSoup y nuestro compromiso conjunto para construir la capacidad de la sociedad civil. Cuando comenzó esta asociación, la Red Global de TechSoup estaba en su segundo año, y la asociación marcó el crecimiento de la Red Global de TechSoup en América del Sur. Actualmente, la Red Global de TechSoup consta de 61 ONG, que operan programas como estos en todos los rincones del mundo.
Con su nuevo nombre, el propósito de TechSoup Chile sigue siendo el mismo: permitir a las ONG en Chile obtener la tecnología donada y con descuento que necesitan para lograr sus misiones. En 2008, DonaTec fue la primera iniciativa de este tipo en Chile. Ahora continúa ofreciendo software, recursos y educación a las ONG para la planificación tecnológica.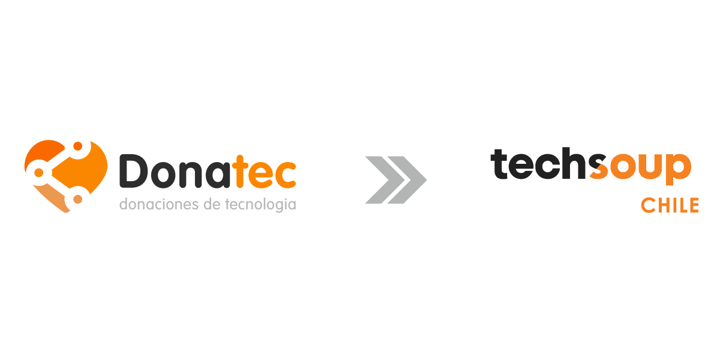 El gran anuncio del cambio a la marca DonaTec ocurrirá en la Festival de Innovación y Tecnología Social (FITS) en Santiago, donde el cofundador y director ejecutivo de CDI Chile, Eugenio Vergara, hará el anuncio e introducirá el nuevo sitio web. Vergara señala que el nuevo nombre del programa es una forma de comunicar la fuerza de la Red Global de TechSoup para amplificar el impacto de todas estas organizaciones a medida que trabajan juntas.
"Durante los primeros 10 años, nuestros integrantes conocieron lo que hace CDI Chile y nuestro programa de donaciones, pero se perdieron conocer nuestra increíble Red Global de TechSoup. Hay mucho valor en trabajar de una manera más colaborativa". dijo Vergara. "Al trabajar con nosotros, las ONG chilenas ya forman parte de esa red global y queremos que lo sepan".
Más de 10 años de apoyo a la inclusión digital de ONG
CDI Chile es una ONG internacional que se dedica a la inclusión digital y social para los grupos más vulnerables en Chile. DonaTec ha prestado servicios a cientos de ONG chilenas con diversas misiones desde su lanzamiento en 2008. Ha distribuido más de $ 8.2 millones en tecnología a más de 1,600 ONG en Chile.
Además del apoyo a recursos, conocimientos y conexiones de misión crítica a través de DonaTec, CDI Chile también ha sido líder en innovación social. Un ejemplo es el trabajo de CDI Chile con la Fundación Don Bosco, una ONG que transforma la vida de los niños y jóvenes sin hogar que viven en las calles de Chile. Posteriormente, la Fundación Don Bosco se asoció con Microsoft para desarrollar la galardonada Registro Circuito de Calle Esta aplicación móvil mejora las intervenciones para niños en riesgo. Rastrea los servicios que se brindan y el paradero de los niños que viven en la calle.
El impacto del cambio en la marca y el alcance global
CDI Chile se complace en que el programa TechSoup Chile sea reconocido por su nombre como parte de la Red Global de TechSoup. El nombre destaca la poderosa escala global del programa y eleva el trabajo de CDI y TechSoup al ecosistema de ONG más grande. Esto hará más que mantener las relaciones que se fomentaron bajo el programa DonaTec. También aumentará el impacto y la sostenibilidad a escala nacional y mundial con nuevas colaboraciones con los socios de la Red Global de TechSoup en todo el mundo.
En los próximos meses, TechSoup Chile apoyará e inspirará a las ONG más allá de su catálogo de productos anterior. Se ampliará a ofertas adicionales que son esenciales para apoyar la transformación digital. Algunos ejemplos son los servicios de valor agregado, capacitaciones en marketing digital, apoyo a la estrategia de redes sociales y oportunidades para los jóvenes en formatos cultural y lingüísticamente accesibles. Además, TechSoup Chile, junto con otros programas liderados por los socios de la Red Global de TechSoup en América Latina, identificará la necesidad y creará nuevos materiales y recursos en español. El nuevo conjunto de herramientas de socorro en casos de desastre, por ejemplo, se utilizará en países nativos de habla hispana y en todo el mundo.
Alianzas más fuertes en América Latina
CDI Chile, MAKAIA, Wingu y Donar Online ahora colaboran para escalar el impacto en la región.
MAKAIA, otro miembro de la Red Global de TechSoup, se ha unido en la colaboración para hacer que la tecnología sea más accesible para las ONG. Las tres organizaciones se han asociado para traer Nodo Ká de MAKAIA a Chile. Nodo Ká facilita el acceso a oportunidades de financiación y cooperación internacional entre organizaciones de la sociedad civil. Se presentará en el evento FITS, operado por Wingu. El lanzamiento de la plataforma Nodoka.cl se centrará en servicios de valor agregado para las ONG.
Además, CDI y TechSoup Chile se han asociado con Donar Online, la plataforma de donación en línea más utilizada por las ONG en la región. La plataforma ahora facilitará a las ONG chilenas la creación de sus propias campañas de recaudación de fondos con tecnología y capacitación muy fáciles de usar para estrategias de marketing digital.