Technology can be overwhelming. With so many options and variations, it's hard to figure out what you want and what you need. When you do find something that might work for you, the price can make it hard to try new things, and in turn, find new solutions.
With TechSoup Boost, we want to increase accessibility to tech products and services by offering a lower cost to you. We want to give you the option to try something different to solve your mission-critical needs. Then, we want to give you access to virtual courses, training, and conversations with issue-area experts to take the headache out of learning a new product, skill, or workflow.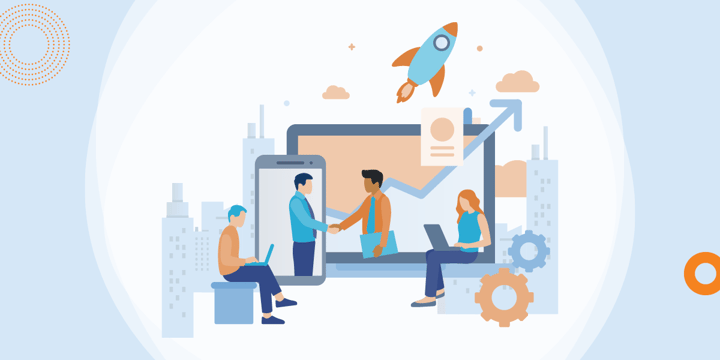 At the end of the day, our goal is to provide the tools and resources you need so you have more time to do what matters, whatever that means to you. Let's take a look at how a TechSoup Boost subscription can help you and your organization.
See What Boost Can Do for You
Boost is an annual subscription service that provides you with deeper discounts on hardware and software, waived admin fees on a number of products, and special offers on TechSoup and partner services. Boost pairs our hardware and software offers with training and consulting services to better serve you and your needs. Boost subscriptions are offered at an organizationwide level. All TechSoup qualified organizations are eligible for a Boost subscription. However, only program-eligible organizations can take advantage of the individual offers within Boost (program eligibility is determined by corporate partners).
Boost is priced on a sliding scale based on organization budget size:
$79 annually for organizations with budgets sized up to $500,000.
$99 annually for organizations with budgets sized from $500,000 to $2 million.
$149 annually for organizations with budgets sized from $2 million and above
$0 Admin Fee on Select Products
With Boost, you get a selection of products in our catalog for no fee. Plus, the Boost lineup changes regularly, so there's always something new to try.
Right now, we have 14 Boost exclusive $0 items, including QuickBooks Premier Editions 2019 (one with three user licenses, one with one user license, and an

option for Mac users too

!) For reference, the 2020 version is in the main catalog for $150.
Deeper Discounts on Select Products
Check out our discounted Boost catalog, where we offer several products and services at a deeper discount. See a price comparison below for just some of our most popular products.
Trainings and Consultations
Want to learn more at your own pace? We offer a rotating selection of free and discounted online courses, live virtual events, trainings, and consultations for staff and volunteers at your organization. Earlier this month, Boost members were given a 50 percent discount to Fundraising for Nonprofits from TechSoup Courses, one of our most popular learning tracks.
$25 Voucher
In order to give you access to even more solutions, we also give you a $25 voucher that you can use on non-Boost products (excluding shipping fees). Think: Norton Small Business 1-Year Subscription for five devices for $0. This way, you can get the most out of your Boost membership, even when you aren't in the Boost catalog.
Join Boost Today!
Want to learn more? Browse the TechSoup Boost catalog to see what Boost has in store for you. Still have questions? Message boost [at] techsoup [dot] org.