Last year, the UN reported that nearly 2 billion people did not have regular access to nutritious and sufficient food — about a quarter of the world's population. The current pandemic, unfortunately, has only exacerbated the issue of food insecurity. In fact, more than 80 percent of food banks are serving more people now than they did a year ago.
Of course, this issue requires a large, multifaceted, coordinated effort. We all need to work together and approach it from various angles. Here at TechSoup, we recently hosted a Public Good App House demo event focusing on apps that address food insecurity. We were joined by Feeding America, Propel, Infoxchange, Postmates, and CauseLabs. Below, you can browse through each participant's app demo and learn more about what they're doing to address the food insecurity crisis.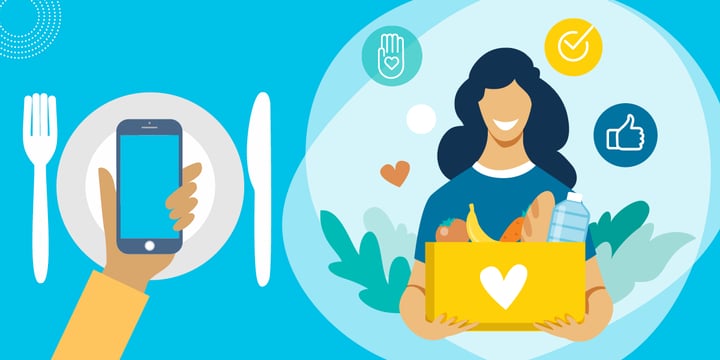 OrderAhead from Feeding America
Developed and supported by Feeding America, OrderAhead is a web app that allows communities facing food insecurity to order groceries online from food banks and pick up their orders at a convenient location. Demonstrated by the program manager of OrderAhead, Dianne Wortz, the app is being used by food banks for curbside pickups, delivery to homebound seniors, and pickups at college resource centers and school pantries.
FreshEBT from Propel
Jen Corbridge from Propel gave us a glimpse of FreshEBT, an app that provides an easier and more secure way to check food stamp balances through a smartphone. The app also helps users find appropriate coupons for their groceries and even features job opportunities for those in need of work.
Ask Izzy from Infoxchange
Developed by our global partners in Australia, Ask Izzy is a website platform that connects people in need with support services, including meals. It is free, anonymous, and accessible to anyone in Australia, and it lists over 370,000 services. Watch Ben Shaw, product manager of Ask Izzy, give a quick demo below.
FoodFight! from Postmates
FoodFight! is a free service for restaurants and agencies to work together to eliminate food waste. Since many restaurants already use Postmates for delivery orders, there is now a feature where restaurants can select Request Pickup to have a delivery courier pick up packaged leftovers. The donation is then automatically routed to the nearest agency for delivery. Watch the demo by Renee Barker, food system sustainability manager at Postmates:
CauseLabs and Fresh Food Connect
Sheryle Gillihan, CEO of CauseLabs, joined us to give a presentation on human-centered design and what goes into the process of developing tech that addresses food insecurity. She also touched on the app Fresh Food Connect, which helps urban growers easily donate their surplus food to local food pantries without leaving their home and allows them to track donations through the app.
More to Come
We are planning many more upcoming demo events for 2021. If you know of any apps that should be showcased, let us know in the TechSoup Community Forums.
Additional Resources
More from Public Good App House: