For many students, the internship experience is integral to their college experience and understanding of the working world. In fact, The NACE Student Survey Report notes that 60 percent of students do an internship or co-op during their time in college. As internships continue to be relevant and sought after, nonprofits should think about how they can create valuable internship experiences for students.
So, what do interns value in an internship program? In this blog post, I'll provide some perspectives on what made my TechSoup internship during the summer of 2020 an enriching experience.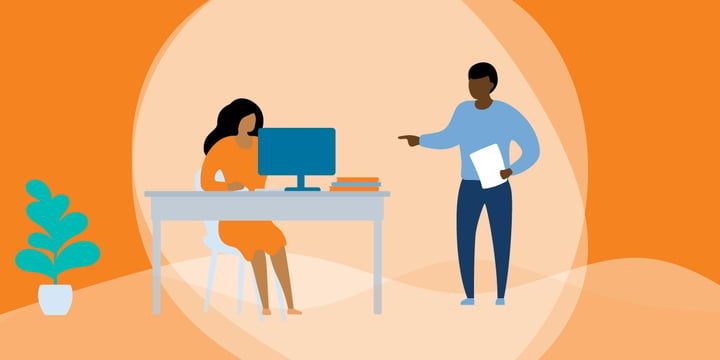 Finding an Internship in 2020 Wasn't Easy
Seven months ago, I, along with 14 million students across the country, hurriedly packed up my belongings from my college campus to return home because of the pandemic. Additionally, many companies and organizations shifted priorities and took precautions in the face of mounting uncertainty. For many companies, one such precaution was to cancel their internship program.
Thirty applications later, I interviewed with TechSoup for the Digital Marketing internship. I was not chosen initially as an intern. Instead, TechSoup first offered me the opportunity to join a joint initiative Data Strategy program with another organization, ParsonsTKO. The main aim of the fellowship program was to connect students with professionals to learn about social impact and nonprofit analytics. The format was interesting as it was a hybrid between education and the chance to work on actual projects. This was truly a unique opportunity: TechSoup was one of the first internships I applied to that offered rejected students an alternative opportunity.
While COVID presented its fair share of challenges, I was grateful to take advantage of this valuable fellowship experience. Then, about a month into this opportunity, I was able to intern for the digital marketing team while concluding my fellowship project. TechSoup's ability to meet me where I was in the midst of the pandemic was a key differentiation from other organizations I applied to.
What My Fellowship and Internship Experiences Were Like
During the Data Strategy mentorship program, we met three to four times a week, which helped to build rapport with students and facilitated opportunities to learn about data in the social impact sector. Our first meeting of the week was exploring a different data-related theme. Throughout the program, we explored themes such as data mining, data cleaning, visualization, data analysis, and project management. After establishing the theme, we enhanced our understanding through seminars and participant-led discussion. Seminars allowed us to see how integral data collection or visualization was for an organization. For example, a data scientist at Nexleaf provided insight about how data collection helped the organization achieve its mission to preserve human life and protect the planet.
While learning and seeing various applications of data is helpful, peer-led seminars allowed us to practice data analysis. Many of the students were proficient in Tableau, Python, or SQL and Excel while others were self-learning the same applications. This peer-supported instruction was encouraging, since learning about introductory data analysis can be difficult. Towards the midpoint of the program, each of us chose a social impact topic to present at the end of the summer incorporating all that we learned. Overall, I think the experience was the perfect balance between educational and technical.
In addition to this experience, I was chosen to join the digital marketing team as an intern in July. I was able to work on an email marketing campaign for the first time from ideation to implementation. I also was able to contribute to brainstorming sessions for TechSoup's display ads. This experience built both my confidence and understanding of marketing. I also think the internship coordinators did a great job of offering other opportunities to build important skill sets. Many interns took advantage of TechSoup courses in Power BI, Excel, and more. I really appreciated how the team presented opportunities to complement our internship.
Aside from my day-to-day assignments, my experience was truly unique in that TechSoup members across the organization were willing to interact with me as an intern. I was able to talk to members of the design team and data analytics team and even briefly interacted with the head of user experience (UX).
How TechSoup Fostered Community During This Time
I'd be remiss to not mention how TechSoup's programming changed during COVID-19. Some of the most notable companywide initiatives were virtual yoga classes at 3 p.m. on certain days and virtual happy hours every Thursday evening. Moreover, members of my team sought to check in and ensure that I was adjusting. For example, my data strategy program set up coffee chats to get to know members of our cohort.
Each initiative really sought to strengthen the organization through wellness, rest, or socializing. As an intern, I was not only encouraged to participate in these events, but also had other opportunities to interact with people. Our weekly intern meeting provided a designated time to interact with the intern class as a whole while learning about TechSoup. During those meetings, we would talk to members across the organization. Some standout sessions were talking to the eligibility team, grant writing team, and data analytics because it showed me that there were many key players that carried out TechSoup's mission.
While I missed the office rapport, TechSoup was very creative in their efforts to ensure participation. Human interaction can't be replaced, but remote work can provide new opportunities for fun and learning.
Lessons Learned
My internship at TechSoup demonstrated the importance of a strong community while navigating challenges as a young professional. While the summer differed from what I previously envisioned, I gained a lot from my experience at TechSoup.
First, I learned that learning could happen in a multitude of ways. Whether it be an internship or the mentorship program, these opportunities are valuable. I was initially focused on having an internship outright, but joining the mentorship program first allowed me to step out of my comfort zone and interact with a community of learners.
Speaking of building community, I was able to network both horizontally and vertically. By this I mean I learned a lot of valuable information from my peers. We connected not only through our project but also by understanding our interests and contributions to our community outside of the internship.
Lastly, I learned that little actions go a long way. My supervisors and internship coordinators both checked in quite frequently. While this action seems obvious, it really provided a platform to express my interests and goals. Additionally, it helped me to familiarize myself with the organization — which looks completely different virtually. Creating an class of interns and an organizational culture that was warm and amicable is what made my experience unique. Ultimately, TechSoup and ParsonsTKO were able to craft an internship experience that nurtured my potential.