Leah Lizarondo has always had an interest in applying technology to social good. A native of the Philippines with a background in technology, her commitment to helping others led to her to develop an app that harnesses the power of collective action to address food insecurity.
The app — called Food Rescue Hero — connects donors who have fresh, highly perishable food that would otherwise be thrown out to the people who need it most. The magic of the model is the thousands of volunteers who pick up and deliver perfectly good food that would have ended up in the waste stream.
Since its launch in 2016, the app has redirected over 40 million pounds of food and mitigated millions of pounds of CO2 emissions. After a pilot in Pittsburgh, Food Rescue Hero has 10 partners operating in 12 cities with a goal to scale food recovery in 100 cities by 2030.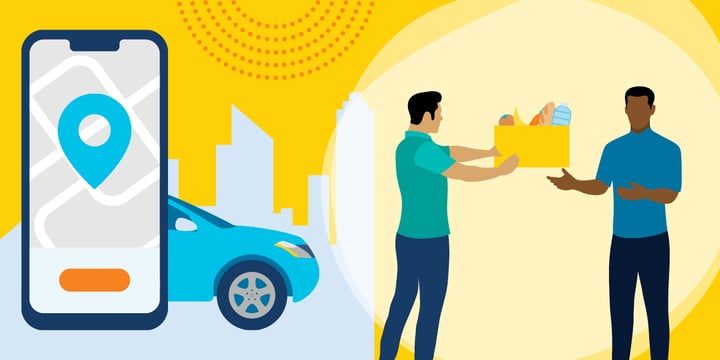 Identifying the Problem
In the United States, 40 percent of the food supply goes to waste. One reason why food gets thrown out is because it's hard to predict when there's going to be a surplus.
If a refrigerator breaks down at a grocery store, there's not much time to move meat and dairy before it spoils. Or, the volume may not be enough to make it worth trying to save. A coffee shop may have three boxes of sandwiches and bagels at closing time.
Food pantries can't always take advantage of these opportunities, especially if their service models aren't equipped to collect, store, and distribute such small quantities of food at short notice. But Lizarondo knew of a model that could: the same one used by food delivery apps like DoorDash and Grubhub.
Finding a Solution in Technology
Tech startups saw opportunity in the thousands of restaurants that needed to get small quantities of food to thousands of homes, taking into account that one day you may have a lot of orders, another day much fewer.
"It's a massive logistics issue that they solved by using technology — and I knew it could be applied in the nonprofit sector," Lizarondo said. Using a similar technology platform, Lizarondo and her team created an app that makes it easy for volunteers to transport surplus food from grocery stores and restaurants to nonprofit food pantries and similar organizations on the other end.
In 2016, she piloted the app with 412 Food Rescue in Pittsburgh, where she settled with her family after graduating from Carnegie Mellon University. The effort is powered by the thousands of volunteer drivers who download the app. If there's a rescue opportunity, every volunteer in the vicinity gets a push notification. The volunteer "accepts" the rescue in the app, which navigates them to the donation pickup point, then to the designated drop-off point, which may be a church, school, or food pantry. Each rescue is typically a commitment of less than an hour. Lizarondo notes that the app's service level is 99 percent, meaning that 99 percent of the food available is rescued.
It's worth noting that there are other apps that are also tackling the problems of food waste and insecurity, though the models differ and each has unique features. For example, Transfernation and Replate both charge the food donor a small fee, which they use to pay gig workers doing food delivery. ChowMatch doesn't charge food donors who use the app. Instead, the nonprofits who can use the food are responsible for providing their own volunteers to pick it up.
Digital Tools for Data Visualization to Improve Operations
It's important to Lizarondo and her team that they measure Food Rescue Hero's performance and the impact of the collective efforts on food insecurity.
Data visualization tools help make sense of the mountains of information they receive from their partners. For example, Tableau transforms raw data into maps and graphs. These visuals make it easier to answer essential questions like, "How many minutes does it take for a push notification to reach volunteers? Are we delivering food equitably across our service area? What types of food are we getting?"
Knowing these key data points helps Lizarondo and her team optimize their operations, make corrections where they're needed, and ultimately get more food that would otherwise end up in landfills to the people who need it most.
Working Through COVID-19
When COVID-19 hit in March 2020, the app had the biggest surge in volunteers since its inception. "People just really wanted to help," said Lizarando. "The biggest challenge was how to reach the people who needed us. They couldn't get to the food pantries, and the pantries couldn't field enough volunteers to pack the boxes."
The functionality of the app made home deliveries possible, though volunteers had to undergo an extra layer of background checks, and the app had to be updated to reflect the new contactless protocols. "There's not a crisis we're built for better than COVID-19," she said.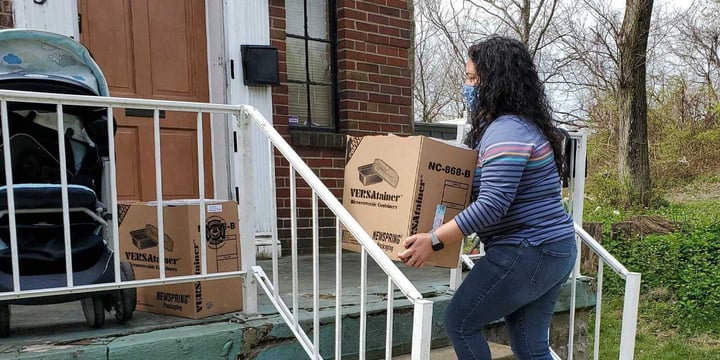 Improving Access to Food Through Technology
"It's a given that food is a right," said Lizarondo. "My counter is that convenience is just as much of a right. We can't assume that because food is available it's also accessible. Public transit might not be an option, and if you're home-schooling kids, you may not be able to leave the house."
"It's our job to get the food to the most vulnerable," she added, "which is why I emphasize that Food Rescue Hero is not a hunger relief organization. It's a transportation company that services hunger relief organizations."
Helping People Make a Difference
Food Rescue Hero uses technology to reduce food waste and food insecurity. The technology also allows for direct human connection. "The reason we're able to attract so many volunteers is that they're able to interact with the food they're saving and the people they're helping," said Lizarondo. "It's a very meaningful experience."
Connecting with others in the food security sector helps us all serve our communities better. Quad is a new peer-to-peer community powered by the TechSoup Global Network, helping organizations share challenges and solutions with others in their mission area. To begin, we're focusing on organizations that address food insecurity in their communities. You can also find unique resources such as guides, reports, and product comparisons to help you make informed decisions and serve your constituents more effectively. By joining Quad, you'll get access to reduced admin fees and dedicated support, and you'll become part of an exciting community of nonprofit leaders.
Additional Resources
Photos: Food Rescue Hero