A variety of factors can impact a nonprofit's ability to optimize its IT setup. However, as the world hurtles ever more rapidly into a cloud-first, tech-centric reality, it's more important than ever to make IT needs a central part of a nonprofit's planning strategy — not an afterthought. And, like other parts of the sector, nonprofits that focus on serving the homeless and low-income communities face this issue as well.
When Peter Roach, an IT professional living in the Pacific Northwest, finished his MBA from Seattle University, he had this notion on his mind.
"I was tired of seeing the stark difference in computing environments when moving between the for-profit and nonprofit sectors. From a high level, I could see that there was a great deal of need for ethical IT support in the nonprofit sector," he says.
Roach took an IT manager position at Associated Ministries, a Tacoma, Washington–based nonprofit with a mission to build stronger communities in the area. Its programs include homeless outreach and support, free tax-preparation services, housing services, and disaster response preparedness.
"The leadership team knew that the IT operations were holding back their mission development," Roach says. "Consultants were being used to support the IT and web operations, and this model of support leaves organizations with silos of operations and reliant upon firms that often charge exorbitant rates and approach interactions in a top-down fashion."
Roach set out to bring the IT infrastructure at Associated Ministries up to speed. And in order to do so within the organization's limited budget, he turned to TechSoup for a number of products critical to building out an up-to-date and properly functioning tech landscape.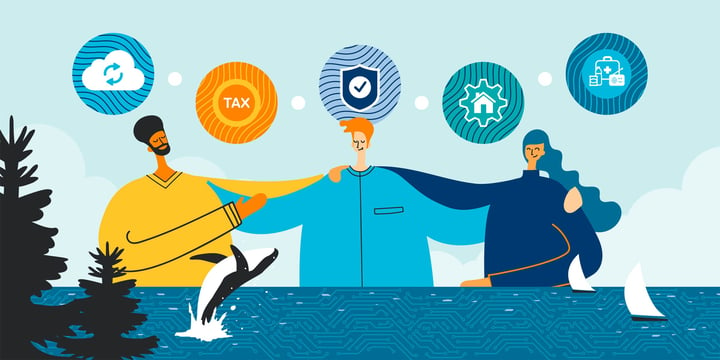 Core Tech Solutions at Associated Ministries
First up, Roach needed to ensure that Associated Ministries was operating on a secure network. For this, he chose to use the Cisco ASA 5516-X security appliance with FirePOWER Services. "Implementing this technology has been a game changer. We are now able to clearly see who is doing what with limited network resources," he says. "Further, this product and licensing bundle puts us as an active node on the Cisco Security enterprise. This will ensure we are receiving real-time security updates and alerts."
For general security measures, Roach has implemented Symantec Endpoint Protection and Symantec Mail Security 7.5 for Microsoft Exchange. "Our caseworkers pick up a lot of content from unsecure locations, and Symantec Endpoint Protection gives me confidence that virus signatures are staying current and scans are taking place," he says. "We also have Symantec spam protection protecting our email. This product is another solid add that helps to manage a complex stream of incoming messages."
In need of a comprehensive backup solution, Roach turned to Veritas products. "We use Veritas Backup Exec to support a three-tiered backup model," he says. "I'm finding Backup Exec to be a reliable and full-featured backup product. It's another enterprise product that can be leveraged to ensure business continuity. It's a big help to know that backups are running smoothly, and this product's database is both robust and reliable."
Lastly, Associated Ministries needed software to produce creative materials for a variety of purposes, including fundraising and outreach. For this, he set his sights on solutions from Adobe. "Being able to have the access to all Adobe creative apps and Adobe Acrobat Pro DC products ensures that we can keep up with current standards. Using Photoshop, Lightroom, and InDesign has helped produce professional-level content for print and web," Roach says.
Roach sees TechSoup's marketplace as a boon for both his organization and the nonprofit community at large. "The partnership between TechSoup and IT vendors is a huge win-win-win," he says. "TechSoup wins, the vendors win, and the community wins."
A Growing Need for Digital Transformation in the Nonprofit Sector
For Roach, a healthy IT infrastructure is a critical component to any nonprofit. However, he points out that as private and foundation-funded resources are shrinking, pressure has been building to do more with less. Alongside using organizations such as TechSoup to acquire donated and heavily discounted software and hardware, he urges organizations to develop a concrete IT road map.
"By adopting a multiyear IT strategy, grassroots organizations can better position themselves for growth and outreach," he says. "It's a good idea to form an IT committee consisting of organizational leadership, an ethical IT service provider, and volunteers in order to construct this multiyear IT plan." He continues that this team should tackle big questions, such as
What infrastructure is currently in place?
What are our IT requirements, both now and in the future?
Are the proposed IT solutions sustainable in the long term?
Is there a robust support framework behind these technology solutions?
Roach feels that nonprofits that cultivate a sense of acceptance and community hold a very special position in today's culture. "As government and county entities hit roadblocks for the types and amount of support they can provide to those on the margins of society, these organizations step in to provide that much-needed love and compassion," he says.
For this reason — among others — it's increasingly important for these organizations to be functioning at their highest capability. As a result of Roach's mindful, comprehensive approach to building and executing a robust IT framework at Associated Ministries, his organization is now better positioned to serve its community. It's a clear illustration of how technology can amplify service delivery in the nonprofit sector, and a great example for any organization with digital transformation on its mind.
Additional Resources