Adopting new technology is hard. It takes time, effort, resources, and staff training before you start to see the benefits. Since many of us at nonprofits are accidental techies, altering tech operations can run into issues during deployment. These things take up more time than you may have, and it is frustrating and challenging when you cannot get new features or upgrades to work.
This post provides a high-level overview of the steps you may want to consider in getting set up and ready to use Microsoft cloud solutions. We will also highlight some services and resources that we offer to help along the way.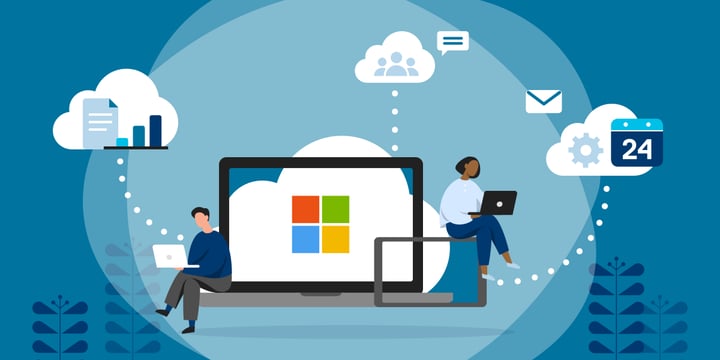 We know how important Microsoft products can be for your day-to-day operations. Many of these products are vital to your mission, and with more remote work and collaboration necessary, organizations have been adopting Microsoft's cloud solutions more than ever before.
In just the last year, we have seen 125 percent more organizations request cloud solutions such as Microsoft 365 and Office 365. But whether your organization has already moved to using some cloud solutions or you are still thinking about the move, we are here to help you get the most out of these solutions and help you on your journey.
Preparing for Cloud Adoption
Let's start with the journey. We recommend that organizations plan for the following five stages in their technology adoption:
Technology selection
Setup and implementation
Training
Email and data migration and upgrades
Ongoing support
Each of these steps is critical to ensuring that you are adopting the technology appropriately in your organization.

Step 1: Technology Selection
The first step you will want to do is understand what solutions, constraints, and features your organization needs in order to be successful. We recommend that you start by reading this blog post, which focuses on an overview of Microsoft cloud solutions that are available to nonprofits as a donation or at a significant discount.
If you would rather get more targeted help and assistance, sign up for a free Cloud Consult and talk to someone from our team about solution offerings that may be best for your organization.
Step 2: Setup and Implementation
Once you have chosen the right licenses that will work for your team, there are a few steps to qualify for the nonprofit pricing, acquire the licenses, and start setting up your account.
If your organization wants to complete the first few steps on your own, you can refer to the Microsoft Cloud Self-Service Guide to help you through the process of qualifying and acquiring the licenses you need.
Once you have the licenses you need, you can get started by setting up your user accounts in your Office 365 Admin Center.
Though the steps to set up your account may be easy for some, it really depends on the time that your team or your accidental techie may have to support this process. We understand that this may be an area that your team would like support on. If so, we can provide you with our Office 365 Complete Setup Package. Through this service, TechSoup will work with your organization to
Choose the right Office 365 or Microsoft 365 licenses that best fit your needs
Support your Office 365 registration and qualification with Microsoft
Register or redirect your organization's custom domain to your new Office 365 email domain
Set up Office 365 accounts for up to 25 users in your organization
Train staff on Office 365 key applications and features
Step 3: Training
Though many nonprofit employees and volunteers may be familiar with the Office suite, learning how to take advantage of the features and benefits of some of the updated cloud applications can help increase productivity and efficiency across your organization. Through the Microsoft Digital Skills Center, your team members can access training on Teams, Excel, PowerPoint, Word, SharePoint, and many other applications. Team members can choose the courses that make sense for them so they can make best use of their time. The best part? The courses are available to both staff and volunteers — and many are available at no cost!
Step 4: Email and Data Migration and Upgrades
Most organizations moving to a cloud solution likely will want to plan out how they want their team and volunteers to collaborate, communicate, and manage their data in the cloud. Maybe your organization is "born in the cloud," and you do not have existing data or email that you want to port to a new system. But If you do have existing data, email, and folders in place (either on-premises or through a different cloud solution), you may want to plan out what aspects of the new solution you want to use and how you want to use it.
We recommend that organizations set up all of their tools and processes to at least be cloud-backed, so you can access your files, collaborate, and communicate with your colleagues regardless of device or location. In order to do this, we offer a few services to support your journey of cloud adoption.
Email Migration. We will work with you to plan and switch your email, calendar, and contacts to Office 365, with training offered for your team members. We support migration from

In-house or hosted Exchange servers (2003, 2007, 2010, and 2013)
Gmail and Google Calendar
POP and IMAP systems, including GroupWise, Zimbra, and Lotus Notes.

Data Migration. We will work with you to implement SharePoint, intranet data, document collaboration, and backups. With Data Migration, you can set up your Teams for efficient collaboration within your organization. We can also help incorporate other cloud solutions like Box to create an integrated data retention and repository management solution.

You can request Email and Data Migration service here.
Windows Upgrade Support. We will check to see if your machine is ready for a Windows operating system upgrade. We can also help you back up all your files to make sure that you do not lose anything in the process and to support the implementation.
Step 5: Ongoing Support
For most organizations with no dedicated IT support, any disruption in technology access can be time-consuming and very frustrating. Ongoing support services that you can pay for either monthly or by usage are cost-effective ways to secure the technical support you need in these situations. We offer support services that can help as well.
Help Desk. This service is a 10-hour Help Desk bundle that nonprofits can use as required over a one-year period. We designed this service for small nonprofits that don't have dedicated staff and need urgent support. The 10-hour bundle secures up to 20 half-hour issue fixes for the whole year and covers hardware, software, and installation issues.
Managed IT. For organizations that need more dedicated support for their technology, our managed IT services provide end-to-end support for all issues, hardware and software backup, admin support, Office 365 support, security and performance monitoring, as well as ongoing technology planning.
These are just a few of the most requested services that we currently offer to help organizations. For a full overview of the breadth of services we offer, please visit our Services page.
Unsure about what services you need? Schedule an appointment with our cloud consultant to talk through your options.
About Our Service Partners
In order to provide you with the best services we can offer, at the best and lowest-possible costs, we partner with trusted organizations that bring a wealth of nonprofit experience. On these particular services, our partners are Tech Impact and Bask.
Many of you may know Tech Impact. They are not only a longtime partner of TechSoup, but a well-known technology nonprofit helping deliver IT solutions for nonprofits.
Bask is also a trusted partner of TechSoup. Bask combines IT technology with advanced remote support technicians. Their team takes pride in supporting nonprofits, and they have been able to bring their technical expertise to help deliver quick and efficient solutions to the nonprofit community.