Food insecurity is a real and prevalent issue across the United States and the world. One in 10 households in the U.S. experienced food insecurity in 2019. In 2020, with the COVID-19 pandemic wreaking havoc on health and economies, that number grew to almost one in four. As millions of Americans suffer from continued unemployment, grief, and anxieties around their health, nonprofits that provide essential services are working harder than ever. We spoke to three such nonprofits that are fighting to ensure that nobody has to go without food.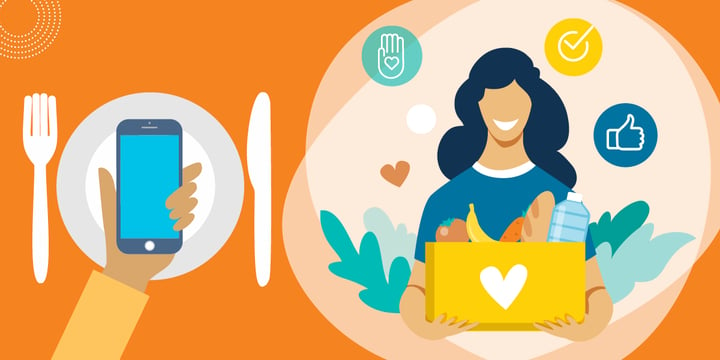 Along with many other organizations nationwide, these nonprofits have been making an effort to go paperless, swapping pen and paper for spreadsheets and online management systems. Making these changes can help to streamline business processes, keep and search records with ease, and manage operations remotely. It can also reduce costs, even though it requires some initial investment in technology. Here, these three nonprofits tell us about their paperless journeys, the challenges they are facing, and the benefits they've seen.
Good Shepherd Food Bank — Maine
Good Shepherd is the largest hunger-relief organization in Maine, distributing nutritious food to more than 500 agencies across the state. In 2020, research coordinator Kai Loundon tells us it provided over 27 million meals through its network of food pantries, schools, meal sites, senior programs, and healthcare centers.
Good Shepherd is a member of the hunger-relief organization Feeding America, which supports its members in shifting to online systems. One such system, Link2Feed, is a suite of software solutions designed for use by food banks and pantries, comprising donor and inventory management, administration tools, and more.
While technology solutions like Link2Feed can solve a multitude of problems, rolling them out can be a challenge. Good Shepherd Food Bank has worked diligently to increase tech literacy among its partner agencies, including hands-on trainings with pantry staff and key volunteers. The Food Bank provided laptops and licenses to participating agencies and have dedicated staff members to help navigate this new technology.
Even for those who are used to the technology, changing the way you operate is time-consuming and can slow things down in the short term for agency teams. Loundon says incorporating paperless tools significantly increases data collection for purposes of serving the network of agencies and clients better. He also adds that the learning curve, while steep for some, lessens over time as more and more partners become familiar with it. Besides, good use of technology can make an enormous difference, and considering that some agencies didn't even have email addresses a couple of years ago, operations have significantly evolved.
Loundon maintains that the main challenge to switching to paperless technology solutions is a lack of support. Good Shepherd has worked hard to ensure that this isn't a problem for its members. It provides laptops and software and pays for licenses for the necessary tools, which is expensive but a worthy investment.
Through continued encouragement, funding, and support, Good Shepherd hopes to have all of its member agencies using Link2Feed in the next three to five years. "We're in a good spot. Technology can make lives so much easier," says Loundon. The shift towards more tech-savvy solutions is exciting, and Good Shepherd is offering all the support it can to help its members make that change.
AIDS Assist — Indiana
AIDS Assist provides a range of services to people living with HIV/AIDS, one of which is a food service that supplies pantry items. The food program serves 150 households each month, 82 percent of which live below the poverty line.
It operates on very limited technology; grant writer Leah Hopper tells us that until two years ago, it managed deliveries, inventory, and other operational needs entirely using pen and paper. It has since moved to Excel, managing its delivery system through Outlook. It's minimal, but it does the job.
As its clientele grew, shopping and buying has become more of a challenge. Using Excel has helped AIDS Assist to keep better track of its stock and budget, even while transitioning into a new warehouse. Hopper says that they could benefit from tools to help them manage their inventory, since discrepancies with stock might currently go unnoticed. Another issue they have is food waste, which could also be helped by a more regulated account of which clients need a delivery that week.
There are, of course, challenges with ensuring that those who need food services are able to access them. "A lot of clients who can't get food because of our office being closed are our homeless clients," says Hopper.
Hopper tells us, "We make these go bags [for homeless members], pop tops, what they can eat on the go." A street outreach team takes these into town and hands them to the clients they recognize. Those without a cellphone or Internet access are able to use AIDS Assist's drop-in center, where they can also access food and other services.
A huge effort is being made to reach everyone who needs support, but it is very difficult to ensure that nobody falls through the net. Echoing Loundon's sentiment, Hopper says that funding is key, and as an essential service, they are able to get the funds they need to operate.
AIDS Assist aims to streamline its technology further, creating a system whereby clients can order exactly what they want, without sending surplus. This would create a more efficient service and ensure that clients can create healthy, delicious meals using the ingredients they choose.
The Pantry at UC Davis — California
The Pantry is a student-led organization on the UC Davis campus, with the aim of ensuring that no student has to go without food or basic necessities. The Pantry's director, Ryan Choi, explains that 44 percent of undergraduates at UC Davis experience food insecurity. The team meets this need by providing food for any student who needs it. It also uses its platform to raise awareness of food insecurity on campus.
The Pantry provides fresh produce as well as nonperishable goods and ready-made meals. It offers spice jars and kitchen utensils in order to provide for holistic well-being as well as basic needs and to keep it culturally relevant wherever it can. "We're a very diverse community," says Choi, "so giving everyone mac and cheese wouldn't be the best fit for a lot of students."
By the end of 2019, The Pantry was serving 300 to 500 students every day and had plenty of storage space without having to worry about item limits. When the COVID-19 pandemic took hold, things got a little more difficult. Students couldn't just walk in and access the service, but the food insecurity problem was only getting worse. It struggled with managing its stock, finding that existing solutions either didn't suit its needs or were outside of its budget.
Then the team was approached by Salesforce, which offered to support it in developing its own inventory management system. They built the platform from scratch, tweaking the features to their unique needs. They have also added an online ordering system with designated pickup times, so that students can access the service while adhering to social distancing guidelines. The Pantry received 880 orders in the first four weeks on the new online ordering system through Salesforce, roughly twice as many as the previous month's total order number of 477.
In further efforts to move all of their processes online, the team uses an Excel spreadsheet to monitor customer flow and time slots. In this way, it can predict patterns of use, helping it to work more efficiently.
It also manages volunteers through a Discord server, using different channels for the various areas of operation and maintaining a weekly team meeting. Going paperless has helped The Pantry manage its operations more effectively, allowing it to help more people safely.
The Paperless Journey
These three organizations are doing their part to fight food insecurity and are seeing the benefits of choosing online management over pen and paper. Considering going paperless, but aren't sure where to start? Check out this recent blog post that highlights a number of key strategies for organizations looking to optimize their use of cloud technologies in general. And no matter where you are in your journey towards digital transformation, TechSoup is here to help along the way.
Leaders in the food security sector are gathering on Quad, a new peer-to-peer community powered by the TechSoup Global Network. You can use Quad to connect with others in your mission area, collaborate, and share challenges and solutions. You can also access reports, guides, and product comparisons, helping you to make more informed decisions for your nonprofit. By joining Quad, you'll get unique access to reduced admin fees and dedicated support, and you'll become part of an exciting community of nonprofit leaders.
Additional Resources
Top photo: Shutterstock