Cryptocurrency is surging in popularity, with the market cap reaching over $2 trillion in 2021. Many donors are now holding appreciated Bitcoin, Ethereum, and other coins and donating them to nonprofits that are equipped to accept them.
Today, there are many ways for organizations to accept crypto, and their teams don't have to be technical to benefit from it. In fact, it's possible to accept crypto support without additional legal or accounting burdens using an intermediary like Every.org.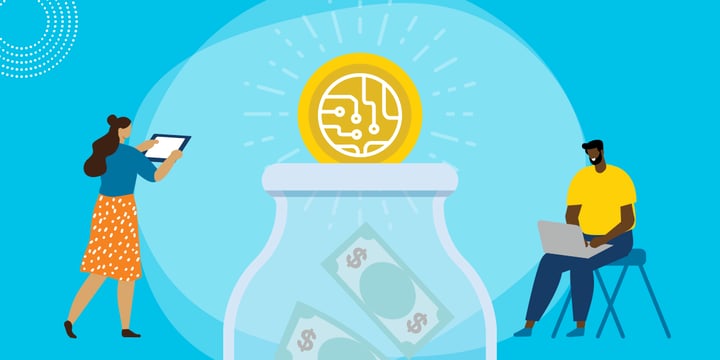 Why Should Nonprofits Care About Crypto?
Crypto is the fastest-growing asset in 2021. According to Gemini's 2021 State of U.S. Crypto Report, over 14 percent or 21 million U.S. adults are holding some form of crypto — the majority between ages 25 and 44. That number is expected to grow with 63 percent of the remaining adults being "crypto-curious."
By accepting crypto directly, nonprofits can help donors give more. Similar to stocks, donating crypto is not a taxable event for the IRS, meaning that donors don't have to recognize any capital gains on the appreciated asset. For example, say someone was an early investor in Bitcoin and had 10 BTC that they wanted to donate to support your mission. Typically they would sell that Bitcoin, which is worth about $623,000 as of this writing, pay capital gains tax upward of $185,000 depending on their income and location, and end up donating a net of about $438,000. Instead, if they can donate the crypto directly, they can contribute the full amount and potentially deduct up to the full fair market value for tax deductions, leaving more money for your mission.
This is a unique time, where crypto is highly appreciated and there aren't too many places to spend it. By highlighting the tax advantages of donating crypto, you may be able to encourage donors to donate more at year-end.
What Is Cryptocurrency?
In short, cryptocurrency is digital currency generated by code without a central regulatory body. There are thousands of "coins" out there, the most popular being Bitcoin and Ethereum. (Learn more at Investopedia.) Through exchanges like Coinbase, Gemini, and Binance, many coins have high liquidity and can be converted to cash instantly.
Nonprofits may feel hesitant and intimidated by the technical jargons and uncertainties around cryptocurrency. Whether or not organizations believe in the future of crypto or understand its ins and outs, it is possible to accept and benefit from crypto donations.
Ways to Accept Crypto (Easiest to Hardest)
1. Intermediary 501(c)(3)
By accepting cryptocurrency through another 501(c)(3), including donor advised funds (DAFs), nonprofits don't have to take custody of crypto. This greatly simplifies the legal, accounting, and administrative implications of accepting the asset. These intermediaries handle the tax receipts and conversion, then grant out to organizations in cash.
While DAFs are only available to donors who hold an account, registered 501(c)(3) public charities can generate a donate button and get started for free using Every.org. As a nonprofit, Every.org does not charge any fees and handles compliance — including filing IRS Form 8282 and accounting — then sends U.S. dollars to nonprofits.
Learn more on every.org/crypto.
Since regulations around cryptocurrencies are in flux, this approach is suitable for nonprofits that wish to remain high-level with cryptocurrencies but still offer it as an option for donors.
2. Specialized Nonprofit Crypto Processors
Payment processors such as The Giving Block and Engiven help nonprofits accept donations to their own wallet, allowing them to hold onto crypto as an investment if they wish. For a service fee, these companies handle transactional aspects like automatic conversion to cash and tax receipts and may assist with crafting marketing campaigns to the crypto community.
Since the nonprofit takes custody of the crypto, it will be important to handle compliance with IRS regulations and accounting best practices. If holding, the nonprofit should consider the volatility of the assets and set policies around when to liquidate.
This approach is suitable for nonprofits that want to make cryptocurrency a core aspect of their development or assets and want a built-out donation widget with automated receipts.
3. Checkout Through Crypto Exchange
Exchanges like BitPay and Coinbase offer embeddable checkout experiences with automatic conversion to cash for minimal fees. However, since these are generalized consumer experiences and not specifically created with donations in mind, nonprofits will need to handle donor support, tax receipts, and collection of donor information.
This approach is suitable for nonprofits that want minimal fees, and still want an embeddable widget, but don't mind handling the administrative and operational work themselves.
4. Wallet
A "wallet" is a place where you can receive, send, and store crypto. This is the most technical of the options, and there are many types of wallets to explore — custodial or noncustodial, hardware or software. Learn more here.
The most important consideration will be to securely store and create policies for accessing the credentials. It will also be important to keep clear records of transactions since there will be no donor information associated with transactions.
Get Started with Crypto Donations
There are many options today to help nonprofits get started with cryptocurrency, and it doesn't have to be painful. With crypto booming, it's a critical time to allow donors the option to support your organization and apply their appreciated coins towards a mission they care about.
Additional Resources from Every.org
Disclaimer: These posts are for informational purposes only and not intended as legal or financial advice. Please consult a professional (accountant, attorney, tax advisor) for the latest and most accurate information. We make no representations or warranties as to the accuracy or timeliness of the information contained herein.
About the Author
Tina Roh is the COO of Every.org, a 501(c)(3) charity building an accessible giving infrastructure to help every person and organization use technology for good.
Additional TechSoup Resources
Top photo: Shutterstock