As bitcoin has received more media attention in recent years, people are becoming more familiar with it — but not necessarily more knowledgeable.
Bitcoin is the most well-known "cryptocurrency," a currency like dollars or euros, but one that only exists digitally. Unlike a traditional currency, though, it's decentralized, so it doesn't go through a bank. Check out this short Bitcoin Made Simple video explaining how it works.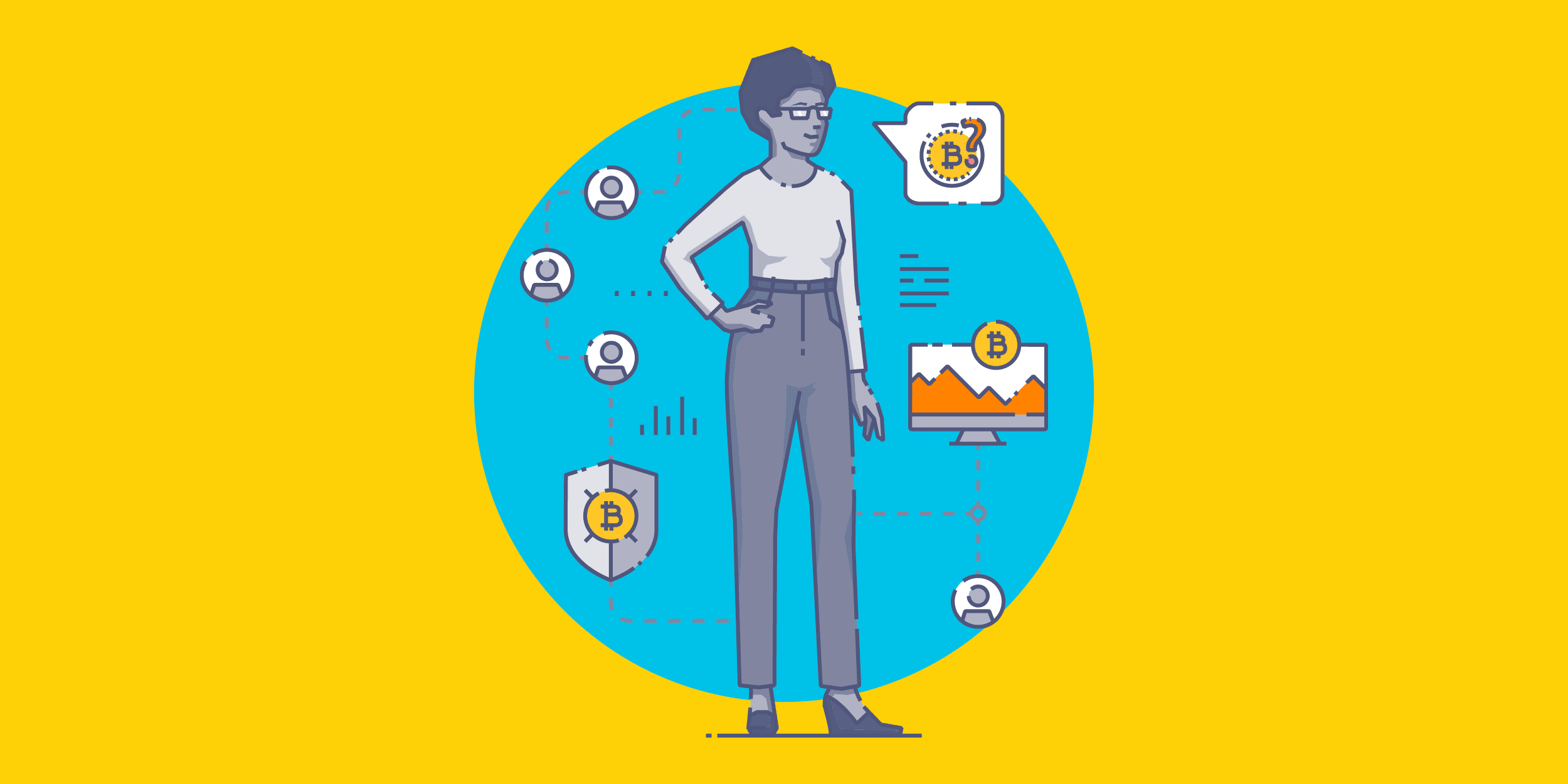 In the last few years, national and international nonprofits have begun to adopt it as another channel that donors can use to contribute. Just last year, United Way, the world's largest privately funded nonprofit, started accepting bitcoin donations, and it's not alone. Other major nonprofits like Save the Children, American Red Cross, and Greenpeace now accept it as well.
How Bitcoin Works
Anyone with a bitcoin wallet can receive and spend bitcoins. A wallet is like a bank account that exists only on a digital platform. You can get bitcoins by buying them with traditional currency at online exchanges like CEX.IO, receive them by donation, or "mine" them (this last option requires a lot of infrastructure, so we won't be covering it here).
Like traditional currency, you can move bitcoins from your wallet into someone else's and vice versa. Rather than being validated by an intermediary, like banks with checks, or payment processors with credit cards, bitcoin transfers occur directly between the donor and the organization. (You can choose to use a payment processor to simplify the process, however.)
Is Bitcoin Right for Your Nonprofit?
Adopting bitcoin can broaden the ways your nonprofit receives donations. As Evan Hochberg, United Way's executive vice president and chief strategy officer, told CoinDesk, "Our engaging bitcoin was a recognition there's a fast-growing, innovative, passionate group of people looking to make charitable donations based on the interest in using this currency. We wanted to be at the forefront of that conversation."
The biggest incentive for most nonprofits to accept bitcoin is that most major payment processors, like Coinbase, don't charge any processing fees for donations to 501(c)(3) nonprofits and charities. If a donor chooses to donate one bitcoin (equal to $8,981.00 as of this writing), the organization receives the entire donation.
Without processing fees, a greater number of donors can make smaller donations without any additional cost to your organization.
Also, bitcoin's relatively instant transfers can make an immediate difference in funding the efforts of nonprofits with very time-sensitive missions, such as disaster relief. Converting bitcoins to spendable dollars adds time, though, so you should consider whether the added speed would make a significant difference for you.
How to Set Up Bitcoin
Do Your Research
Before you start accepting a new currency, you'll want to make sure you fully understand how bitcoin works, its risks, and its rewards. Here are some useful resources:
Bitcoin.org: The original bitcoin site has helpful videos, simple walk-throughs, and very useful resources for individuals and organizations.
CoinDesk: A leading bitcoin news site, CoinDesk provides a broad view of the network and details on the latest trends.
Other nonprofits: Look around and see if organizations with similar missions to yours accept bitcoins and ask about their experiences. How did they adopt it? Who donates?
It's important to note that the value of bitcoins will rise and fall like any currency. I am not a financial advisor, and all of this should be taken with a grain of salt. Unlike dollars and euros, though, bitcoin is still a very volatile market. While this volatility doesn't make it well suited for long-term investments, you can still receive bitcoins and convert them to local currency, which makes them a useful tool for contributions.
Choose a Wallet
Bitcoins are stored in a wallet, similar to a bank account. With a bank account, another institution holds your money; with bitcoin, you hold on to it and keep it as secure as you want. When it's time to send or receive bitcoins, the connection can be directly made with the person or institution receiving or sending them.
A bitcoin wallet can exist in one of several ways: as software on an Android or iOS device; as software on a Windows, Mac, or Linux desktop or laptop computer; on a physical device like a USB flash drive; or in the cloud. Different wallets include different features, such as additional privacy, full control over your money, and increased security, so it's important to choose the wallet with the features that you need most.
See Bitcoin.org's Choose Your Bitcoin Wallet page for a full list of wallets sorted by platform.
Get Bitcoins
The two simplest ways to get bitcoins are to receive them as donations or buy them. To receive donations, you may need to integrate a payment system like BitPay. An integrated payment system can simplify the donation process and immediately convert bitcoins to your local currency if you want.
Some organizations have dedicated pages for this type of donation on their payment processor's website, like the American Red Cross, or on their own website, like United Way.
As an organization, you should also decide whether you require donor information. Some organizations have decided they want donors' information so they can send them news updates or request further donations from them. Other organizations choose not to ask.
Buying bitcoins involves visiting an online exchange, such as Coinbase. There you can connect your bank account service and exchange (or "buy") dollars for bitcoins.
See How to Buy Bitcoins and BitPay's FAQ for quick guides on how to get bitcoins.
Save, Spend, or Exchange Bitcoins
Unless you choose to spend them, you can exchange bitcoins into your local currency or save bitcoins in your wallet until you're ready to use them. Services like BitPay will convert bitcoins instantly so you never hold on to them; you just receive it as your local currency every time.
If you do decide to spend your bitcoins without converting them, check out Usebitcoins.info for a list of more than 4,000 merchants that accept bitcoins.
Bitcoin is not an easy thing to wrap your head around at first, but like most things, the more research you do, the clearer it will become. The nonprofits we spoke to told us that setting it up was a relatively painless process, but everyone's experience is different. For many, though, bitcoin for nonprofits is an additional source of revenue that is easy to set up and growing in popularity.
Additional Resources: Financial Management and Fundraising for Nonprofits