Twitter has evolved significantly since it launched in 2006 as a simple, short messaging service. Twitter is no longer simply a platform to "microblog," as it was initially designed. Twitter is now a powerful platform to know, understand, and segment your community.
Presuming you know how to use Twitter and the basics of tweeting, here's how you'd use it to build and engage your community to get the right people in your network. What you may not know is that you can investigate and analyze your follower-base to target specific mission-focused accounts that will help you build your community, segmented with intention. In this post, I'll show you how to use Twitter to engage the right community for your nonprofit.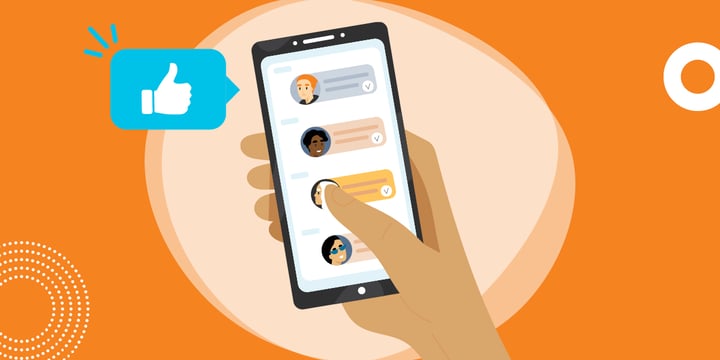 It's Not What You Know, It's Who You Know
Many people just rely on the followers that they have, without considering the potential impact of building community within Twitter and identifying those who are tweeting on a certain topical hashtag. The benefit of Twitter over other social media platforms is that in most cases, you do not need to personally connect with accounts that you are attempting to reach. That is, you wouldn't need to be "friends" to contact anyone on the Twittersphere and make a direct connection.
As one gets more acquainted with Twitter as a platform, it's easier to learn which metrics are more significant and to focus on building a community of the right people, instead of just growing followers. For example, getting more followers is less important than getting specific followers who will engage with your content and share it out to their own communities, thereby extending the edges of your own social network.
The simplest way to identify accounts within a certain focus is to search keyword terms and hashtags. From there, you can see the top posts using a certain hashtag and the top contributors who posted using that particular hashtag and when they posted it. From there, you can choose to follow those accounts, engage with their content, and DM that individual to connect in a more direct, one-to-one fashion. I've documented this process in the following post: 7 Steps to Turn a Tweet into a Meeting. But more on that later.
A more precise and targeted way to reach the people whom you want to reach is by using a third-party tool that analyzes Twitter for user and post data, so you can, for example, locate a user from a specific region who speaks a specific language and works in a specific field. That individual account could become a legitimate connection, even if they are not in your direct or adjacent network. Using a third-party tool, such as a network map or a Twitter community analysis tool, can help you pinpoint the users who may be tweeting about content that is relevant to your interests and work. Learning how to target relevant people will also help in paid or promoted social campaigns to help you put your messaging in front of the people that you're hoping will see it.
It's All About Engagement
As I said earlier, it's more important to have relevant followers rather than just more followers. However, if you do want to grow your community, post consistently — at least four times a week, including weekends — and append relevant hashtags on your posts. This will ensure that you will grow your follower-base.
As follower count is not as meaningful a metric as engagement, here are a few techniques to measure and enhance authentic engagement from your community of followers.
Do not think of Twitter as a one-way megaphone to only announce your own campaigns and events. Instead, think of Twitter as a networking tool that would allow you to meet and interact with others in the issue areas that you seek.
A good metric to track would be the number of individuals with a particular job title in their bio. You can search for this using a third-party tool — like Commun.it, Audiense, or Tweepsmap — to find a list of individuals with a certain title in their bio.
Focus on engaging with others by liking their content and retweeting their tweets, with the intent of amplifying their message. Amplifying the content of others and replying to others' tweets makes Twitter less of an announcement format and more of a community engagement tool — which in turn will encourage others to engage with you and your content.
A third-party tool like Commun.it will deliver an engagement report, as does Twitter's native analytics, so you will be able to see which content is resonating most with your follower base.
Retweeting is a reliable method of engagement and will encourage others to reciprocate by retweeting your content. It's important to remember that you should always stop to read what you are posting. For example, click through to make sure that the link you are providing is what it appears to be and does not trigger a paywall. It's also a good practice to use the comment/retweet function to provide context regarding why you are amplifying that specific tweet.
It's always a good idea to maintain an active Google alert or mention search for yourself. It will help you not miss any engagements with your account. Similarly, you can have hashtags and various spellings and misspellings of your organization name and URL in a listening dashboard like Hootsuite or Buffer so you never miss an engagement.
Elements of the perfect tweet should always include an image or video, three hashtags, and a link. The tweets that perform best have all three of those elements included in them.
Following these guidelines will ensure that your engagement is authentic and that you are not perceived as self-promotional to your network.
Twitter's primary analytics dashboard (analytics.twitter.com) or one of the third-party tools listed below lets you track the following things:
Engagement of retweets
Link clicks
Mentions of your account
Clicks into an image or tweet
Impressions: how many time a specific post was displayed in an individual tweet feed
Profile visits
How to Turn a Tweet into a Meeting
The reason you'd engage with a user on Twitter is to turn a tweet into an authentic engagement. The concept of turning a tweet into a meeting is all about making someone aware that you've noticed them — and to encourage them to follow you back. The next stage would be to move the conversation out of the open space of Twitter, into a direct message and then into a meeting.
You can strategically use a Twitter list to your advantage and get the attention of certain accounts to let them know that you have noticed them and are interested in their posts. Twitter lists are a feature of Twitter that allows you to segment a list of Twitter accounts in either a public or private list, as designated by you. You can see which lists you have created and lists that you are included in in the lists area of Twitter. See this example (must be logged in). Lists provide you with an easy way to segment your followers.
If you create a public Twitter list with a flattering name — for example, "Nonprofit Thought Leaders" — and add individuals to that list, you will notify them that you think highly of them. That will likely result in a follow-back. Twitter will notify the user that you've added them to a Twitter list and tell them the name of the list (as long as it is a public list). This strategy is outlined in my Seven Steps to Turn a Tweet into a Meeting post, and it can be seen in action in TechSoup's Twitter account.
Once you have created your Twitter lists, you can import them into the third-party tools to analyze those accounts for degrees of influence and allow the tools to analyze the accounts on each specific list.
Another way to use Twitter lists is to create private lists, where you can group people with categorizations that you may not want to be public but may be helpful to you. Potential funders or partners would be an example,.
Using Hashtags
Hashtags are essential tools to help you find "your people." Hashtags allow you to segment the Twittersphere into vertical groups. By using and searching hashtags on Twitter, you will be more discoverable and will discover those outside your immediate network who are tweeting on a topic or in a category or population.
However, unlike Instagram, Twitter is optimized for fewer hashtags. Avoid using more than three hashtags per tweet. You don't want to appear that you are trying to cast a wide net by using too many hashtags just to get attention from those on Twitter.
Whether you are using a sophisticated third-party tool or you are just searching within Twitter, remember that hashtags are like an address and will allow people to find you and help you find others. Add hashtags to your tweets and your bio. Your bio will be searchable with hashtags, and you should try to figure out which hashtag or hashtags will best accompany your very brief description of your own account or organization's account.
Hosting Twitter Chats
Another way that hashtags can help you find your people is through Twitter chats. Twitter chats, or tweetchats, are focused hourlong discussions that occur on Twitter and are organized around a specific hashtag. We hold these Twitter chats monthly at TechSoup. You can see how we run a Twitter chat, and here's a wrap-up of a previous chat that shows you how you can share your event in an organized archive, outside of Twitter, and extend the life of your event.
Don't Forget About Analytics
Finally, it is important to review what does well, via Twitter's analytics or a third-party Twitter analytics tool and course-correct accordingly. If there is a spike in traffic, look at what you published at the time of the spike. This is a great way to track the interest of your followers and to create plans for more high-engagement future content. If you learn what your community responds to and publish more content that mirrors that highly engaged content, your followers will be more likely to reshare your posts and you will be more likely to gain more followers who are interested in your work — the right followers.
Additional Resources
Top photo: Shutterstock