Zoom is phasing in some updates to help you collaborate with your team more effectively and naturally. With many teams planning to remain remote even after risks associated with the COVID-19 pandemic retreat, these new capabilities can help you to feel connected with your colleagues. Great team culture and good colleague relationships not only make collaboration more effective, they also just make your working day more enjoyable.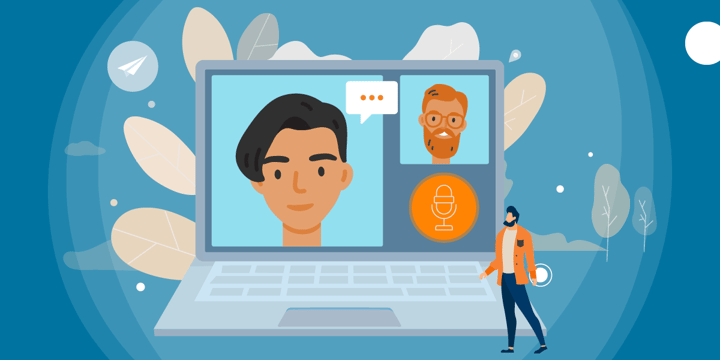 Keep reading to learn what's changing within Zoom and how you can leverage the new capabilities to keep your team running smoothly.
Chat with Ease
Zoom Chat as part of the Zoom Meetings environment allows both free and paid users to streamline communication.
Zoom Chat is different from in-meeting chat. While in-meeting chat allows meeting participants to communicate with each other and provide real-time feedback, Zoom Chat is a team collaboration tool where work happens outside of meetings. You can find it in the Zoom desktop app, alongside Zoom Meetings.
You can use it to communicate with colleagues in private one-on-one chats or wider channels organized by project, team, or topic. Send files without the extra complication, and keep it light with emojis and GIFs.
Easy and intuitive searching allows you to find contacts, messages, and shared files quickly. By starring the chats you use the most, you can ensure that they are always at your fingertips. You can also customize your notifications to help manage your workflow and priorities for the day.
Maintain Company Culture
New Zoom Chat features allow you to create space to bond with team members over hobbies and activities. Plus, Zoom's presence features help you to inform others when you're busy or in a meeting, helping them to know when you are available to talk. Zoom Chat also has a setting that alerts you when a busy contact becomes available. If you're out of the office for a few days, leave a custom note in Zoom Chat, which will let those messaging you know that you're unavailable and inform them of when you'll be back.
Huddle View is another great new feature, which gives a visual representation of a channel in a virtual office setting. This helps to give teams a sense of togetherness while they chat and collaborate. This feature has not yet launched, but it will be available soon.
Streamlining the Meeting Experience
Aside from its new chat features, Zoom has made a series of tweaks to ensure that the experience of using the platform is as smooth and easy as possible. These updates help you to ensure that you're using the best possible version of Zoom, while creating a great experience for all of your participants.
Automatic Updates
This new feature simplifies the update process, enabling Zoom to prompt you to update your client whenever a new version is available. If you're in a meeting, it will update as soon as the meeting ends. To enable this, simply check automatically keep my Zoom up to date in your settings.
Auto-Generated Captions
Zoom's live transcription feature, allowing users to see auto-generated captions during meetings, is now available for all Zoom Meetings users, free and paid. This makes your meetings more accessible to all users, and you can enable the feature using the Zoom web portal. Zoom's support article explains more on how this feature works. Zoom is planning to extend auto-generated captioning to support a variety of languages and add live translation in 2022.
Two-Way Waiting Room Chat
Before the meeting begins, participants can now engage with meeting hosts while in the waiting room. Hosts have the choice to message everyone in the waiting room or individual attendees, and those attendees can also reply. This provides the opportunity to give important information or even provide extra identification before being admitted to the meeting.
Enhanced Slide Control
No more "next slide, please"! This new feature from Zoom allows the host to select multiple people and grant them permission to control the movement of slides in a presentation. This makes the experience of presenting in a Zoom meeting more streamlined and professional and enables users to have slide control privileges without needing to be a host of the meeting.
Make the Most of Zoom
The Zoom Learning Center is a free platform to help you make the most of all that Zoom has to offer. It offers short, accessible courses covering Zoom Meetings, how to run webinars on Zoom and more, and it's available to everyone — whether you have an account or not. You can learn from any device, choosing between live and on-demand courses tailored to your experience level. The Learning Center will continue to be updated, as new features become available, to keep you up to date as you use Zoom in your workspace.
Collaboration, Streamlined
Zoom's thoughtful new features help your remote workspace feel more personal. Designed for ease and adaptability, these updates allow you to make your Zoom account work for you. Greater accessibility, smoother meetings, and quick-fire messaging all help to bring your colleagues closer.
Many of these new features are available on both free and paid versions of Zoom. If you request Zoom for Nonprofits through TechSoup, you can get a 50 percent discount on a one-year subscription for Zoom Meetings Pro or Business plans and certain add-ons. Check out Zoom's new features today!
Additional Resources
Top photo: Shutterstock