Much has been written over the years about how nonprofits can fundraise in tough times. Fundraising pioneer Mal Warwick famously advised nonprofits during the 2008 – 2009 recession to reassess the whole ball of wax. At the time, that seemed like good advice to cope with an unprecedented economic collapse and how it was impacting the day-to-day business of nonprofit fundraising.
Our situation in 2020 feels similar and yet more complex as we cope with the triple challenge of the coronavirus, economic hardship across communities and nonprofit institutions, and severe disruptions in donor activity brought on by high unemployment and quarantines.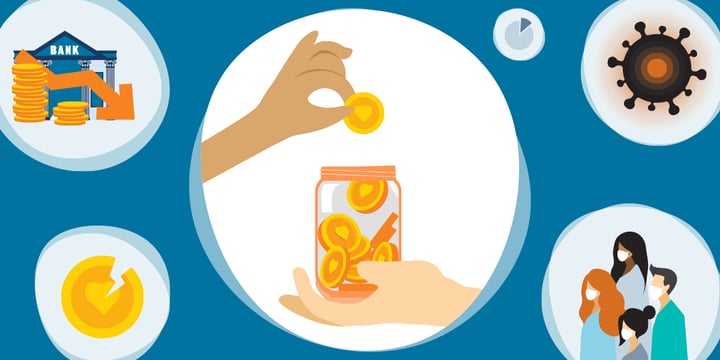 We've been here before, and now is a good time to reach back to what we've learned with past crises, while also adapting to our newer challenges. The bottom line is that your donor community cares about your mission and can be an active partner through this time of uncertainty. Here are five ways that nonprofit fundraisers can survive these tough times and emerge with positive approaches to donor engagement and fundraising.
Focus on Cultivation and Stewardship
While giving is down due to economic hardship, and face-to-face supporter engagement is more limited during quarantine, now is the time for nonprofits to redouble their efforts to stay connected with their supporters. This new cultivational mode of communications will bring you closer together and allow you to showcase your role and value to your community. In these uncertain times, people are yearning for deeper connections with neighbors, local businesses, and civic leaders. Your role is to be there with them and to help lead the way forward.
Even when you're not directly asking for financial support, you can do several things:
Thank your donors
Provide updates about your budget and needs
Tell compelling stories about your work
Engage all your storytelling skills through testimonials, photos, videos, social media dialogue, and more. Get your supporters' voices involved in telling their stories, which are connected to your story as a community organization.
Strengthen Your Case for Giving
Consider how you're positioning your nonprofit's mission, values, and programs during these uncertain times. How can you sharpen your messaging to address high unemployment, economic hardship, public health risks, a growing anti-racism movement, an election year, and other societal challenges? Whether you're updating your website, posting on your social media channels, or writing a fundraising appeal, make sure your donors understand both the more urgent need for your services during these times and the many concrete steps you're taking to increase your effectiveness for the beneficiaries you're serving in the community.
Alan Cantor captures the essence of this idea in his recent article in Harvard Business Review when he writes: "In the coming weeks and months, successful requests for charitable donations will need to be embedded in a larger expression of mutual support, empathy, and solidarity."
Embrace Contact-Free Fundraising Events
Perhaps nothing has stressed out nonprofit leaders more than the reality of having to cancel fundraising events due to coronavirus quarantines. A huge amount of annual nonprofit revenue depends on face-to-face fundraising events. Necessity being the mother of invention, nonprofits have adapted quickly by converting many in-person fundraising events into alternative activities.
Even though quarantine and lockdown rules are now lifting, many people feel like they need to avoid social gatherings to insure their health, which will impact event organizations well into the fall.
High on nonprofit priority lists has been learning how to produce virtual fundraising events, using video meeting platforms such as Zoom, Microsoft Teams, Google Meet, GoToMeeting, and many others. Nonprofits are also turning to social media platforms such as Facebook Live to hold real-time events. In-person activities have been replaced by keynote videos, speaker panels, breakout chat rooms, and more, all with the goal of creating an interactive group experience. While not as personal as in-person events, these virtual events can integrate fundraising appeals, auctions, raffles, video contests, virtual concerts, and much more. Check out these two recent TechSoup articles on Producing a Virtual Nonprofit Event and Raising Money Using Zoom for additional tips and resources.
In addition to virtual events, many nonprofits are organizing local contact-free events for their supporters to raise money. These can include walk/run-a-thons, where participants collect pledges and complete the physical challenge at home. Or they could be non-run challenges, talent competitions, art contests, photo competitions, or essay challenges. Now is the perfect time to tap into the creativity and at-home engagement of your supporter community.
Get Your Digital House in Order
The coronavirus quarantine has been a wake-up call for many nonprofits to get their digital house in order, since so many people have turned to the web, social media, and mobile phones to stay connected.
Take a deep look at your website to assess what needs to be refreshed, whether with basic messaging or with answers to questions people might have about your services during the quarantine.
If you need help tuning up your website, learn about TechSoup's Website Services to help you freshen up your design, attract supporters, amplify fundraising, and accelerate impact.
Review the donation pages on your website and make sure they're making the strongest case for giving. Are the giving levels properly aligned for a time of economic hardship? Could you add some lower giving levels? Is the monthly giving option clearly visible?
Review your social media management practices to determine how best to stay current through those channels. Should you change the frequency and content of your posts? Many nonprofits have found social media the most efficient means to stay connected with their stakeholder communities.
Review your email messaging practices to determine what needs a refresh.
Once you have a better handle on your digital communication capacity, you'll be in a better position for donor engagement.
Empower Your Supporters to Help You
During these uncertain times, consider how you can be most strategic as you communicate and fundraise with your different donor groups. For example, schedule your outreach to your mid-level and major donors, who often have more capacity to give. Consider what messaging and value proposition will most inspire this unique group of donors.
Encourage your supporters and donors to set up Facebook Fundraising campaigns, so they can help raise money for you. Many of your supporters will already be familiar with giving on Facebook. To help your supporters get started, you should provide sample content and images they can use to promote their campaigns.
Times of crisis are also a time when new supporters emerge who want to make a difference in their community. In our current time when people are feeling out of control, supporting a nonprofit provides a unique source of inspiration and empowerment. Invite in new supporters, even at low gift levels, to be part of changing the world through your mission and programs. Reaching new supporters might involve outreach to your volunteer network, trading mailing lists with other like-minded organizations, increasing your activity on social media, reaching back out to your lapsed donors, or spending money on a social media advertising campaign.
Further Reading