According to an August 15 post from Mark Zuckerberg, Facebook birthday fundraisers raised over US$300 million for over 750,000 nonprofits. We've even seen success with Facebook fundraisers here at TechSoup: last month, one of our employees was able to raise over US$1,000 for TechSoup using a Facebook birthday fundraiser.
But nonprofits can't rely on birthday fundraisers alone to raise donations on the site. Facebook offers several other donation resources within the platform, and nonprofits can leverage these tools to drive consistent fundraising while also spreading their mission and brand.
During Community Boost, Facebook's event for local nonprofit and small business leaders in Menlo Park, California, TechSoup supported a number of workshops, including one on Facebook fundraising for nonprofits. The workshop was led by Julia Campbell, a marketing consultant who focuses exclusively on mission-driven organizations. Campbell also teaches Social Media Marketing for TechSoup Courses.
During the session, she highlighted how nonprofits can best utilize the various fundraising tools available to them. Below, you'll find highlights from this workshop, including tips and new resources for fundraising on Facebook.
Free Fundraising Tools on Facebook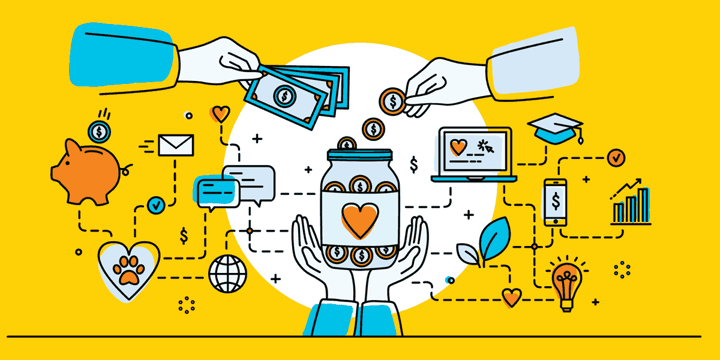 There are a number of fundraising tools within Facebook that your nonprofit can use at no cost.
Donate Button in the Page Header
You can place a donation button within your organization's Facebook page, ready to be seen by anyone who visits your page.
Donate Button in Posts
You can add a donate button anytime you create a post on Facebook, whether it's from your organization's page or from your personal account. When viewers come across your post, they'll also see the option to donate. Use this feature to highlight a compelling story that will encourage viewers to donate.
Facebook Fundraisers
We've seen great success for nonprofits from fundraisers on Facebook. These are excellent options for short-term giving campaigns, like Giving Tuesday or a seasonal donation campaign.
Facebook fundraisers are easy to make — they even include a designated landing page. To create one, click Fundraisers in the left sidebar of the Facebook home page. Then use Facebook's fundraiser creation tool to indicate specifics about the fundraiser, such as duration and fundraising goal, and your fundraiser will be immediately published on the site.
Pair up your fundraising with Facebook Live to further connect with your supporters and encourage them to donate. When you set up a Facebook Live event, select the option to add a donation button during the live video, and viewers can be connected back to your Facebook fundraiser.
Additional Fundraising Features: Matching Donations and More
Recently, Facebook added a donation matching option for fundraisers created on Facebook. Fundraiser creators, verified profiles, and verified pages can set up matching donations for their fundraisers. This option is available exclusively for nonprofit fundraisers.
Facebook is also rolling out a recurring donation option. With this feature, Facebook fundraiser participants can sign up for a monthly or annually repeated donation, just as they might do on a donation platform that you source from your website.
In the future, nonprofits should look out for integrations between Facebook and other online fundraising tools. Up until now, when nonprofits created a fundraiser within the Facebook platform, the donation tracking information wasn't automatically transferred into the CRM system they use for other fundraising. These integrations, which are in beta testing, will resolve this issue by enabling users to seamlessly mirror donation tracking between Facebook and other donation platforms.
This means that donation calculations would be synced up between multiple platforms. Nonprofits could manage all transactions within one system — all while extending the visibility of the donation campaign on Facebook. Currently, integration is only available for TeamRaiser by Blackbaud, but Facebook is working to expand to other platforms.
As Facebook fundraising continues to develop, nonprofits should take advantage of these new resources to help drive their missions. For a detailed training on utilizing social media resources for your nonprofit, don't miss the Social Media Marketing bundle from TechSoup Courses. This four-part set of courses, designed specifically for nonprofits, will guide your way through utilizing social media platforms to raise funds, connect with supporters, and drive impact.
Additional Resources: Fundraising and Social Media