Sunnyvale, California, is pretty much ground zero for high tech in the U.S. and Silicon Valley. The small city is 40 miles south of San Francisco and is the home of companies like Apple, Google, Yahoo!, and LinkedIn. You'll also find aerospace giants like Lockheed Martin and Northrop Grumman and NASA's Ames Research Center. What does a public library do in such a place? The answer may surprise you. Plus, they have discovered a low-cost way to start up a multimedia lab. Meet Sunnyvale Public Library.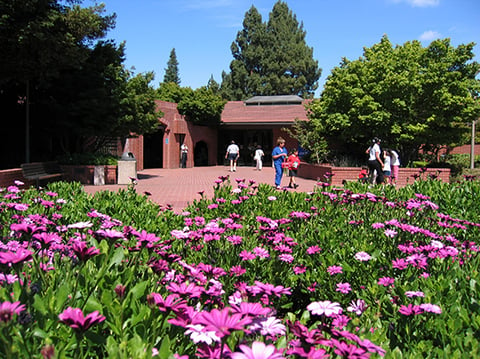 Sunnyvale Public Library by the Numbers
They have just one location, at the Sunnyvale Civic Center. They're hoping add a branch soon.
Of 140,000 residents, 127,000 are cardholders.
They have 2 million circulation items, over a million of which are children's items.
They have 40 to 50 online databases of articles, e-books, and Hoopla streaming media.
Some Surprising Patrons
I had the chance to Interview Liz Hickok, supervising librarian at Sunnyvale Public Library. She is also in charge of technical services. Liz told me a surprising fun fact: even in the heart of Silicon Valley, some of their patrons are not digitally literate at all. For these patrons, the library offers a well-attended introductory program called Get Connected, which teaches basic computer skills to patrons. This class teaches, for example, how to navigate a new iPad, create a free email address, fill out an online job application, or download e-books to a Kindle. It is conducted in self-paced, one-on-one sessions with a volunteer.
Sunnyvale Public Library serves patrons with a wide spectrum of technical knowledge, ranging from the newcomers who attend the computer basics program to professional engineers. High-tech patrons submit coding enhancement requests to Hickok for the library systems and borrow the latest copies of new computer programming books.
Many of the high-tech patrons have come to Sunnyvale from foreign countries to accept jobs in the technology industry. In their city, 45 percent of Sunnyvale residents are foreign-born. They and their families, along with some of the city's longtime residents who are also language learners, enjoy the benefits of other programs the library offers, such as the weekly ESL discussion group program.
In addition, as in most libraries, elderly patrons come in to learn how to use Kindles and other mobile devices to download library e-books. Hickok says that one of the first things librarians do for patrons with older Kindles is to download an older version of Java for them.
Other unique types of patrons they get are lawyers from the nearby civic center who need fast broadband and legal research resources. And technology entrepreneurs visit because they are interested in things like patent and trademark research.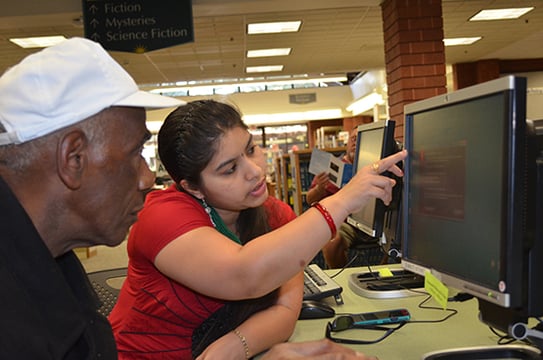 Library Technology in Silicon Valley
Not surprisingly, the Sunnyvale Public Library has sophisticated back-end technology. It has an automated materials-handling system. All physical materials are RFID-tagged, which automates check-in and check-out, and patrons are encouraged to use the self-check-out stations. They also host a library app that allows patrons to search their online catalog and also check out e-books and e-audiobooks.
The library provides very fast 1-gigabit Wi-Fi for patrons' personal devices, and a technology center for people without home Internet. As with most libraries these days, staff needs to be trained in technology training and troubleshooting.
Also, as online and streaming services deepen, their web systems have gotten more complicated. Hickok says, "Any day I can come in to the office and face the need for a new database or a project to add features like Google Wallet and Apple Pay on the self-check-out machines. A recent project was to implement a print and scan service in which patrons can send their print jobs over Internet fax. It was easy enough to implement after this technology matured."
Hickok says that she probably spends most of her time integrating the library IT with the city IT. She also admits that there are some things that technology cannot yet improve, like the need for real people to load carts and shelve books.
Cutting-Edge Projects
Sunnyvale Public Library has been awarded a grant to be one of the first public libraries to publish its own e-book anthology. The second publication, called Cooking Up Stories, will be released in April and will be an anthology of local writings on food in the form of short fiction and nonfiction.
They also have a 3D printer for public use. Patrons can create 3D designs in free programs like SketchUp or Tinkercad and then send files in advance. Librarians will make design suggestions before a patron's 3D printing appointment. If your library would like to try 3D printing, have a look at the Sunnyvale Library flowchart to help you decide to try it (or not).
The Low-Cost Multimedia Lab
The multimedia lab may be Sunnyvale Public Library's most replicable idea for other public libraries. With a modest gift from Friends of the Sunnyvale Public Library, the library bought a single HP Envy high-end laptop to launch their Multimedia Designer's Laptop Program. This program offers library users access to advanced graphic design software and other digital tools on a dedicated laptop that is part of the library maker movement.
The impetus of the program was to provide patrons with the chance to try out and learn advanced software tools for photo editing, video production, website design, and page layout using the entire Adobe Creative Cloud Suite. Patrons can use Lynda.com trainings to learn Adobe applications like Photoshop, Illustrator, InDesign, Premier, and Dreamweaver and also the Microsoft Office Pro suite. They can also schedule one-on-one trainings with staff.
Patrons have used the service for things like creating promotional materials for small businesses, creating logos, editing photos, editing videos, designing websites, and simply learning Adobe software.
Hickok reports that the program has worked well over the past year, and they're now interested in expanding the project into a full media lab with additional multimedia PCs. They'd like to integrate it with their 3D printer and also offer scanning and digitizing equipment as well as a video camera.
Liz Hickok's Recommendations for Starting a Media Lab on a Shoestring
Start out with one multimedia laptop for library use only — not to loan and take home.
Have a look at Sunnyvale Library's Lending Policy and Agreement.
Give new users preference.
Allow patrons to reserve the multimedia laptop online or in the library.
Book it to one patron per day, and let them use it all day.
If it is not booked, lend the multimedia laptop on a first-come, first-served basis.
Make the laptop available seven days a week.
Bookmark the Adobe YouTube channel.
Have users agree not to download anything on the computer and to store files externally on a flash drive or online with something like Google Drive or Dropbox.
Reimage the multimedia laptop with Deep Freeze (or something similar) each day.
Install strong antivirus software.
Do weekly scheduled software updates.
Provide fast broadband, which is useful for uploading big files.
Get a two-year tech support package if possible.
Get the best hardware you can afford, though you can probably do this project with one laptop for under $5,000.
Liz Hickok's last bit of advice for a library situated in Silicon Valley or anywhere else? "Libraries don't have the option anymore of serving patrons online or with physical media. We have to do it all. We have to be both physical and virtual."
Images 1 and 2: Sunnyvale Public Library