If your patrons are considering a career change or are starting to think about what career path they want to take, scholarships are a good place to start. Scholarships show that you have initiative as well as a passion and drive to learn.
Coding bootcamps offer a door into the development and programming world, allowing people to start a career in coding, software, and web development. People enrolling in a coding program can expect to learn programming languages like Python, JavaScript, PHP stacks, and Ruby on Rails. This blog post explores programs that are not often covered in content about tech skills training.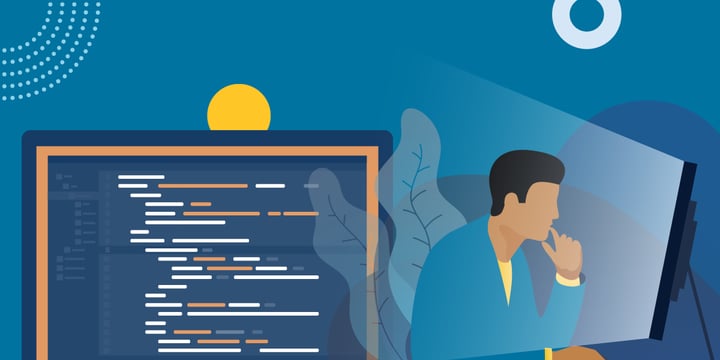 Exploring a Career in Coding
While applying for a degree at a college or university can offer plenty of opportunities, it can also be very time-consuming and expensive. Many people are on a budget and therefore looking for cheaper options like scholarships that are more affordable and can forge a path into the start of their career or further learning.
Although there are many self-serving solutions to building websites and coding apps, many people don't realize that these things can cost more money than you think. Individuals and businesses will often turn to professionals with coding skills on a freelance or full-time basis to complete projects. With almost the entire world online, there's no better time than now to explore coding as a career.
If your patrons are interested in a coding scholarship, here's a roundup of the best coding scholarships for 2021 and beyond. These include programs you may not have heard of like Galvanize, Thinkful, BrainStation, Code Platoon, and Code Fellows.
Galvanize
Galvanize is a training program focused on software engineers and data scientists. Any students that are accepted into the program are eligible for a scholarship. Applicants must be U.S. citizens or permanent residents.
There's a choice of onsite and online courses, ranging between 12 and 13 weeks. The Software Engineering Immersive Scholarships use the Hack Reactor curriculum. They offer learning modules that cover programming languages and computer science fundamentals.
Galvanize currently has a We Stand Together — Racial Equity in Technology Scholarship Fund and a Galvanize Scholarship Fund. Courses run throughout the year, and Galvanize awards scholarships for each cohort.
Thinkful
Thinkful offers online courses in software engineering, UX/UI web design, digital marketing, data science, project management, and data analytics. Options cover online, full-time, and part-time courses that are suitable for beginners and experts alike.
Thinkful scholarships are based on one-on-one mentorship, placing people with the most suitable instructors for their requirements. As well as offering scholarships, Thinkful has a strong career coaching program to help its students look at the current job market, prepare for interviews, and more. It also offers a full-refund job guarantee, meaning that if their graduates don't get a job within six months or don't earn over $40,000, they'll get their money back.
Thinkful scholarships can be paid upfront, or there are financing options if people are low-income. Women who sign up for their part-time web development bootcamp can get $600 and $1,000 for the full-time web development package.
BrainStation
BrainStation offers full-time courses in web development, data science, and UX design. It also offers programs in software engineering, design, data science, product management, data analytics, digital marketing, and cybersecurity.
There are multiple scholarships offered by BrainStation, including Women in Technology, Diversity and Inclusion, University and College, Not-for-Profit, Veterans, and Entrepreneurship. All scholarships must be approved prior to enrolling.
BrainStation's scholarships are sponsored by big supporters, including Microsoft, Shutterstock, EY, and Rogers, just to name a few.
Code Platoon
Code Platoon is a nonprofit organization that supports the education of U.S. military forces and their families. It currently offers scholarships for veterans and spouses, Black and Hispanic, women in technology, and transgender veterans. It also offers Milspouse Coders Scholarships for military spouses, Skillbridge Scholarships for service members transitioning to civilian life, and NMFA Scholarships for members of the National Military Family Association.
The scholarships are valued between $13,000 and $16,000. The courses are taught by professionals six to seven days a week for around 12 to 14 hours a day of lectures, self-study, and coding time. Code Platoon is designed to offer enough learning tools to launch a career in software development, from programming languages to best practices.
Code Platoon runs in-person and live remote programs to suit everyone's situation. People can also opt for a self-paced program to suit their own schedule that is completely free. Also, if your patrons are completely new to coding, they can join its Intro to Coding program, which is free and aims to get veterans and their families started in their coding careers.
Code Fellows
Code Fellows offers scholarships for people from underrepresented ethnicities, women, veterans, and the unemployed. Its scholarships cover up to 70 percent of tuition. Its aim is to remove barriers and offer more opportunities to individuals that need them so they can be successful in the tech industry.
Scholarships are awarded based on financial need and the applicant's ability to meet the requirements of the course. You'll need to start an application for a Code Fellows course and then apply for a scholarship.
Courses cover software engineering and cybersecurity, with beginner's courses starting from $99 for a single 8-hour workshop. Higher-level courses cost between $5,000 and $12,000 and will last much longer.
Hard Work Well Rewarded
Coding scholarships are a solid way to fund your education, whether this is partially or fully. While many scholarships are paid for, they require your full attention and dedication. Some scholarships are incredibly intense, requiring up to 14 hours per day of learning and self-study.
Coding isn't an easy subject to learn, but a commitment to the program and understanding the requirements will ensure the best results.
About the Author
Georgie Peru is a content contributor for Web Hosting Professional. She is passionate about sharing her enthusiasm for technology through her content writing work. Her mission is to help others learn and understand how to be successful in the digital world.