The TechSoup team and our corporate partners are always working to provide better, more affordable solutions for our nonprofit members. To that end, we've streamlined our NortonLifeLock program to enable our members to protect more devices at their organizations.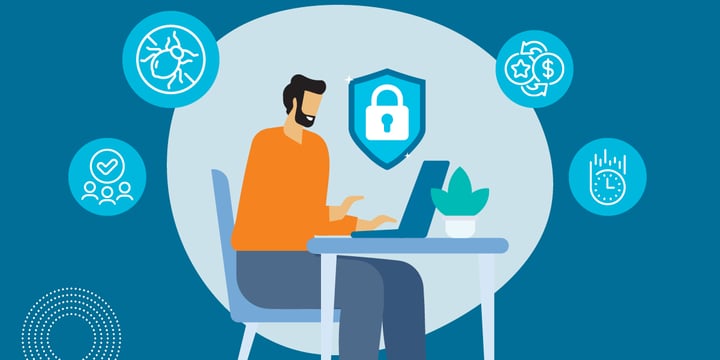 Here's what's new:
We're replacing Norton Security Deluxe with Norton 360 Deluxe.
We're reducing the admin fee for Norton Small Business by 30 to 40 percent (depending on how many devices you need to protect).
We're increasing the number of devices your organization can protect with NortonLifeLock solutions.
NortonLifeLock offers effective, low-maintenance solutions for nonprofits looking to protect their devices from cyberattacks, data loss, privacy breaches, and other threats. Cybersecurity is an important area for nonprofits to invest in, especially if they handle sensitive personal information, as they are frequently targeted for attacks. NortonLifeLock's easy-to-use tools can help nonprofits secure their data and avoid disruption from attacks and data loss. The recent changes make these solutions more accessible and affordable for your organization.
Great Solutions from NortonLifeLock
With these changes in place, there are now two donated offerings available through TechSoup. These are Norton 360 Deluxe, which is a new addition to the NortonLifeLock donation program, and Norton Small Business, with reduced admin fees and 10- or 20-device subscription options.
Let's take a look at which offering might best suit your nonprofit.
Norton 360 Deluxe
Norton 360 Deluxe is a new addition to the NortonLifeLock program, replacing Norton Security Deluxe. It's a stronger tool with additional security features, which can be used on up to five devices, including computers, tablets, and smartphones.
This solution protects your devices against the latest online threats, including ransomware, spyware, and malware. It monitors and blocks suspicious network traffic using its smart firewall, provides encryption through a VPN, and prevents uninvited connections to your devices.
It also helps you create and store robust passwords using its password manager and gives primary account holders 50 GB of cloud storage. This helps you to back up your files in case of data loss from a cyberattack, hard drive failure, or stolen devices.
Norton Small Business
Each license of Norton Small Business provides protection for 10 or 20 devices. The admin fee of these products is reduced by 30 to 40 percent. Note that the five-device version of Norton Small Business is retiring, and we recommend that users switch to either Norton 360 Deluxe (if five or fewer devices need protection) or the 10-device version of Norton Small Business.
Both solutions offer robust protection against viruses, spyware, malware, and other online attacks for all your devices, and they both block spam and unsafe websites. Norton Small Business allows you to manage protection from one convenient web portal and easily add more devices as your business grows. Norton 360 offers more protection against hackers stealing your personal information and identity, and it includes 50 GB of cloud storage.
Norton Small Business provides threat protection combining several defense and antivirus technologies. It also includes Mobile Insight, which checks the apps for potential privacy risks and suspicious behavior. A web portal allows you to manage your protected devices from anywhere, and a device location feature helps you to locate lost or stolen devices.
Choosing the Best Solution for Your Organization
The main difference between the Norton 360 Deluxe and Norton Small Business solutions is the inclusion of some extra features. Norton 360 Deluxe includes dark web monitoring and a secure VPN, as well as a password manager and 50 GB of cloud backup storage. If these features are important to your organization, then Norton 360 Deluxe is a great choice that covers some extra bases. If not, Norton Small Business may be the right choice for you.
Request More Licenses for Your Nonprofit than Ever Before
As part of the program changes, nonprofits can now request more licenses each fiscal year. Eligible organizations can now protect up to 100 devices each 12-month period, across multiple requests. Previously, organizations could only request one NortonLifeLock product per year. Now, eligible organizations can request as many as 20 NortonLifeLock licenses for protection of up to 100 devices each 12-month period, through single or multiple license requests.
We've also improved the fulfillment process for NortonLifeLock products. This means that your nonprofit can acquire these important security products quicker and easier than ever before.
Cyberthreat Protection to Suit the Needs of Your Organization
The recent changes to TechSoup's NortonLifeLock program make it even easier for nonprofits to improve their cybersecurity and protect all of their devices. Norton 360 Deluxe and Norton Small Business are both robust, user-friendly tools catering to slightly different organizational needs. You can now use one or both of these products to protect up to 100 devices, at a lower cost per device to your organization. Find out more about these products and the NortonLifeLock program to see how it can support your organization.
Additional Resources
Top photo: Shutterstock