Windows Pro full operating system is Microsoft's full operating system installation for organizations and a brand-new donation offer. This offer grants access to Windows Pro licenses at just $16 each and is only available through TechSoup. This license enables access to Windows 11 Pro, but if you do not meet the PC compatibility requirements, it allows you to downgrade to Windows 10 Pro as well. This can present a great option for organizations looking to move to or upgrade a Windows operating system on their staff or public-access computers. Organizations looking to adopt Microsoft 365 or Office 365 solutions will need a Windows 10 Pro license or above.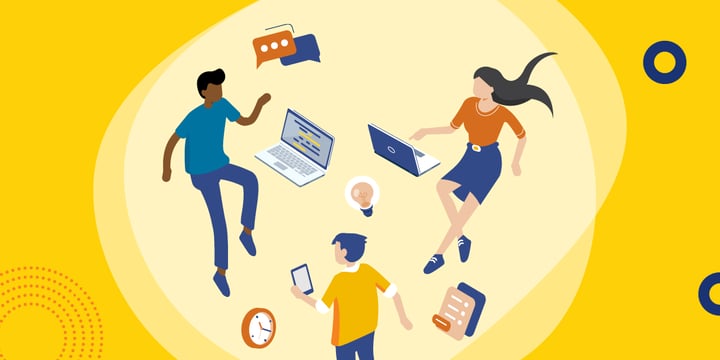 We are excited about this new offer, as it offers a broader range of features, improved security, and better remote deployment, among other additional functionalities. This offer can be incredibly useful to all organizations, but especially those with computers that do not have a current Windows operating system or are seeking to move from a Home operating system to a more comprehensive Professional license. Unlike with our previous Get Genuine offer, organizations can request up to 50 licenses every two years.
Keep reading to learn more about the options available to you and decide whether it's a good pick for your nonprofit.
Windows Operating System Solutions Available to You
Microsoft has a few different solutions available to organizations that are looking to use a Windows operating system.
Windows 11
Windows Pro is Microsoft's full operating system, and Windows 11 Pro is the most up-to-date version. It is built with hybrid work in mind and offers intuitive features designed to improve productivity and focus. The snap layouts that are built into the operating system offer users a variety of ways to organize their windows. This can help you to keep on top of things and have the right resources handy even when working in multiple apps at once. It also reduces the need for extra monitors and increases the portability of a laptop, without losing time searching for the window you need. Nonprofit staffs are busy people, and this operating system aims to be flexible enough to accommodate their needs in a transient working environment.
If you're already a Microsoft product user, then the Windows operating system is especially suitable, as the interface is built to integrate seamlessly with other Microsoft products. It is also ideal for remote teams since it allows users access to your organizational network without the need for a VPN. The Remote Desktop feature also enables users to unlock and access machines virtually from any Internet-connected device, creating further layers of flexibility and visibility for users and IT teams.
Security
Windows 11 Pro comes with rigorous security as standard. It includes advanced encryption and data protection along with system security that stays up to date as security threats evolve. You can configure high-level security safeguards such as biometric authentication (hardware-dependent), multi-factor authentication, and Microsoft's security-enhancing Smart Cards.
Windows 11 security features operate on a zero-trust basis. This means that users must be explicitly verified to gain access to your systems and that access will be limited to "just-enough," in order to reduce the risk of a data breach. It constantly limits the radius of any potential breaches, and uses end-to-end encryption wherever possible.
Teams
Teams is Microsoft's business collaboration tool, designed to help busy teams to communicate and work together seamlessly. It includes chat, video conferencing, file sharing, and the capacity for large live virtual events.
In Windows 11, the taskbar makes teamwork over video calls easier. You can mute or unmute yourself straight from the taskbar and use it to share any app or window with your teammates. This can help you to streamline collaboration and work together on documents without needing to have your meetings app front and center.
Compatibility and Adoption
If you are already a Microsoft user, then adoption of the Windows 11 Pro operating system is relatively easy due to the compatibility with the apps you're already familiar with. Cloud-managed systems also make it easier to transfer your applications and files to the new OS.
Windows 11 Pro licenses can be acquired for $16 each through Microsoft's partnership with TechSoup, and you can request up to 50 licenses per two-year cycle. There are some compatibility limitations, so you'll need to make sure that your hardware meets the minimum system requirements for Windows 11.
Learn More About Windows 11 Pro
As one of the remaining donated, on-premises Microsoft offers, Windows 11 Pro can present a great operating system solution for staff or public-access computers. You can learn more about the OS on the Microsoft website.
Additional Resources
Top photo: Shutterstock