In some ways digital tools have made fundraising easier than ever before. But unless you know what you're doing, it's easy to fall behind in your efforts to attract donors to your cause. In this blog post, we'll be reviewing some of the tools and strategies at your disposal when it comes to digital fundraising at your nonprofit.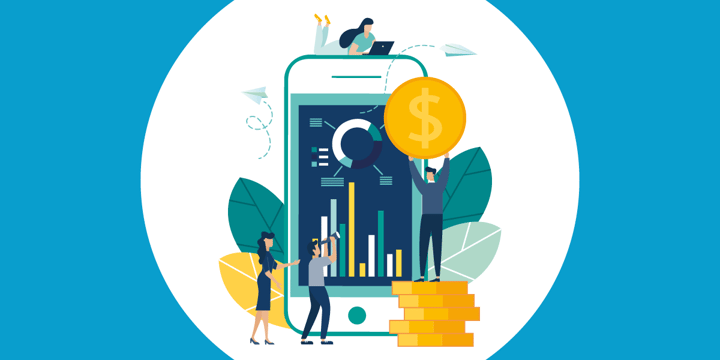 Social Media
The most cost-effective way to incorporate technology into your next fundraiser is to simply use the free social media platforms. According to Nonprofit Source, 55 percent of users who engage with nonprofits on social media will ultimately take some sort of action, and 59 percent of those people donate money. Using platforms such as Facebook, Instagram, Twitter, and YouTube is not only crucial, it's also the most cost-effective way to reach your target audience and collect donations for your organization.
Here are a few tips to help you better utilize social media in your next fundraiser.
Consistent and Interactive Posting
Regardless of your fundraising efforts, your nonprofit should be posting consistently to keep followers up to date. But staying active and relevant online brings more eyes to your cause and can ultimately lead to more donors.
Examples of interactive posting include
Asking questions in posts and encouraging users to comment, like, and share
Posting polls on Twitter, Facebook, and Instagram Stories and encouraging users to voice their opinions
Hosting Q&As on Instagram and Facebook Live
Asking users to participate in fundraising challenges, posting about their experiences, and sharing stories with unique hashtags for your cause
Eighty-four percent of users on Facebook share support for a cause that resonates with them, and 55 percent of Twitter users who engage with nonprofits ultimately take some sort of action. If you interact on a regular basis and stay active with your community, you're more likely to develop a strong and loyal following that can convert into donors.
Hashtags
A great way to garner new eyes for your fundraiser is by using hashtags on Instagram, Twitter, and Facebook. Start by researching hashtags that are most relevant to your organization and begin using them on a daily basis. Social Media Lab found that posts with hashtags result in a 70 percent increase in likes compared to posts without hashtags.
It's important to find hashtags that are unique to your brand. We recommend using only a few hashtags when you post on Twitter or Facebook. Instagram, however, allows room for as many hashtags as you please.
To give you some insight, below are a few of the most popular nonprofit-related hashtags used on Instagram:
#nonprofit (3.3M posts)
#nonprofitorganization (428k posts)
#philanthropy (1M posts)
#causes (329k posts)
#goodcause (661k posts)
#givingback (1.7M posts)
#socialgood (638k posts)
#socialimpact (367k posts)
#volunteering (1.4M posts)
#fundraising (1.8M posts)
Another strategy is to encourage followers and event attendees to use specific hashtags when they post about your cause. This increases the possibility of others seeing the posts and therefore providing more exposure. For example, Caravan Studios hosts regular app demo events and encourages attendees to use the hashtag #publicgoodapphouse.
Email
With all the new tools out there, email fundraising might seem to be a bit outdated. But that's hardly the case: Email is still alive and useful. According to Nonprofit Source, email marketing and promotion campaigns accounted for 28 percent of nonprofit revenue in 2017. After all, most people check their emails daily — why not use the platform to get in front of more users?
We're not suggesting you flood your email list with constant fundraising updates, but email fundraising is a cost-effective, technological way to reach more donors. Simply send them occasional updates with a fundraising link, or remind users when an event is coming up.
If you want to include a campaign link in your email, GoFundMe, MightyCause, FundRazr, and Crowdrise are a few well-known platforms to host fundraising efforts.
Text to Donate
Nonprofit Source reports that 25 percent of donors complete their donations on mobile devices, and the text-to-donate method makes it even more convenient. This method allows supporters to contribute anywhere through messaging and keywords. Through an online platform such as GiveLively, you simply need to provide the number and keyword information to donors, and they'll be able to immediately donate or to be sent an email with further instructions. This allows your nonprofit to pass up a physical fundraising event and instead more conveniently ask for donations online.
GrantStation
GrantStation offers an opportunity for nonprofit organizations to find potential funding sources for their causes. By being a member of GrantStation, your nonprofit gains access to over 9,000 public and private funders that accept unsolicited proposals and inquiries. GrantStation also offers guidance on building strong grantseeking strategies with specific planning tools. This platform also offers a great amount of exclusive training through webinars, newsletters, and more.
On September 24 and 25, we're offering a special promotion of GrantStation for $79. Don't miss this great opportunity to use this effective tool!
Donation Kiosks
Fifty-four percent of donors prefer to donate through a credit or debit card, so providing this option is crucial when collecting at events. An alternative way to gather donations digitally is through a donation kiosk. Paper forms are still popular, but you may want to consider investing in a donation kiosk so donors only need to swipe their card and select their donation amount. It's quick and easy and makes your organization look even more technologically advanced.
To see it in action, see how Happy Community Aruba recently held an event and incorporated a donation kiosk to allow more convenience for its donors:
Some of TechSoup's donor partners offer equipment and services for processing donations on mobile devices.
We hope that we've provided you with some valuable ideas that will help your fundraising efforts as you ramp up for the year-end giving season. But remember, a solid fundraising strategy will incorporate a number of different approaches. Make sure you dial in what works for you, and never be afraid to try new things or change an approach if it's not working.
Happy fundraising!
Additional Resources